Video file
Investing to Build Better Businesses
Carlyle's Global Private Equity Healthcare investment team partners with healthcare providers, pharmaceutical products and services, diagnostics, payer services, medical products, healthcare technology, and digital health companies. Our team provides consistent support to strengthen healthcare companies' businesses and lead global expansion, transforming local players into global product or service providers. 
active portfolio companies
Sector Strategy and Approach
Our global Healthcare team is focused on investing behind key trends that ubiquitously impact healthcare delivery across global markets with an understanding that differentiators and disruptors can vary by region.
Working with the executive teams of our portfolio companies, Carlyle excels in driving performance through multiple levers of value creation, including international expansion, new product development, M&A, and strategic positioning strategies. Our investment strategy is underpinned by key themes that influence the global healthcare industry, including:
Growth in global healthcare demand driven by demographics, increased wealth, and a focus on public health.

Evolving regulatory environment shifting to address increased healthcare utilization, rising costs, and inequality in access.

Technology adoption and the incorporation of digital capabilities accelerating innovation in care delivery.

Evolution towards value-based care models driving increasing integration across healthcare systems.
We have developed a differentiated approach to finding businesses that are "part of the solution" in healthcare – whether through innovation, improving quality, reducing costs or improving the consumer experience. Our proprietary insights, diverse portfolio and deep global network position us to build better businesses in transformative ways.
Healthcare Portfolio Companies
Carlyle has a reputation as a partner of choice for world-class founders and management teams globally.
Meet The Team
Global Healthcare Team
Our experienced global team is comprised of dedicated investment professionals based in New York, London, Paris, Munich, Tokyo, Mumbai, Hong Kong, Beijing, Shanghai and Sydney. We also consult with several Operating Executives and Senior Advisors who bring significant subject-matter expertise and relationships to Carlyle's partnerships.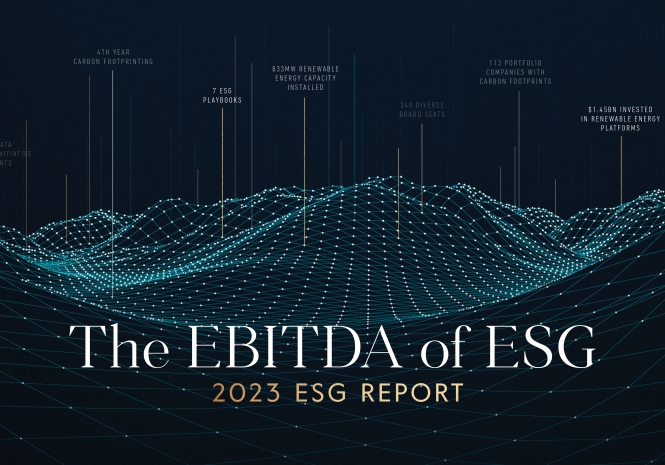 EBITDA OF ESG
We are pleased to share this year's ESG report, entitled "The EBITDA of ESG" to reinforce our belief that integrating ESG factors into our investment processes provides an additive lens that we believe can provide opportunities for our portfolio companies to drive revenues, reduce costs, secure more efficient financing, and strengthen their competitive positioning.