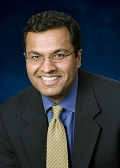 Mr. Neeraj Bharadwaj is the Managing Director of Carlyle India Advisors Private Limited, focused on large growth capital and buyout opportunities across sectors in India.  He is based in Mumbai. 
Prior to joining Carlyle in 2012, Mr. Bharadwaj was a Managing Director with Accel Partners' growth investing operation in India.  Preceding that he was with Apax Partners for nearly 10 years – initially as a Partner in the U.S. and subsequently as Managing Director/Country Head for Apax in India, where he led the India operations.   Investments he has been involved with include Apollo Hospitals (BSE: AHEL), Jamdat (NASDAQ: JMDT), Widerthan (NASDAQ: WTHN), NXP and others.  Previously, Mr. Bharadwaj was an engagement manager at McKinsey & Co.
Mr. Bharadwaj was selected as Board Member of the Indian School of Business (ISB), a Young Global Leader of the World Economic Forum (WEF), Chairperson of the India Regional Agenda Council of the WEF (2009-2011), Founding Curator of WEF's Global Shaper Community, Board Member of Olympic Gold Quest (OGQ), and Member of the Harvard Business School South Asia Advisory Board 
Mr. Bharadwaj serves on the boards of Global Health Private Limited, Metropolis Healthcare, VXI Global Solutions and Delhivery Logistics.
Mr. Bharadwaj holds an MBA with distinction from Harvard Business School, and graduated summa cum laude with a BS in economics from the Wharton School of the University of Pennsylvania.