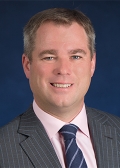 Stephen H. Wise is a managing director and head of the Global Health Care team at The Carlyle Group. He is based in New York.
Mr. Wise serves as a member of the board of directors of PPD, HCR-Manor Care, Rede D'Or São Luiz S.A., Ortho Clinical Diagnostics (OCD), Healthscope Ltd. (prior), Grupo Qualicorp (prior), Multiplan (prior) and Lifecare (prior). He also served on the board of Qualicaps Group (prior), a portfolio company of Carlyle Japan Partners. Mr. Wise serves on the Leadership Council of the Harvard School of Public Health.
Prior to joining Carlyle, Mr. Wise worked with JLL Partners, a New York-based private equity firm, where he focused on health care-related investments. He reviewed and executed transactions in a wide variety of sectors, including facilities-based services, managed care and pharmaceutical services. Previously, he worked with J.W. Childs Associates, a Boston-based private equity firm, and prior to that, in the leveraged finance group of Credit Suisse.
Mr. Wise earned a bachelor's degree in economics and finance from Bucknell University and received his master's in business administration from Harvard Business School.