Video file
INVESTING TO CAPTURE Significant Opportunities Around the World
Carlyle Global Infrastructure is an integrated platform which brings together the firm's substantial resources, scale and capabilities to further invest behind the energy transition and capture significant opportunities around the world. Our team invests in long-term projects spanning the transportation, energy, digital, water, renewables and power sectors globally. We believe our investments fund essential assets that help meet the needs of everyday life and support economic growth and productivity.
in assets under management
committed to renewable energy assets globally
global investment professionals
Sector Strategy and Approach
Carlyle has over 15 years of investing experience in infrastructure and energy spanning all major sectors - renewable energy, thermal power, upstream, midstream and downstream oil & gas, digital infrastructure, and transportation - making the firm one of the industry's most diversified players. Within renewable energy, Carlyle has invested across the spectrum of opportunities including: utility-scale, commercial & industrial, community renewables generation & storage, and bi-directional EV charging.
Working with business owners and developers, Carlyle works to drive performance through international expansion, public-private partnerships, M&A, and strategic positioning strategies.
We focus on investing in long-term trends to seek to create enduring value within the infrastructure and energy sectors, including:
Opportunities created by the energy transition, such as renewable power generation, battery storage solutions, the electrification of the transportation fleet, carbon capture and storage solutions, and supply chain de-carbonization

Digital infrastructure needs accelerated by the global pandemic, including fiber optic cables, towers, and 5G technology

Transportation projects to support the development and management of modernized airports, seaports, roads, and railways

Alternative energy, power, and utilities transmission and global distribution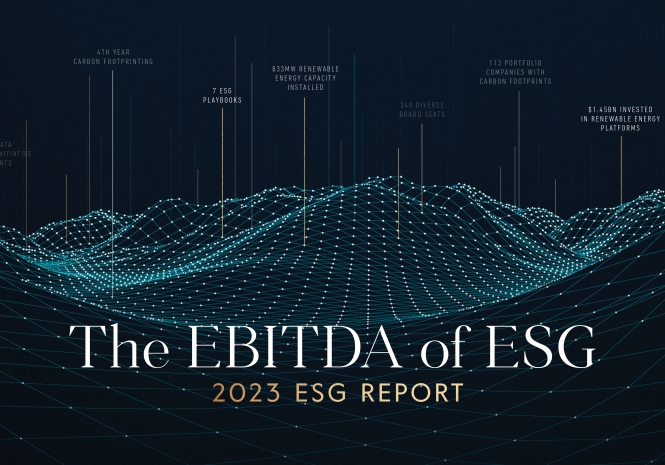 EBITDA OF ESG
We are pleased to share this year's ESG report, entitled "The EBITDA of ESG" to reinforce our belief that integrating ESG factors into our investment processes provides an additive lens that we believe can provide opportunities for our portfolio companies to drive revenues, reduce costs, secure more efficient financing, and strengthen their competitive positioning.
Meet The Team
Global Infrastructure Team
Our Global Infrastructure team has experience investing through multiple economic cycles and across geographies.