Image
Climate Resilience
Neptune Energy
Case Study
Lead Fund:
Carlyle International Energy Partners
Acquisition Date:
2/15/2018
Efficiently meeting growing energy needs
The world is undergoing a massive energy transition – Societal expectations about how energy is produced and used are changing rapidly, and governments around the world are increasingly taking action to meet their climate goals under the Paris Agreement. With a global population set to grow to more than nine billion by 2050*, however, the world continues to need more energy than ever.
To meet these growing energy needs while also reducing emissions, entities across the energy sector – from established oil and gas companies to renewable energy businesses – are rethinking the way in which they find and produce energy. This energy transition is a core part of Carlyle's International Energy Partners (CIEP) investment thesis. In February 2018, CIEP invested in Neptune Energy, one of the world's largest private independent international exploration & production companies with production of 144,000 barrels of oil equivalent (boe) per day in FY2019.
Neptune was carved out from the French utility ENGIE, and since its initial investment, CIEP has added three material bolt-on acquisitions in core hubs in the North Sea and Southeast Asia since 2018. Neptune supported an estimated $2.8 billion gross value-added contribution to the GDP of Germany, the Netherlands, Norway and the UK in 2019 – as well as 11,500 jobs.
Gas has a vital role to play in the energy transition, increasingly replacing coal as a lower-carbon power generation fuel, providing baseload and back-up power to complement the variability of renewables, and as a source of energy that is accessible, transportable, and affordable. Neptune's energy mix is currently 72% gas and 28% oil, positioning it well as it continues to look towards a lower-carbon future.
Image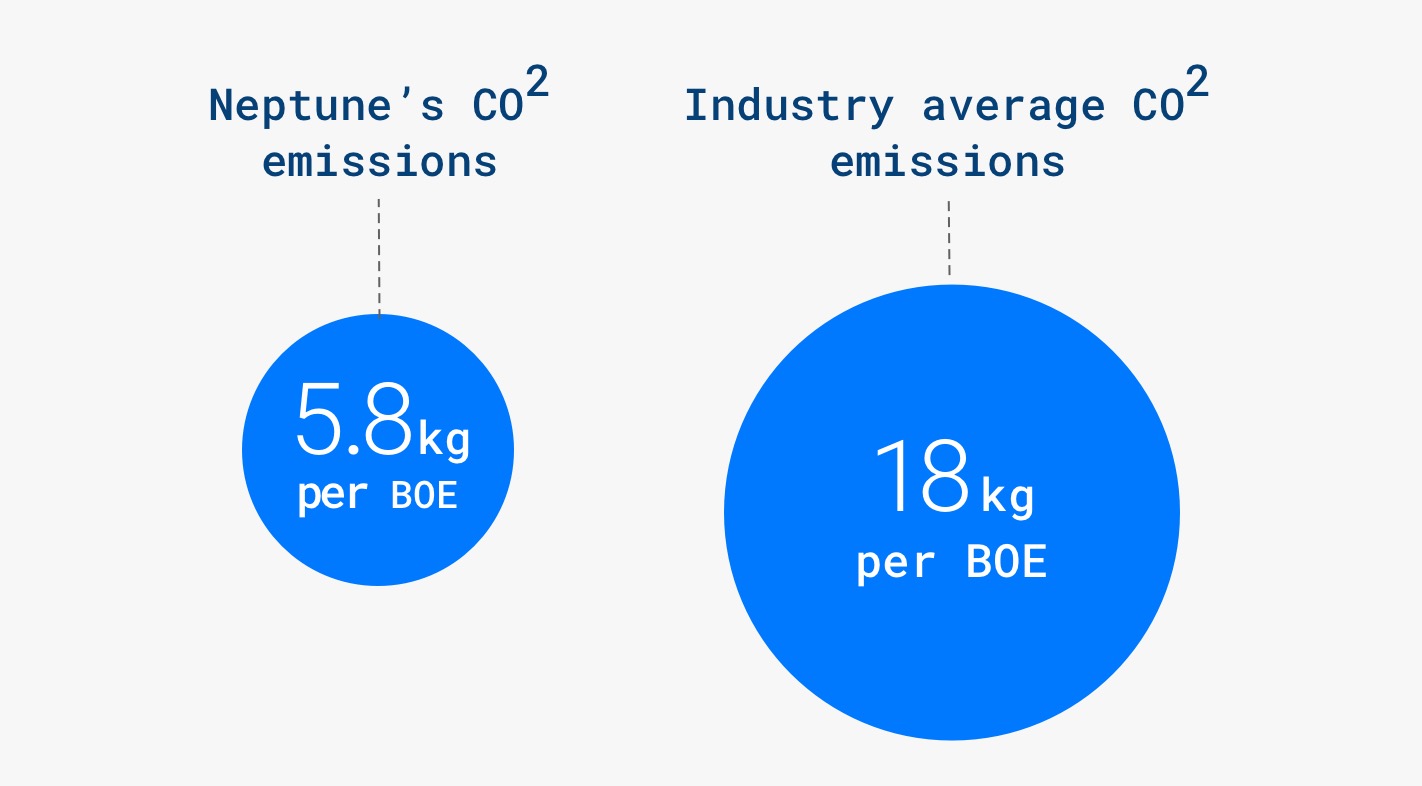 Neptune's carbon intensity is one of the lowest in the industry – Neptune emitted 5.8kg of carbon dioxide (CO2) per boe in 2019, well below the industry average of 18kg CO2/boe. Neptune is committed to play a full role in a lower-carbon future by:
Targeting a carbon intensity of 6.0kg CO2/boe by 2030 from its managed production.

Maintaining the low methane intensity of managed production through comprehensive leak detection and repair program using infrared cameras. Neptune is targeting net zero methane emissions by 2030.

Powering the Gjøa field in Norway using hydroelectricity delivered via a submarine cable from the mainland. This saves around 200,000 tonnes of CO2 every year.

Innovating on carbon capture and storage (CCS) technologies:

At the K12b platform in the Netherlands, Neptune participated in a 15-year program to reinject CO2 from a producing well into a producing gas field. This reduced the project's lifetime CO2 emissions by approximately 100,000 tonnes.

Neptune's partner-operated Snøhvit field in Norway captures and reinjects CO2 back into the aquifer, storing up to 700,000 tonnes of CO2 each year.

Participating in a pilot project to establish the world's first offshore green hydrogen production plant:

The Q13-a platform in the Dutch North Sea will house a megawatt electrolyser that will produce green hydrogen using excess offshore wind power by 2021. The hydrogen will then be transported via pipeline to a nearby platform, where it will be used to produce electricity.
Neptune is also identifying, assessing and managing climate-related risks through its enterprise risk management system. To prepare for future carbon regulation, Neptune will be incorporating an internal carbon price into risk assessments and investment decisions to ensure that it continues to be aligned with the low carbon energy transition. As the world needs more – and cleaner – power, Neptune's depth of energy experience and breadth of innovation have positioned it well to be a leading provider.
*The United Nations, 2019
---
Carlyle believes these selected case studies should be considered as a reflection of Carlyle's investment process, and references to these particular portfolio companies should not be considered a recommendation of any particular security, investment, or portfolio company. The information provided about these portfolio companies is intended to be illustrative, and is not intended to be used as an indication of the current or future performance of Carlyle's portfolio companies. The investments described in the selected case studies were not made by any single fund or other product and do not represent all of the investments purchased or sold by any fund or other product. The information provided in these case studies is for informational purposes only and may not be relied on in any manner as advice or as an offer to sell or a solicitation of an offer to buy interests in any fund or other product sponsored or managed by Carlyle or its affiliates. Any such offer or solicitation shall only be made pursuant to a final confidential private placement memorandum, which will be furnished to qualified investors on a confidential basis at their request.