Video file
Delivering On Our Plan for Future Growth
At Carlyle, our mission is to invest wisely and create value. We've delivered on this mission for more than three decades by consistently reinventing returns and leveraging our global scale, deep expertise, and local insights. Our 2021 Annual Report highlights how we aim to continue building on our strengths and executing on our vision of thinking bigger, moving faster, and performing better to thrive and deliver consistent results in any investment environment.
Image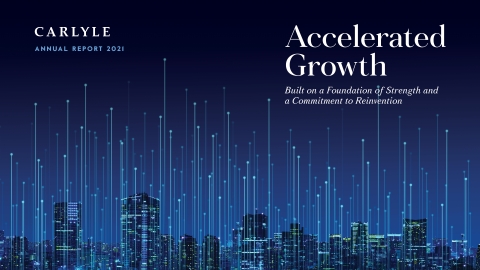 Letter to Shareholders
2021 was a year of remarkable achievement for Carlyle that clearly reflected the positive impact of executing on our Strategic Plan.
We captured opportunities in a changing and dynamic market, driven by our global teams and diversified platform, leading to strong financial results across the board and achieving a new, higher level of earnings power. Our leadership remains focused on improving our investment activities, expanding our capital formation capabilities, and strategically building the firm for the future in order to deliver sustainable value for shareholders.
I am confident in our ability to continue navigating the evolving market and executing on our Strategic Plan to think bigger, move faster, and perform better for all stakeholders in 2022.
Investor Day 2021
Communicating Our Vision
We started 2021 by outlining a four-year roadmap of our priorities to substantially increase growth and profitability and generate long-term shareholder value. The three guiding principles underpinning the plan are: accelerating the scope and scale of our existing businesses; capitalizing on new opportunities; and institutionalizing the firm.
I am proud that the firm and our teams have rallied around this plan, and am grateful for all the energy and passion reflected in an extraordinary year. Our global platform is better positioned than ever before to perform and continue our momentum in 2022.
Financial Performance
Executing Against Our Strategic Plan
We ended 2021 well ahead of schedule on our Strategic Plan and achieved annual records across the board in Fee Related Earnings (FRE), Distributable Earnings (DE), and every major investment metric. Collectively, our people produced exceptional results for the firm.
Our Strategic Plan
Image

Our FRE growth has reached sustainably higher levels, our growth initiatives are starting to pay off, and our investment platform is well-positioned to drive robust Distributable Earnings over the next several years.
We also delivered record investment performance, with valuations increasing 41% annually and realizations of $44 billion across our carry funds. As we expanded our investment aperture, leaned into our strengths, and found opportunity around the globe and across asset classes, we also drove record investment activity of $34 billion in 2021.
Our investment performance and realized proceeds sent back to our fund investors have also benefitted our fundraising efforts. In 2021, we raised $51 billion in funds, nearly double what we raised in 2020, which were well-diversified across our three global business segments. We aim to continue this momentum over the next few years as we focus on the substantial upside potential beyond our initial capital raising goal, which would contribute to delivering financial results that surpass our FRE target.
Finally, our extraordinary performance and new level of earnings power gave us the confidence to raise our dividend substantially, an objective we set out to deliver for our shareholders in our Strategic Plan.
2021 Highlights
Image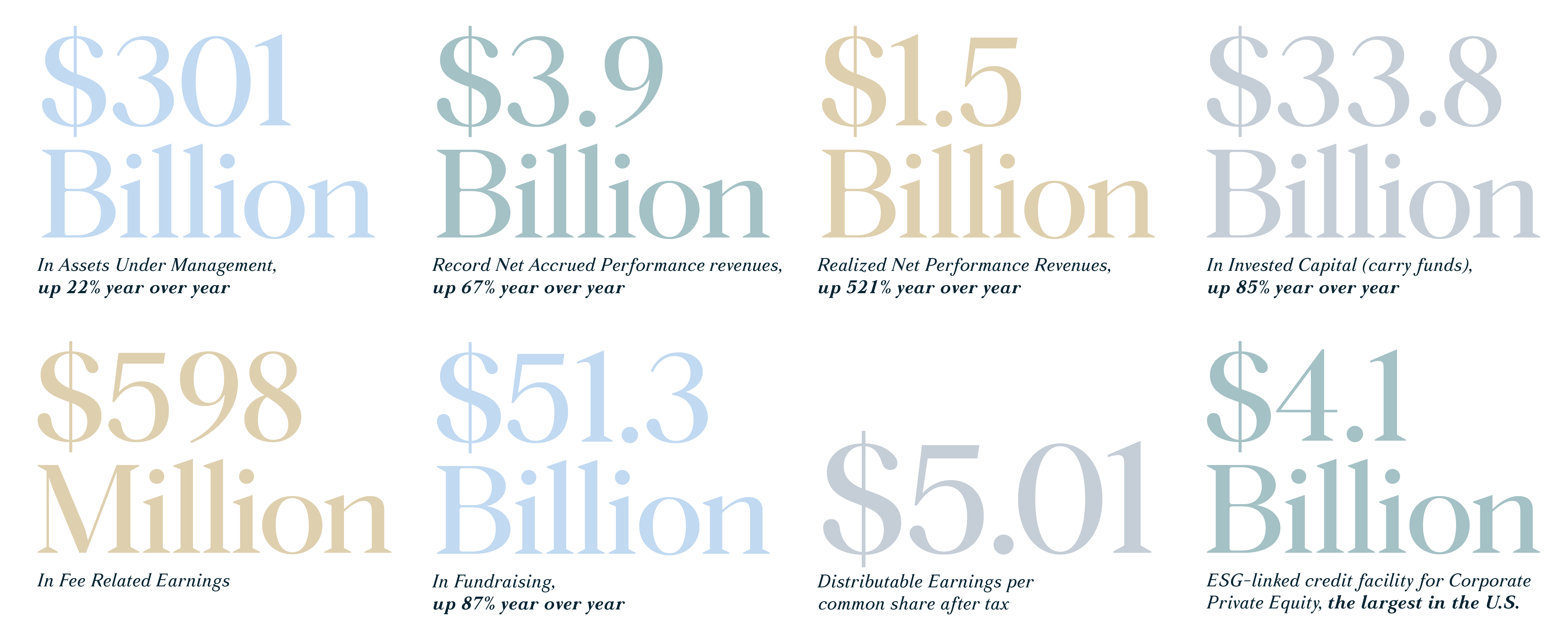 Investing in Our Future
In 2022, there is one over-arching corporate priority: growth. The performance we delivered in 2021 gives us the resources to invest and build the firm to accelerate our growth even further. We are investing strategically to compound our momentum organically and inorganically.
Over $2.2 billion in pre-tax DE generated last year helped grow our balance sheet cash to $2.5 billion as of December 31, 2021. This strong cash position gives us the capital to support larger next-generation funds and new strategies, as well as pursue corporate development opportunities that drive accretive growth on an inorganic basis.
We continue to expand our existing platforms, including Global Credit and Insurance Solutions, which are both poised for breakout years in 2022. Our team is constantly evaluating ways to prudently execute transactions in large scalable markets that will be FRE generative and sources of growth for years to come.
Our focus on building the firm also includes investment and leadership in ESG & Impact, as well as DEI, which are increasingly required to drive returns and meet the demands of our investors. Impact is embedded in everything we do—it is not a single product or strategy, but a mindset that permeates our culture and investment ethos. Examples of this leadership in 2021 included launching the ESG Data Convergence Project, which now includes over 100 leading general and limited partners globally, representing $8.7 trillion in assets under management and over 1,400 underlying portfolio companies. We also became the first in our industry to announce a commitment and executable action to achieving net-zero greenhouse gas emissions by 2050, or sooner, across direct investments.
We also believe creating value for investors requires diverse and inclusive teams. In the U.S., Europe, and Asia, we secured credit facilities of more than $8 billion tied to achieving our goal of 30% diverse directors across our controlled portfolio companies by 2023. Additionally, in 2021, 59% of the new directors added to goal-eligible companies were executives from underrepresented groups, bringing the overall diversity of goal-eligible companies globally to 29%.
We will continue to double down on our work in ESG, Impact, and DEI for the benefit of our stakeholders with even more ambitious goals in 2022 and beyond.
Today's Carlyle
Image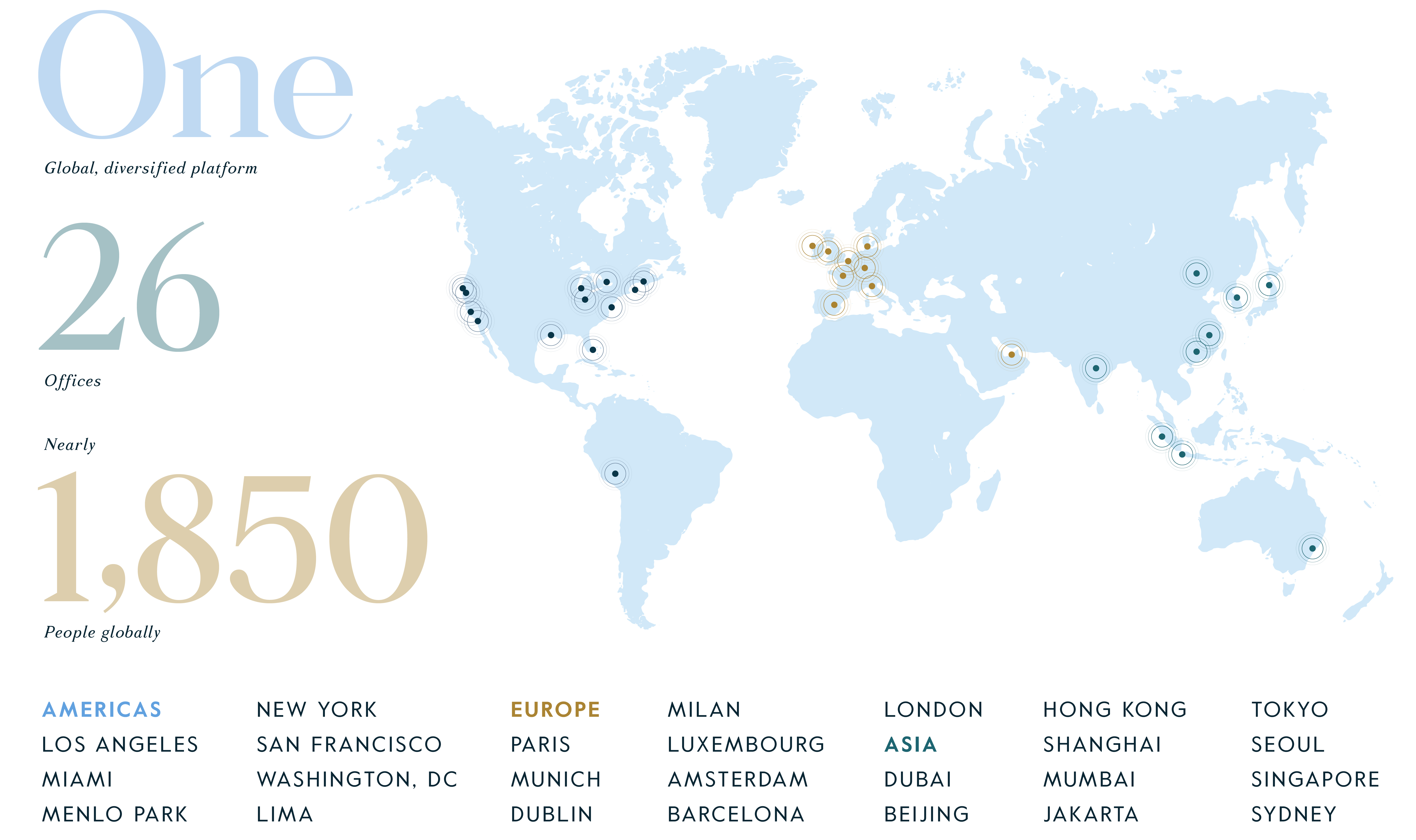 Looking Ahead
As we enter 2022 with new geopolitical tensions, notably the conflict in Ukraine, the world is in a more tenuous place, but we are confident that we can continue to navigate the current market conditions. We are a stronger and healthier firm because of our 2021 progress and still remain focused on building the best investment firm possible and running it better than ever before.
Our Strategic Plan encapsulates all of this, and we hope you share our confidence in the potential upside, underpinned by our ability to grow our investment platform and FRE, drive investment performance, and build the firm strategically for the future.
The strength of Carlyle's culture, with an emphasis on teamwork and support, helped us manage through the COVID-19 pandemic and I believe our people will remain one of our assets as we navigate new challenges ahead. Our teams' energy, hunger to compete, and strong desire to perform is impressive. We have navigated economic cycles over the decades and are confident in our ability to continue to thrive and deliver for all stakeholders across all cycles. We are excited and energized by the opportunities we see as we continue to think bigger, move faster, and perform better.
Thank you, as always, for your support and partnership.
Kewsong Lee
Former Chief Executive Officer
March 30, 2022