Making Diversity a Priority
At Carlyle, we believe that diverse teams and experiences bring tremendous value to our firm and the investment management industry. 
We recognize that we will ultimately have more success with a team that not only is diverse, but one that values that diversity and leverages it as a competitive advantage. 
That's why we're committed to growing and cultivating an environment rich in different backgrounds by recruiting, developing and retaining women and men of all ethnicities, sexual orientations, generations and life experiences. 
Supporting a diverse and inclusive workforce is a priority for Carlyle. Diversity of experience, culture, race, ethnicity, gender and sexual orientation provides distinct perspectives that we believe help us make better investment decisions and be better corporate citizens.
Leading by Example
In 2013, we established our Diversity & Inclusion Council, among the first of its kind in the investment management industry. The mission of the 20 leaders of the Council is twofold: 
• To foster an environment of inclusiveness for diversity in all forms to enhance our collaborative One Carlyle culture and ultimately make better business decisions 
• To enable Carlyle to hire the most talented professionals in the world 
Carlyle values the opportunity and perspective brought by a diverse and inclusive workforce. The very spirit of One Carlyle reflects these values.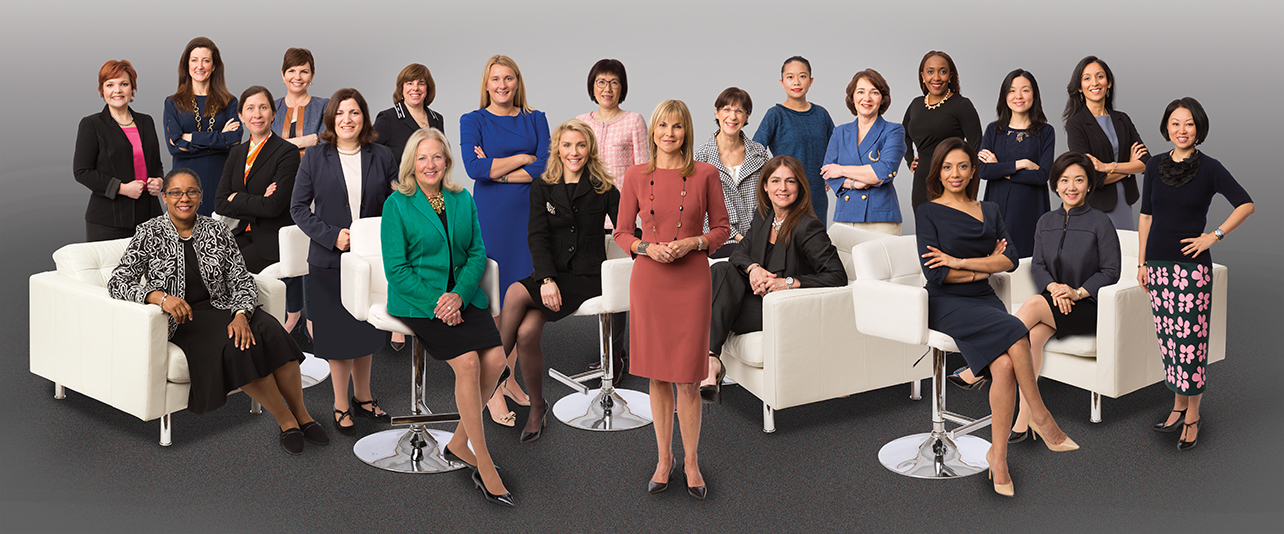 SPOTLIGHT  Women at Carlyle: A Growing Force
We recognize that our industry lacks diversity in several areas—including gender—an imbalance that is particularly true on the investment side of the business.
We have focused on building a pipeline of great talent, including female investment professionals.
We continue to refine and improve how we recruit, mentor and advance women at Carlyle, and we are encouraged by the concrete results we have achieved, with
89 senior-level women at Carlyle as of January 1, 2019, more than half of whom are on the investment side. Additionally, almost 50% of Carlyle's total AUM ($110 billion of $222 billion) is led or co-led by women: Sandra Horbach, Co-Head of U.S. Buyout, Linda Pace, Head of Loans & Structured Credit, and Ruulke Bagijn, Head of Investment Solutions.
We believe our strategies and the pipeline of female talent we are building will increase those numbers over time.
Employee Resource Groups
Carlyle's employee resource groups nurture our inclusive culture by focusing their activities on recruiting, developing and retaining women and men of all ethnicities, sexual orientations, generations and life experiences.
Since the groups began in 2013, they have hosted more than 100 events, including external speaking engagements, charitable fundraising, recruiting and skills training.
Our current ERGs are:
DC/Rosslyn Women                         

NY Women

Multicultural

Veterans

Young Professionals

Working Parents

Lesbian, Gay, Bisexual, Transgender and Queer (LGBTQ)
Initiatives that emerged from our ERGs include introducing domestic partner benefits and starting leveraged relationships with Historically Black Colleges and Universities to increase recruitment channels.
Focus on Recruitment, Retention and Hiring
We recruit from diverse channels and foster an environment that supports retention and promotions of a more diverse workforce.
We seek to bring diversity in all forms to Carlyle—not only diversity in gender, race, ethnicity, sexual orientation, disability, religion and age, but also in their personal backgrounds, life histories and—significantly—their thoughts and ideas. 
We track a range of key performance indicators (KPIs) on diversity and inclusion. These include: 
We completed the hiring of our 2019 incoming U.S. Corporate Private Equity Funds 2-Year Associate class, which will be 50% diverse by gender and race. Our 2-Year Associate class has been at least 50% diverse each of the past five years. Our goal is continuous improvement in building a pipeline of diverse talent. In addition, our incoming post-MBA/Senior Associate hires in U.S. Corporate Private Equity are 60% diverse.
Men 57%, women 43%
In addition, our Diversity & Inclusion Council sponsors Carlyle's global mentoring program, which has had over 600 participants from every corner of the firm in the five years of its existence.
Partnerships
To help identify and develop diverse talent early on, we actively engage with prominent organizations such as the Toigo Foundation and Sponsors for Educational Opportunity (SEO). We provide training and mentorship for prospective Carlyle candidates from undergraduate school through business school graduation with fellowship programs, networking events and instructional programs. Carlyle has sponsored a Toigo Fellowship almost every year since 2010 and since 2007 has hired 36 SEO alums—by far the most in the industry. In 2016 we established two fellowships for minority and female banking analysts with SEO.