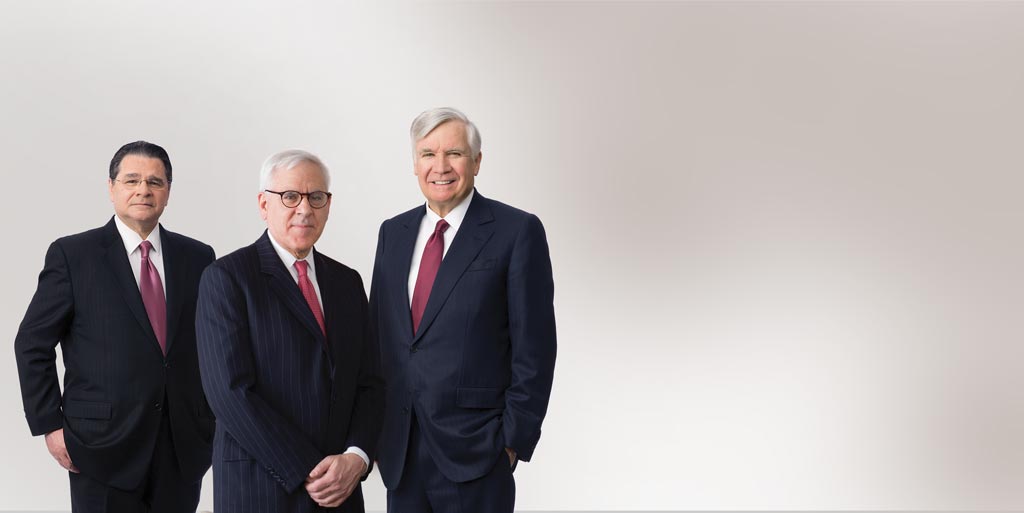 "Having a best-in-class approach
to ESG issues is important to
Carlyle because it not only reflects our
values but also is important to
our investors."

Daniel A. D'Aniello
David M. Rubenstein
William E. Conway, Jr.
A Message from the Founders
Building capacity. As a global organization dedicated to serving our investors, we have made it a priority over the past decade to invest in our capabilities around sustainability. There's much more to do, but we believe we have deepened our ability to help our investors, our investment professionals and our portfolio companies engage meaningfully with Environmental, Social and Governance (ESG) issues.
How have we done this? Nine years ago this fall, we unveiled our Responsible Investment Guidelines at our annual investor conference; the American Investment Council adopted similar guidelines the following year. In 2010, we published our inaugural Corporate Citizenship Report, the first by a major private equity firm. In 2014, we hired our first Chief Sustainability Officer, Jackie Roberts. These were just a few steps on our journey; more significant is the day-to-day sustainability work we are doing across our global portfolio, as well as our efforts to further weave an ESG-focused mindset into our investment processes.
In this, our seventh Corporate Citizenship Report, we share our approach to deeper integration of ESG into our organization and investment processes. We're doing this at two levels: building Carlyle's ESG capacity, both as an organization and among our investment professionals, and building ESG capacity at our portfolio companies. A related theme is building the capacity of our own organization by building a more diverse workforce.
As Chief Sustainability Officer, Jackie Roberts provides direct guidance and support both within and outside the firm. The true power of our integrated approach comes from enlisting more than 630 investment professionals. This means helping ensure our fund and industry group heads have a deep enough understanding of sustainability—an ESG "mindset"—to be able to help people on their teams, at our portfolio companies and you, our investors, assess, manage and monitor these issues. This is also a work in progress, but we have seen tangible results, as we discuss elsewhere in this report.
The goal is to build capacity within our portfolio companies, where appropriate, and to manage ESG issues to both reduce risk and seize more opportunities. Our more than 270 portfolio companies possess a range of ESG capabilities—some have advanced and extensive programs, others may be early in developing such competencies. Building capacity within our investment teams really pays off, because they are the ones dealing most continuously and directly with company management teams.
Finally, we want to highlight our diversity efforts. Supporting a diverse and inclusive workforce is a priority for Carlyle. Diversity of experience, culture, race, ethnicity, gender and sexual orientation provides distinct perspectives that we believe help us make better investment decisions and be better corporate citizens. This year we discuss in particular our efforts to advance gender diversity.
We continue to refine and improve how we recruit, mentor and advance women at Carlyle, and we are encouraged by the concrete results we have achieved, with 71 senior-level women at Carlyle as of early 2017, more than half of whom are on the investment side. Further, 33 female investment professionals are at the level of Managing Director or above.
This extraordinary group of senior women with investment responsibility—a group that we believe is the largest in private equity—includes people like Sandra Horbach, our Co-Head of U.S. Buyout; Lauren Dillard, Head of our Investment Solutions segment; Linda Pace, Head of U.S. Structured Credit; and Janine Feng, Managing Director in Asia Buyout—to name just a few. They—as well as the three of us and other senior professionals—play a critical role in setting the tone from the top, reinforcing the importance of Carlyle creating an attractive work environment where women can build their careers. We have made progress, and we believe our strategies and the pipeline we are building will increase those numbers over time. But we are far from satisfied, cognizant that we have much more work to do.
Having a best-in-class approach to ESG issues reflects our values. It's important to Carlyle because it's important to our investors. Many of our limited partners are fully engaged on sustainability matters—asking very specific questions and seeking practical guidance as they build their own capacity. They have shown confidence in Carlyle's ability to identify, monitor and manage these issues to reduce risk and seize investment opportunities. We are humbled by the confidence they place in us, and while we are a leader in our industry on ESG issues, we are determined to build on and improve our capabilities.

William E. Conway, Jr., Co-Chief Executive Officer

Daniel A. D'Aniello, Chairman

David M. Rubenstein, Co-Chief Executive Officer