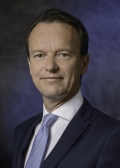 Wouter Moerel
Location
Amsterdam, Netherlands
Wouter is the Co-Head of the AlpInvest Partners' Secondary Investments team. He is also a member of the Board and a member of the Operating Committee.
Wouter joined the firm in 2005 from The Carlyle Group, where he was a Principal responsible for investments in the telecoms and media sector. Previously, Wouter was a Vice President of corporate finance with JP Morgan and a Director of corporate finance for Lehman Brothers.
Wouter received an MSc in Business Administration from the University of Groningen and holds multiple Advisory Board positions, including Nazca Capital, SwanCap Partners and AAC Capital.