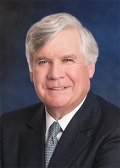 William E. Conway, Jr. is a Co-Founder and Co-Executive Chairman of The Carlyle Group. Mr. Conway is also Co-Chief Investment Officer with responsibilities for Global Private Equity and Global Credit.
Prior to co-founding Carlyle in 1987, Mr. Conway worked at MCI Communications from 1981 to 1987, serving as Chief Financial Officer from 1984 to 1987. Mr. Conway began his career at The First National Bank of Chicago in 1971 and served for 10 years in a wide variety of positions.
Mr. Conway is a graduate of Dartmouth College and the University of Chicago Graduate School of Business. Mr. Conway is an active supporter of various local charities, particularly those supporting nursing, the needy, and the Catholic Church.