Video file
Using our Spheres of Influence to Advance Diversity, Equity, and Inclusion
Diversity, Equity & Inclusion

"To build better businesses and create value for all of our stakeholders, we are focused on assembling boards and leadership teams with the strongest insights from a range of perspectives. And to do that, diversity is key. The data is clear: diversity drives performance." – Harvey Schwartz, CEO
 
Our Strategy and Commitment
Our diverse and inclusive community makes us better partners and ultimately, helps us to build better businesses. As we continue on our journey to build a more inclusive work place, we have identified four key elements to sustainable change.
画像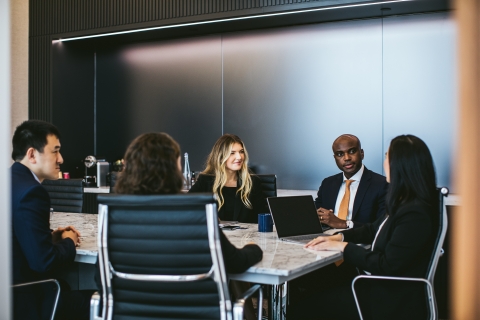 At Carlyle, we know that diverse teams perform better. We seek to create a community where we continually exchange insights, embrace different perspectives, and challenge the status quo.
Our diverse and inclusive community makes us better partners and help us to build better businesses. As we continue our journey to build a more inclusive workplace, we have identified four key elements to sustainable change:
A Compelling 'Why'
So that teams and individuals are inspired and take action.
Data
To guide action, monitor progress, and strengthen accountability.
Education paired with changes to systems and decision-making processes
So that our structures support everyone in knowing and taking steps towards inclusivity.
Concerted, credible stewardship & governance
We are engaging all of our people to take action within their spheres of influence to foster an inclusive and dynamic culture because we all have a critical role to play.
Carlyle's Spheres of Influence
We continuously strive to embed diversity, equity, and inclusion (DEI) into everything we do. This requires us to be actively inclusive, rewire processes, practices and norms, and leverage our spheres of influence to make progress against our goals. By igniting action within our firm, our investments, and our community, we are making strides in DEI in the near term and laying the foundation for even greater impact into the future.
画像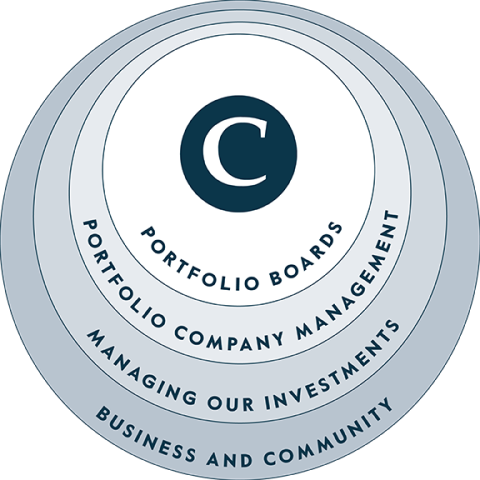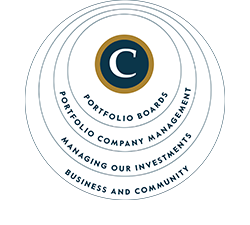 DEI at Carlyle
At Carlyle, we believe diverse teams ask better questions and inclusive teams find better answers. This timeline tells the story of our DEI commitment and progress over time:
画像

Building upon the guidance that at least two diverse candidates be interviewed for each open role, we provided guidance that, in the US, at least one of the candidates should be Black, Latinx, Pacific Islander or Native American.
Inclusion is now a core management and leadership competency. All nominees for promotion to Managing Director take part in a full-360 assessment that includes evaluation of their skills in inclusive leadership and management.
We launched focused development efforts including a program for mid-level professionals underrepresented in finance. In 2022, the promotion rates for participants in the program were double that of the firm average. 
The Compensation Committee of Carlyle's Board of Directors established progress toward diversity, equity, and inclusion initiatives as one of the factors that informs a portion of CEO compensation, which Carlyle's senior leadership also expanded as a consideration into  compensation decisions for all employees.
Year-end bonuses for all employees across all levels are performance-based, which includes meeting previously set individual diversity, equity, and inclusion objectives.
We launched a new DEI Incentive Award Program that rewards a select group of employees who have gone above and beyond to contribute to Carlyle's DEI initiatives and progress. Since 2021, we have awarded approximately $2 million annually to over 180 DEI Changemakers. 
We began our ERGs in 2013 and continue to create and expand them globally. ERGs are essential to our diversity strategy as they provide the opportunity for individuals to share ideas, build connections, and provide professional development. The ERGs provide networking opportunities to engage participants in helping to attract, develop and retain the best professionals in our industry – Carlyle employees – and to be a source of ideas on how to continuously improve our organization. Our ERGs have and continue to evolve because of the leadership and concerted effort of our people.
Employee Resource Groups
   •  DiverseAbility
   •  LGBTQ+
   •  Multicultural
   •  NextGen London
   •  Veterans
   •  Women
   •  Working Parents
In 2021, we launched the DEI Incentive Awards, a program recognizing employees who have gone above and beyond to contribute to DEI progress at the firm. DEI Changemakers are representative of all levels, from around the globe, who have gone above and beyond to contribute to DEI progress at the firm.
画像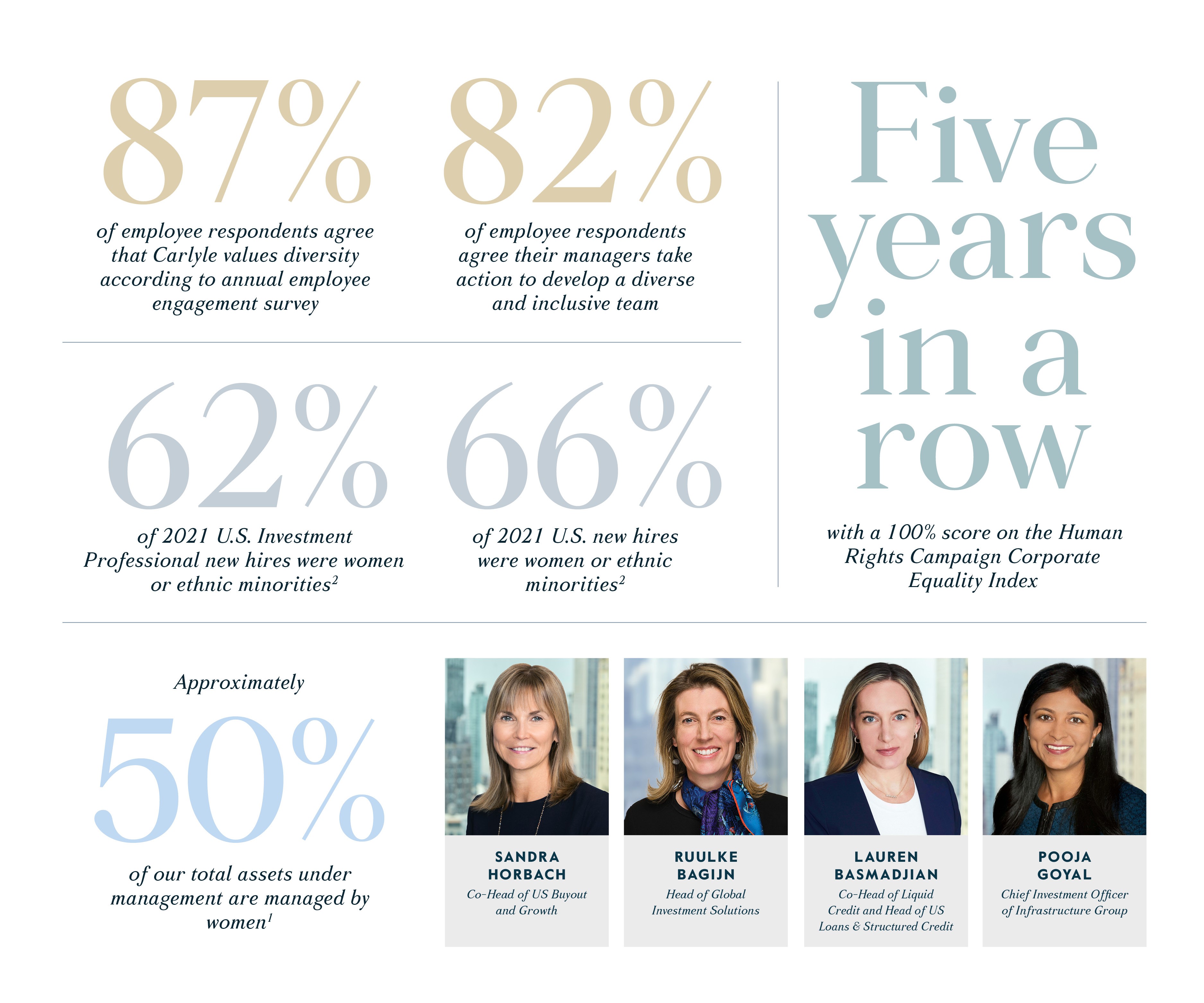 1 Based on the Total AUM by fund data, including funds classified as US Buyout (Sandra Horbach), Global Investment Solutions (Ruulke Bagijn), Europe Structured Credit, US Structured Credit (Lauren Basmadjian), and Infrastructure, Power, Renewable Energy (Pooja Goyal)
2 U.S. only with ethnic minorities defined as Asian, Black, or African American, Hispanic, or Latin, American Indian, or Alaska Native, Native Hawaiian, or Other Pacific Islander, Two or More Races
Transparent and Inclusive Practices
At Carlyle, we work hard to create a community where we continually exchange insights, embrace different perspectives and leverage diversity as a competitive advantage.
DEI Council
In 2018, we established our global DEI Council, which is comprised of 17 senior leaders. Carlyle's DEI Council meets at least three times a year to review and refine the firmwide DEI Strategy, help create inclusive environments, and work to build the systems needed to embed diversity and inclusion across our business segments.
画像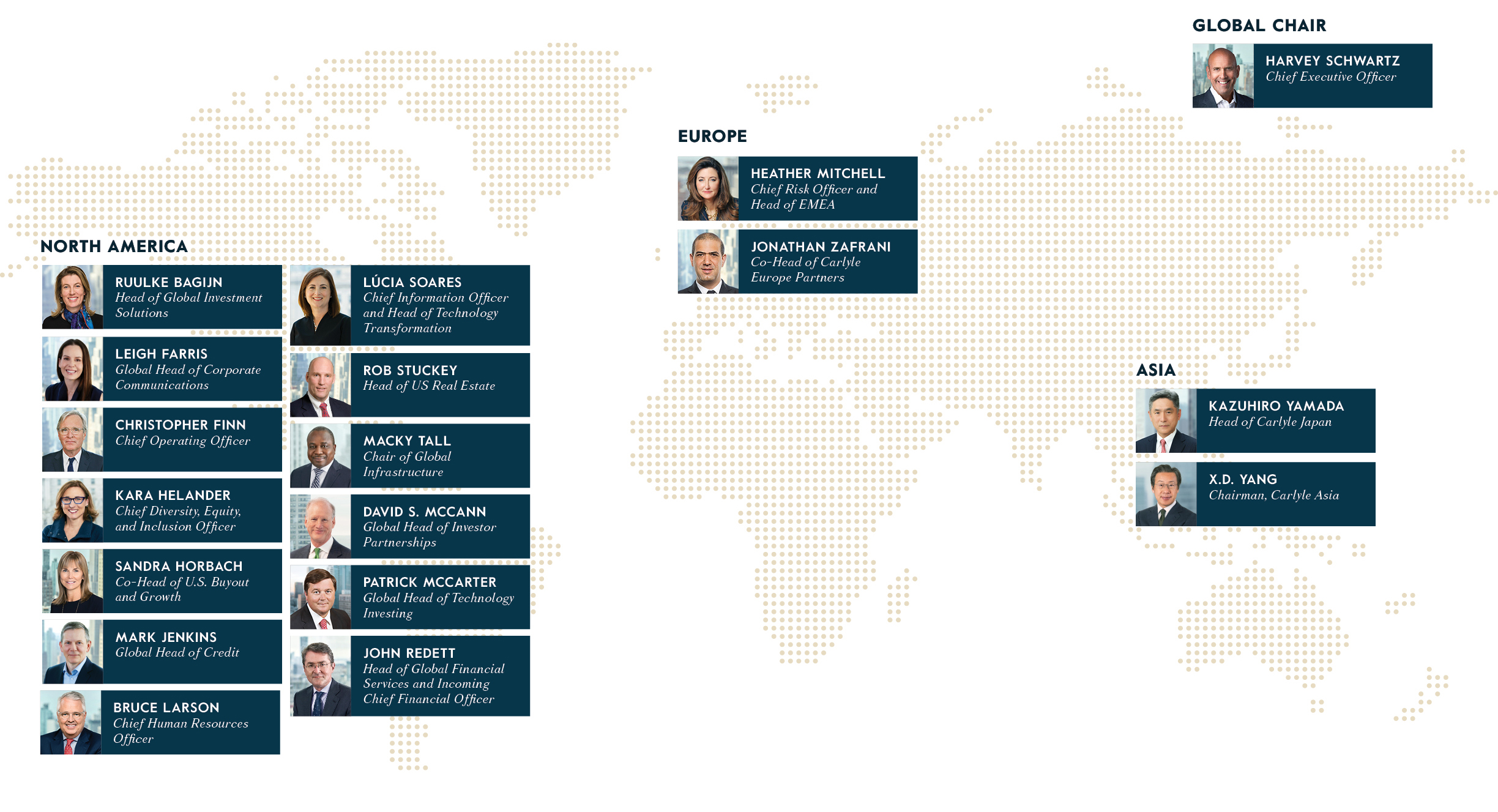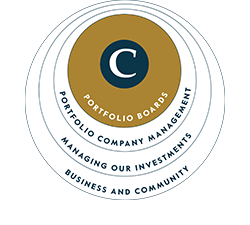 Portfolio Boards
 
画像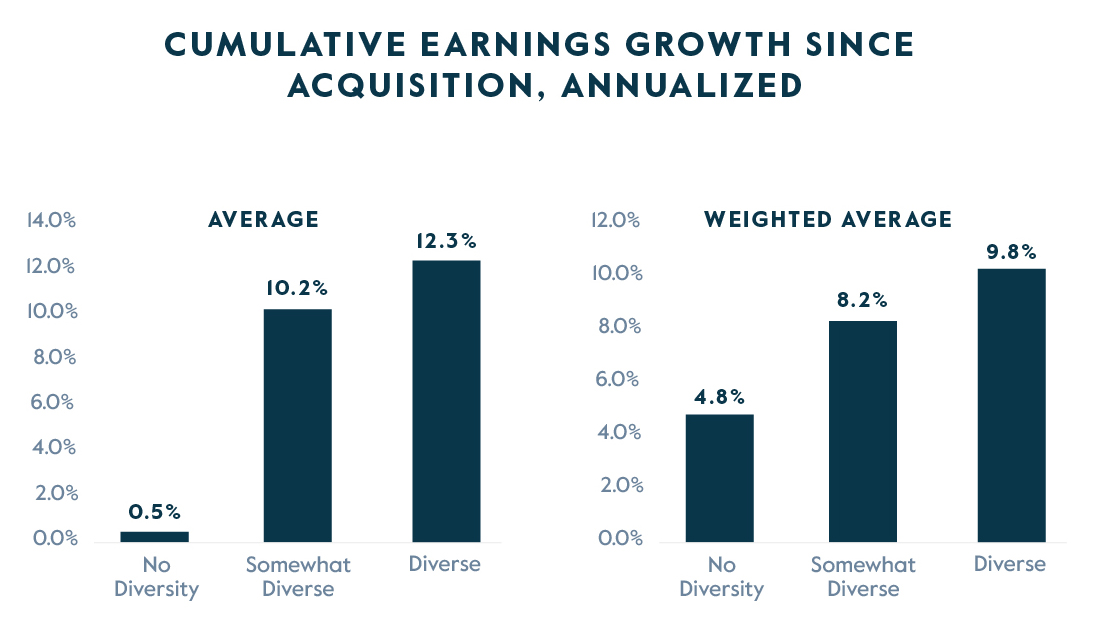 By promoting divergent viewpoints, we believe board diversity contributes to more deliberative decision-making processes and more effective governance.1
The data from our own companies support the growing consensus that diversity should be a priority of all funds with governance rights and influence, not just because it is a socially-desirable outcome, but also because diversity improves decision-making and financial outcomes.

In an analysis of Carlyle U.S. portfolio data conducted in Feb. 2020, over the prior three full years, the average earnings growth of Carlyle portfolio companies with two or more diverse board members was nearly 12% per year greater than the average of companies that lack diversity. After controlling for industry, fund, and vintage year, companies with diverse boards generate earnings growth that's five times faster, on average, with each diverse board member associated with a 5% increase in annualized earnings growth.
1 Carter, D, Simkims, B, Simpson W. "Corporate Governance, Board Diversity and Firm Value", The Financial Review 2003
画像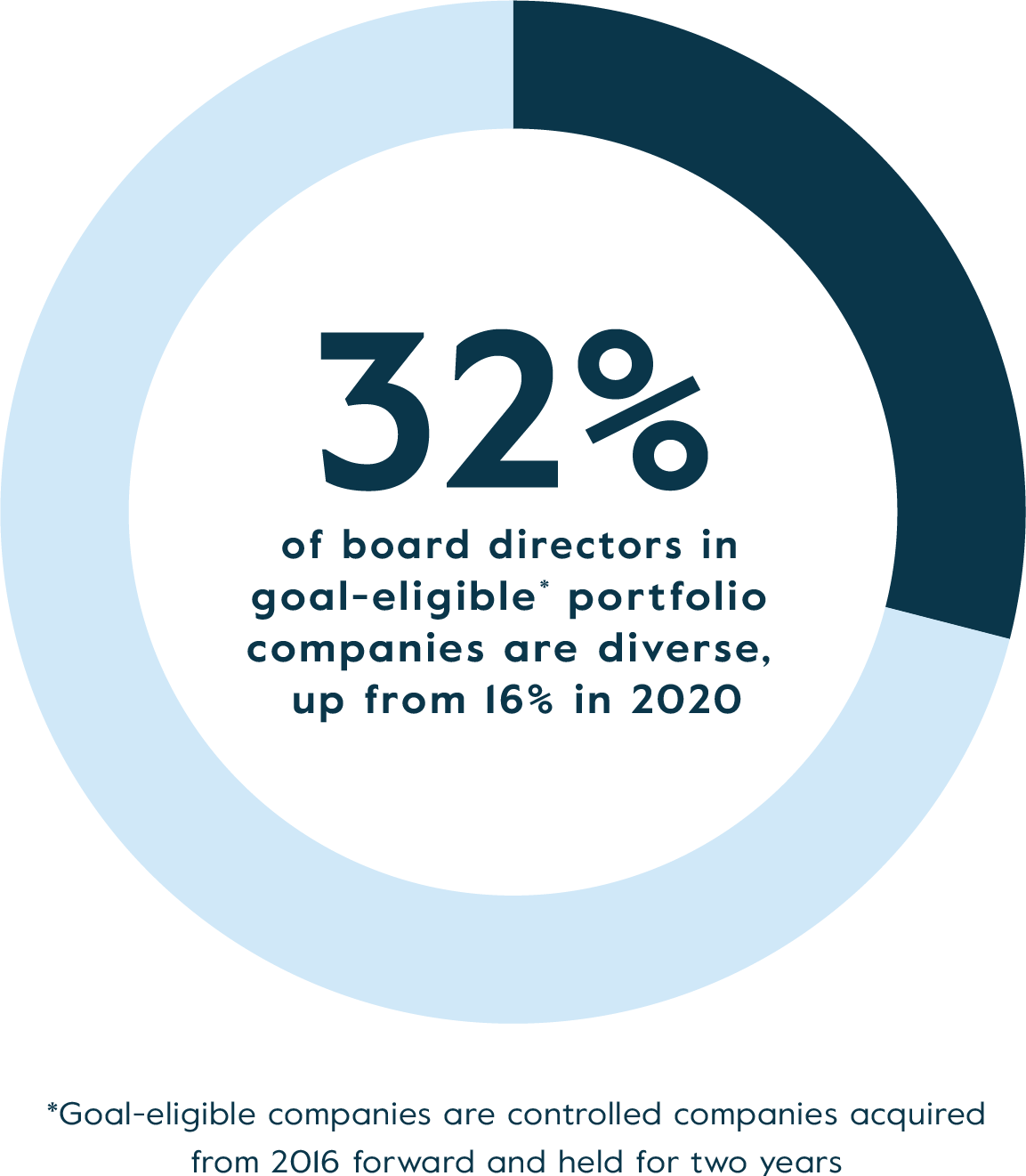 As a result of multiple years of investment, we are making progress on the composition of the boards of our portfolio companies. In 2016, we created a goal within our US corporate private equity business to have diverse boards for all our majority-owned company boards within 2 years of taking control of the company. At the time, 38% of eligible boards met the goal. Four years later, that figure rose to 88% overall and 100% in our flagship US Buyout funds. In 2020, we expanded our portfolio company diversity goal to have 30% of the board seats, in our majority-owned corporate private companies around the world, held by diverse directors* within 2 years of taking control of the company by 2023. We surpassed this goal ahead of schedule in Q3 2022 and that measure now stands at 32%.
By embedding DEI into many of our investments, we signal the significant role it plays in building better businesses. As of March 31, 2023, over 340 portfolio company board seats have been filled with diverse directors**. Our progress is due, in part, to tying incremental milestones to credit facilities totaling over $8 billion in the U.S., Europe, and Asia. Cost savings are produced when progress is made against our goal.
Carlyle will continue its efforts to work closely with its portfolio companies to achieve its board diversity goal. Learn more in this press release for the US and this press release for Europe.
*Diverse board director: female (global) or Asian, Black or African American, Hispanic or Latinx, American Indian or Alaska Native, Native Hawaiian or Other Pacific Islander, Two or More Races (where available; some boards do not report on race or ethnicity. Asians excluded from Asia Region and Hispanic or Latinx excluded from South America, Portugal and Spain).
**Between 1/1/20 and 3/23/23, 340 seats in Majority- and Majority-Owned CPE companies have been filled with a diverse director.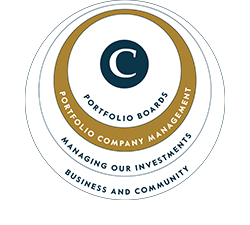 Portfolio Company Management
画像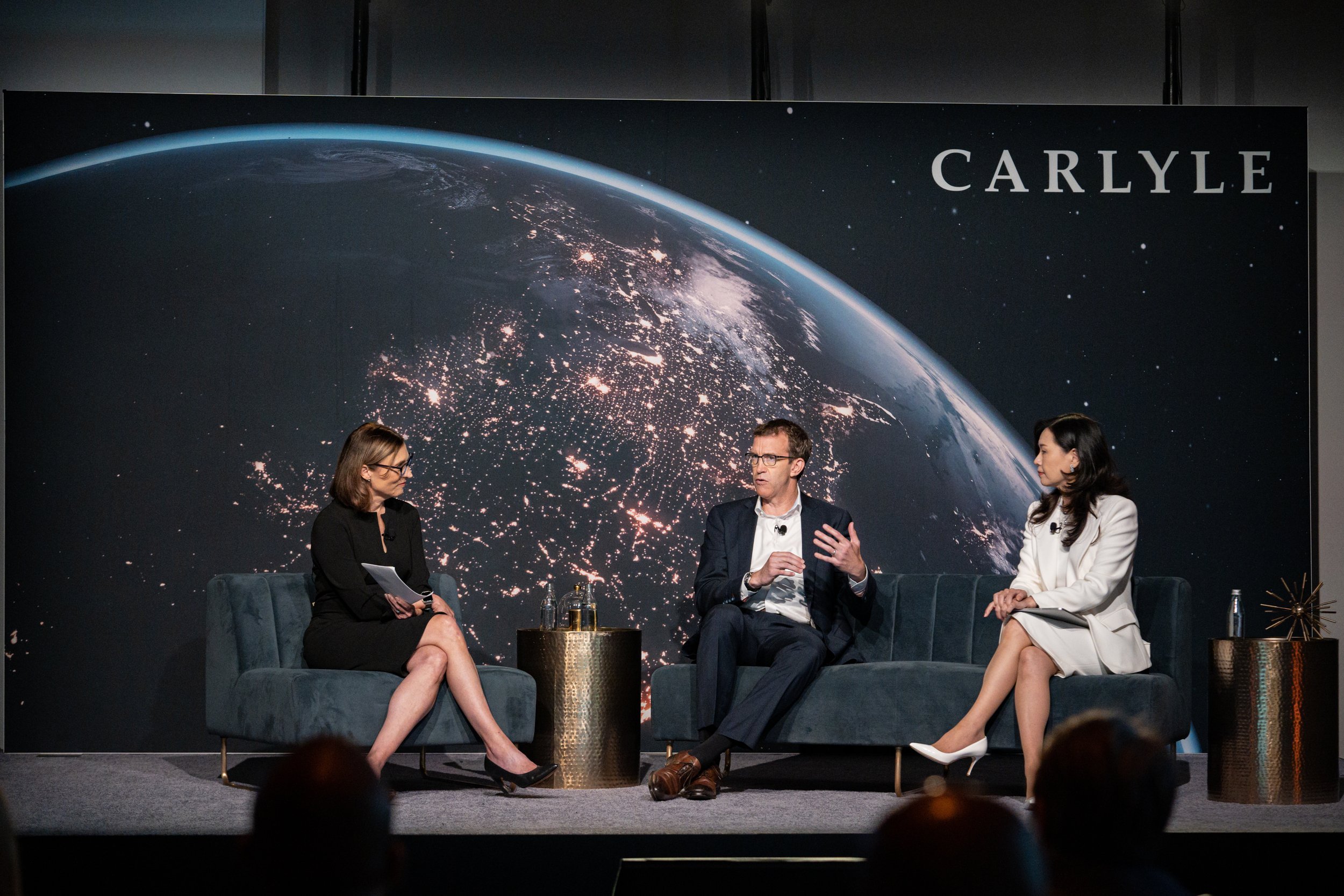 Kara Helander, Chief Diversity, Equity, and Inclusion Officer is joined by Sandra Wu (CEO of Kokusai Kogyo) and Reid Jason (CEO of Unison) on a panel for a discussion on how to build better businesses with diversity as a driver of change at Carlyle's Global Investor Conference 2022.


The firm is committed to providing guidance and support to portfolio company management teams and boards on effective diversity and inclusion strategies,.
DEI Leadership Network
In 2022, we launched the DEI Leadership Network, a coalition of CEOs within our portfolio, to empower them to share DEI best practices, learn from one another's experiences, and provide tools and tangible strategies to effectively lead with DEI at the forefront. The network spans North America, Europe, and Asia,. Feedback from participating CEOs illustrates the profound impact that the coalition has had so far—two participating CEOs shared their insights on leveraging diversity as a driver of performance during our 2022 Global Investor Conference.
Network of Talent
To help our portfolio companies source diverse talent and leverage Carlyle's existing network, we have created an Executive Database. Largely driven by referrals of trusted sources, the database houses more than 1,000 diverse candidates across specialties and functions. We also continue to partner with organizations such as The Executive Leadership Council and The Latino Corporate Directors Association to help us expand our network of diverse board members.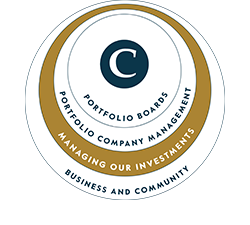 Managing Our Investments
Our Global Investment Solutions platform introduced a section in its responsible investment questionnaire dedicated to DEI. This new section, which GPs complete in addition to the broader survey, allows us to better track and influence DEI progress within the industry. We found that nearly threequarters of commitments (74%) went to GPs we rated as intermediate or higher in their DEI efforts; most notably, the amount of capital allocated to GPs who we ranked as advanced in DEI increased from 9% in 2021 to 30% in November 2022.
We also use our investments to drive change. For example, HireVue, a USBO portfolio company, offers recruiting technology that improves diversity in hiring. In addition to adopting the technology for its own hiring, Carlyle has also helped introduce HireVue to many of its portfolio companies; three have already adopted the technology and several more are expected to become customers in the near-term.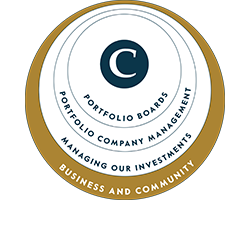 Business and Community
We support several initiatives to improve diversity and promote an inclusive culture for women and underrepresented professionals within the industry.
画像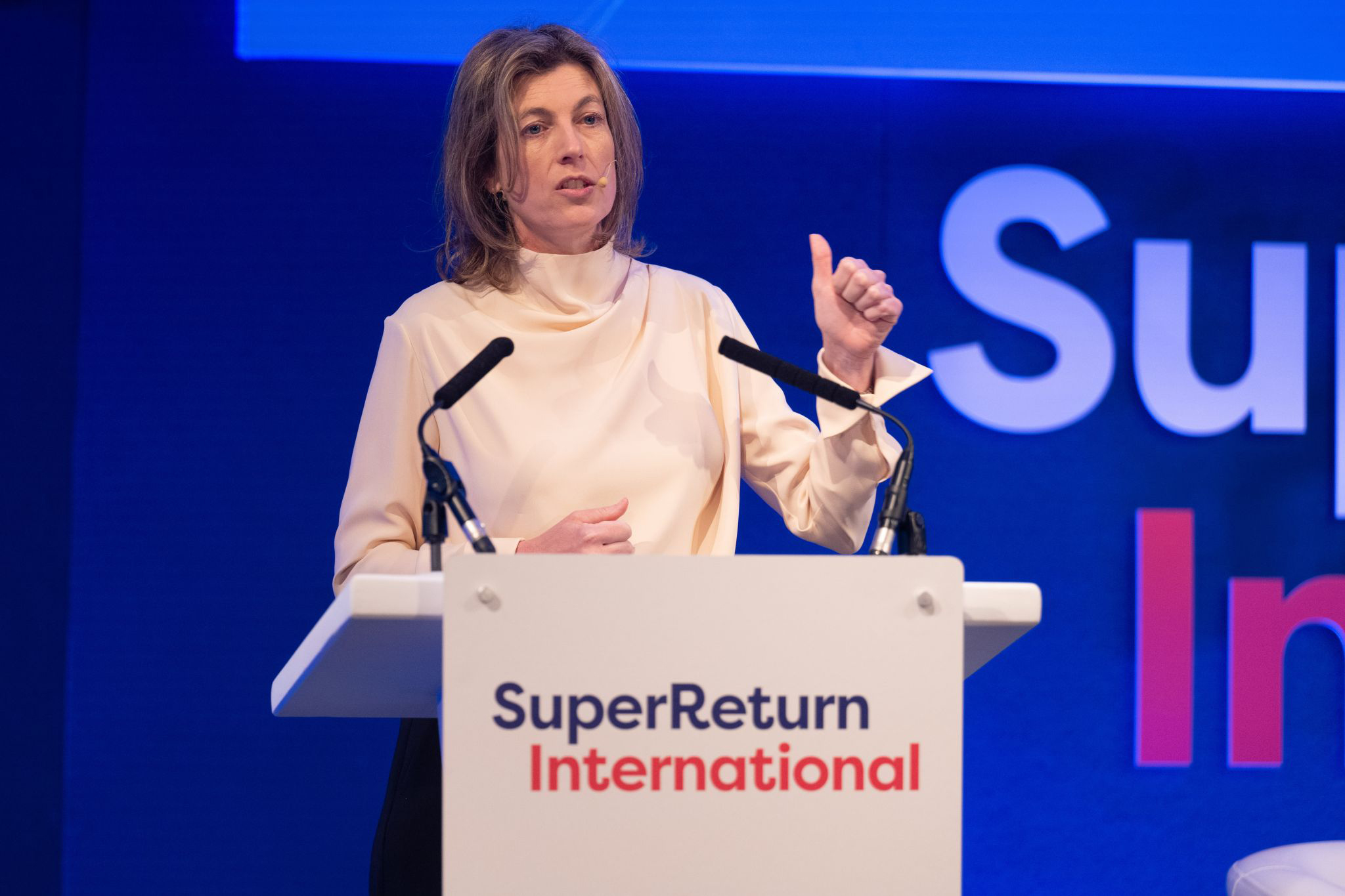 Ruulke Bagijn, Head of Global Investment Solutions, presents at the SuperReturn 2022 International Conference, an event that brings industry leaders together to connect and build new relationships, hear innovative ideas, and exchange strategic insights.
Carlyle has joined The Milken Institute as a strategic partner and first underwriter for the DEI in Asset Management Program. The program focuses on advancing diversity in asset management with a particular focus on women and Black, Indigenous, and People of Color (BIPOC).
Carlyle is a signatory in the CFA Institute DEI Code. Launched by CFA Institute in February 2022, the DEI Code encourages action to advance diversity, equity, and inclusion in the investment industry through six metrics-based principles built to generate a cycle of positive change for individuals and organizations.
Carlyle was ranked as a "Leader" in the The Equality Group's Inclusive PE Index 2023 following a 17-point score increase from 2022-2023. 
In recognition of our efforts to support LGBTQ+ employees, we have earned a perfect score on the Human Rights Campaign Corporate Equality Index for five years in a row.
Carlyle supports The Equality Act which creates clear, consistent protections to prohibit discrimination on the basis of sexual orientation and gender identity.
Carlyle recently partnered with Ascend and 100 other organizations that champion diverse communities to support an action agenda to address the adverse impact of the pandemic. As a firm, Carlyle has donated $10 mm towards causes in light of the pandemic. 
The ILPA Diversity in Action initiative brings together limited partners and general partners who share a commitment to advancing diversity, equity and inclusion in the private equity industry. The goal of the initiative is to motivate market participants to engage in the journey towards becoming more diverse and inclusive and to build momentum to advance DEI over time.
The 30% Coalition - Members work together to achieve diversity in senior leadership and the corporate boardroom. 
CEO Action for Diversity, the largest CEO-driven business commitment to advance diversity and inclusion in the workplace. By signing on to this commitment, CEOs are pledging to take action to cultivate a workplace where diverse perspectives and experiences are welcomed and respected, where employees feel encouraged to discuss diversity and inclusion, and where best known—and unsuccessful—actions can be shared across organizations via a unified hub, CEOAction.com, in an effort to advance diversity and inclusion in the workplace.
In the UK, Carlyle recently announced its support for the #100blackinterns initiative which reflects on the lack of black employees in senior front office roles in the asset management industry. The objective is to invite 100 asset management firms to commit to offering a six-week internship to a Black candidate next year in a portfolio management position.
A judging panel comprised of limited partners honored Carlyle with a 2019 SuperReturn Award for Achievement in Promoting Diversity.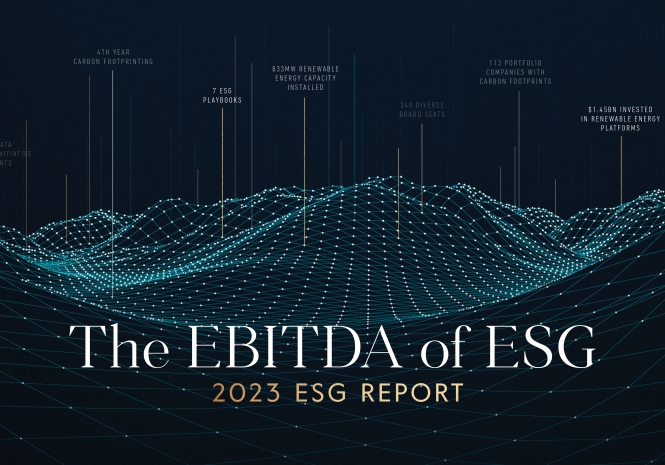 EBITDA of ESG
We are pleased to share this year's ESG report, entitled "The EBITDA of ESG" to reinforce our belief that integrating ESG factors into our investment processes provides an additive lens that we believe can provide opportunities for our portfolio companies to drive revenues, reduce costs, secure more efficient financing, and strengthen their competitive positioning.