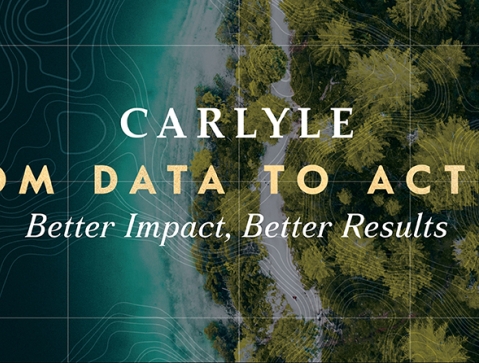 From Data to Action: Better Impact, Better Results
Our 2022 Impact Review highlights Carlyle's approach to capturing opportunities around the global energy transition, as well as our efforts to advance diversity, equity, and inclusion within our spheres of influence. The report highlights the decisive actions Carlyle is taking to drive impact within our firm and the broader global investment industry, including our leadership of the ESG Data Convergence Project, our Net Zero goals, and the creation of the DEI Leadership Network.
Image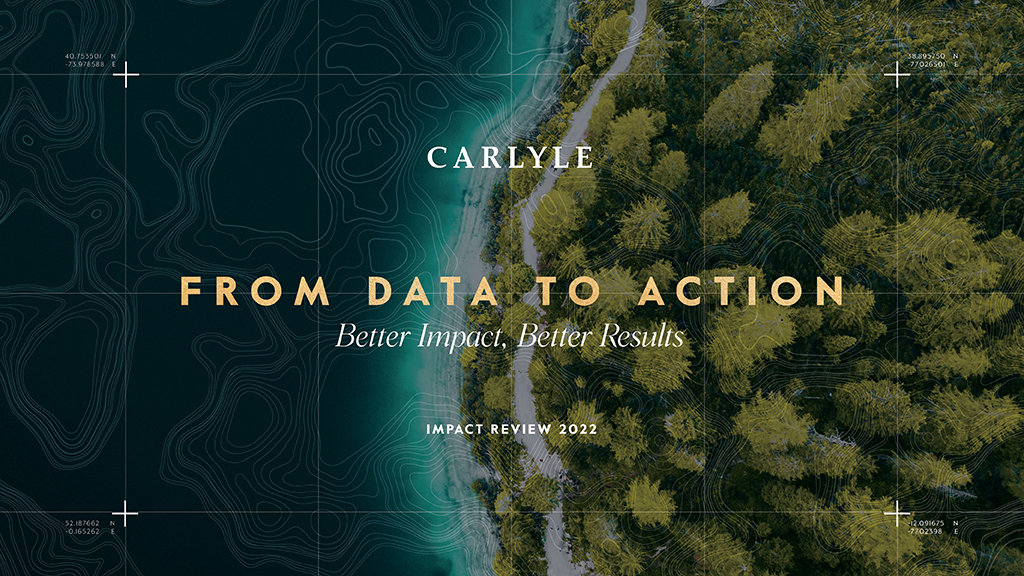 Introduction
Carlyle has made significant progress in our Environmental, Social and Governance (ESG) efforts, seeking to lead by example in the global investment industry. To demonstrate these efforts and our remarkable achievements, we're proud to publish our 2022 Impact Review. As you review the report, I would like to highlight two major areas of focus for the firm – Energy Transition and Diversity, Equity and Inclusion (DEI).
As the global economy continues to endure a host of disruptive forces – from geopolitical decoupling and conflict, to inflation and market volatility – we believe energy transition is an increasingly important issue to secure a lower-carbon future and provide reliable, affordable energy at scale.
Carlyle's approach to this massive ongoing industry shift is grounded in the need to invest as opposed to divest. We've outlined in detail our view in a recent Fortune column I wrote, as well as in The Inclusive Approach to Energy Transition by Jason Thomas and Megan Starr. In the 2022 Impact Review, we provide additional examples of our work in renewable and sustainable energy development, such as our partnership with AlphaStruxure, as well as our efforts to help businesses across sectors – including in traditional energy – decarbonize, such as our partnership with Cepsa.
The recently announced integration of our global infrastructure and energy platform centralizes our capabilities and brings together the firm's vast resources and talent. The new structure enables us to accelerate our investment behind the energy transition in a more coordinated way, which we expect will help achieve even greater success. Macky Tall and Pooja Goyal highlight how our global platform combines Carlyle's expertise in energy and infrastructure investing on the What's Next for Impact? podcast.
Furthermore, Carlyle is taking decisive action to drive the global investment industry to a more sustainable value-creation approach. In 2020, we were the first major private equity firm to publish a Task Force on Climate-related Financial Disclosures (TCFD) report, the industry-leading framework for climate reporting. In 2021, we led a partnership with the California Public Employees' Retirement System (CalPERS), collaborating with many of our private equity General Partner (GP) and Limited Partner (LP) peers to create the ESG Data Convergence Project. This initiative seeks to standardize ESG metrics and provide a mechanism for comparative reporting for the global investment industry by creating the first ESG benchmark for private markets data. As of June 2022, more than 190 GPs and LPs, representing over $22 trillion in assets, are participating, and the inaugural benchmark now has ESG data from over 1,800 private companies. This year, we are pleased to be among the first major global private equity firms to join the call to accelerate the transition to a net zero economy with the establishment of both short- and long-term climate goals, with an overall objective of reaching net zero greenhouse gas emissions by 2050 or sooner across our direct investments.
In our 2022 Impact Review, you will also read about our commitment and efforts to develop more diverse, equitable, and inclusive teams. Our focus on DEI is based on evidence and our view that more diverse teams deliver better results for our stakeholders. Our mission includes supporting our portfolio company boards and management teams through ESG-linked financings tied to achieving board diversity goals in the U.S., Europe, and Asia. Earlier this year, I proudly partnered with our Chief Diversity, Equity, and Inclusion Officer Kara Helander to spearhead the creation of the Carlyle DEI Leadership Network, a coalition of our portfolio companies' CEOs, to provide tools and tangible strategies to effectively lead with DEI at the forefront. Carlyle is also the inaugural underwriter of The Milken Institute's DEI in Asset Management Program, with the goal of influencing collective progress across the industry.
From our net zero goals, to the ESG Data Convergence project, to our DEI Leadership Network and beyond, Carlyle is using the key dimensions of ESG to build better impact and deliver better results, paving the way for the industry to do the same. We hope the 2022 Impact Review gives you a thorough overview of some of the most important topics and themes we are currently focused on as a firm.
As always, we are grateful for our partners in this work. We welcome continued dialogue and engagement on these vital topics as we strive to improve how we operate our business, deliver impact, and increase our transparency.
Kewsong Lee
Former Chief Executive Officer
June 30, 2022
What's Next for Impact? Podcast
Introducing What's Next for Impact?, a podcast series hosted by Carlyle's Global Head of Impact, Meg Starr, on how the key dimensions of ESG will evolve over the next few years. Hear perspectives from Carlyle thought leaders on how businesses can build for a more sustainable future.