Better Businesses Have
Engaged Employees
One of the top priorities for the CEOs of our portfolio companies is people – and building the best team possible. It's no wonder. Ensuring employees are healthy, engaged, productive and have the right skills for their job are essential components to business success. Investing in people can pay dividends – both for financial returns, and for the well-being of the 900k+ individuals employed across our portfolio companies.
Case Studies Featured
Image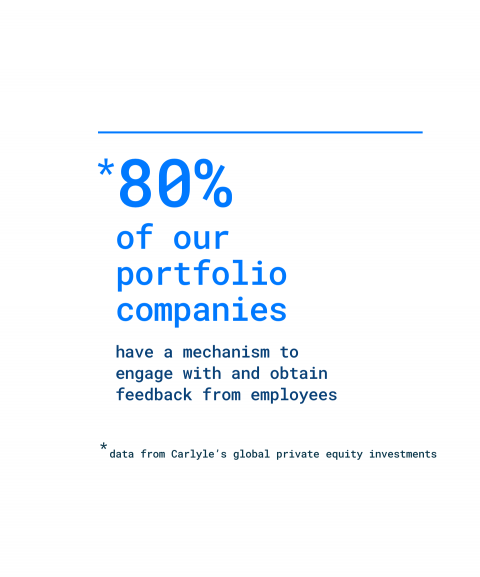 Image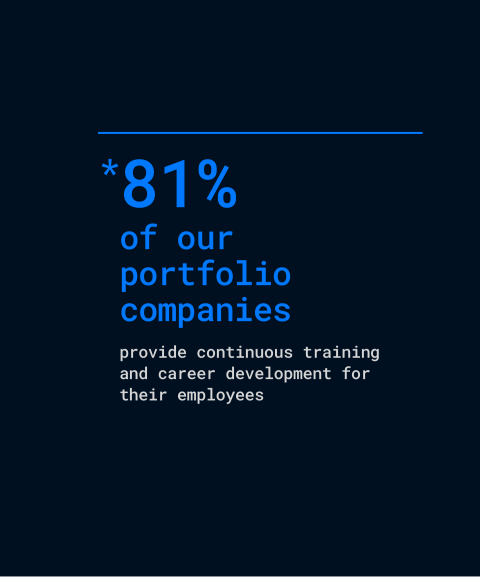 The health and wellbeing of employees are vital to a company's business performance. A healthier workforce helps a company's most critical resources—its human capital—thrive. 
Veritas Technologies LLC, an international data management company headquartered in Santa Clara, CA, has made the health of their employees a core focus. Better healthcare seems as though it has higher costs – Veritas, however, focused on improving healthcare outcomes for its workers, which ultimately drove cost savings for the firm and better employee experiences.
Verita's Healthcare Costs Per Employee
Image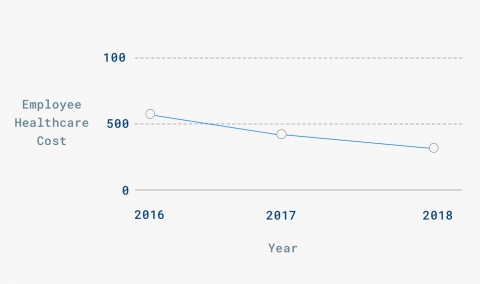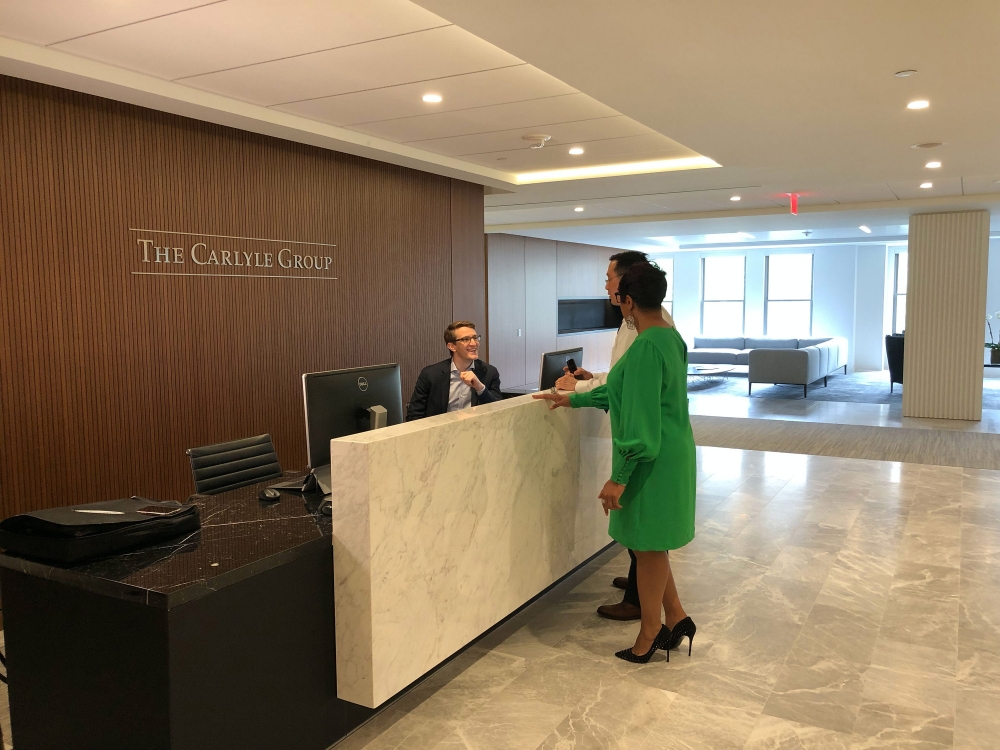 OUR IMPACT AT CARLYLE
What we're doing at Carlyle to Engage Employees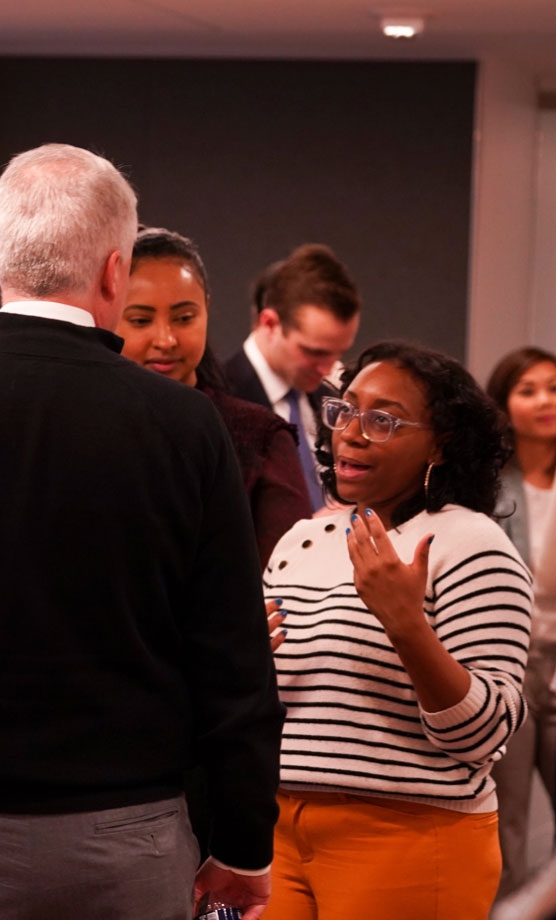 Mentoring program
Mentoring is a key part of career development. Our people are our most valuable asset, so robust mentoring relationships are mission critical for us. More than 800 Carlyle employees from across the globe have now participated in our Global Mentoring Program, which is open to all of our employees. Created by our Diversity & Inclusion Council in 2014, the year-long commitment focuses on career development by matching employees with more experienced colleagues to gain knowledge, skills, experience, information and candid advice.
As a firm, this work is critically important because it focuses on our people – which are core to our success – to help them develop their careers, build broader networks across the firm, and strengthen our culture.  For our mentees, the relationships open avenues for exposure to additional experiences, styles, ideas, provide a distinctive way to develop skills on an accelerated schedule, and are an opportunity to receive confidential input on career and professional development.
Matt LoRusso, a Managing Director and Director of Global Workplace Services, has been a repeat mentor over the course of the program's life, noting that, "the mentoring program is a great way to engage with a colleague and help him or her navigate around Carlyle. You can never underestimate how helpful or impactful a simple conversation, over a cup of coffee, could be to someone's career – it's why I have stayed engaged with the program and look to keep developing new mentoring relationships."
"The mentor program gives you the opportunity to interact with someone at the firm you may not necessarily meet," adds Erin Daverse, a Senior Accountant in Corporate Accounting at Carlyle. "This relationship helps both the mentor and mentee to experience and utilize a unique perspective that you gain from one another. This program does an excellent job encouraging you to expand your horizons and recognize how much Carlyle and its employees have to offer."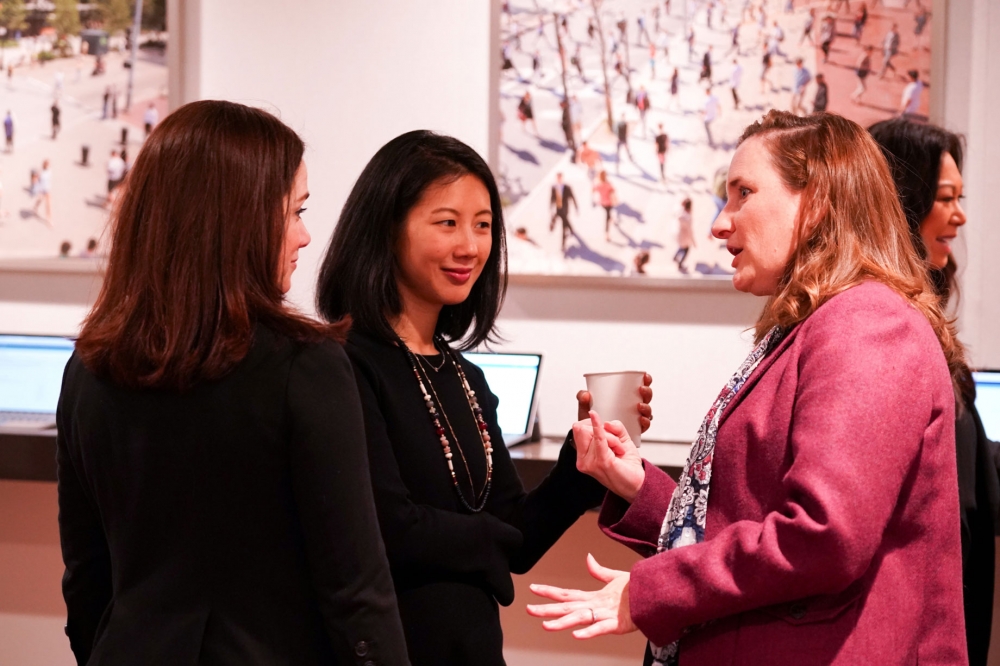 Employee survey
The people of Carlyle are what make us who we are: to our investors, shareholders, and to each other. We want to continually improve our employees' experience at the firm, and build a culture that encourages transparency, collaboration and innovation. 
In the past year we launched our first ever firm-wide employee engagement survey to get feedback and ideas on how to make Carlyle an even better place to work. We believe diversity of thought and having a variety of voices at the table gives us an investment edge, so every voice in our firm matters. Our senior leaders combed through the results, communicated them back to the firm and the Carlyle Board, and are now developing concrete actions steps that are shaped by our employee feedback. We are committed to ensuring Carlyle is set up to succeed – work we'll do together.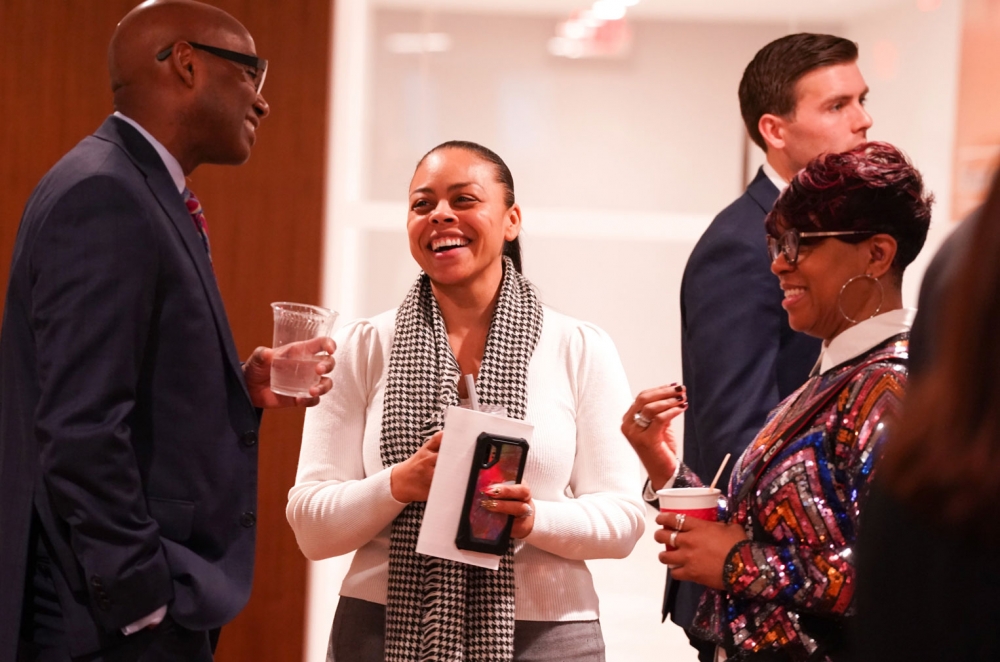 ERGs
Employee Resource Groups (ERG's) are essential to Carlyle's diversity strategy – these groups provide opportunities for individuals to share ideas, highlight successes and concerns, and develop important professional connections.
The ERGs provide networking opportunities to engage our people in helping to attract, develop and retain the best professionals in our industry – Carlyle employees – and to be a source of ideas on how to continuously improve our organization.
In addition to a variety of group events that fostered education, learning, volunteering, and networking – some highlights are below – in the past year Carlyle's ERGs have each drafted Ally One Pagers as part of the cross-ERG Ally Initiative. The Ally One Pagers offer insight and tips on what we can do in our day-to-day activities to make our colleagues feel valued. Their goal is to help drive inclusion and raise visibility of the ERGs and their constituents.
Carlyle's ERGs include:
Image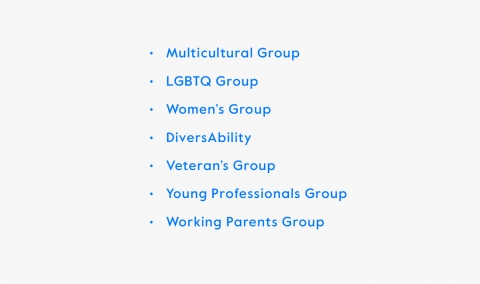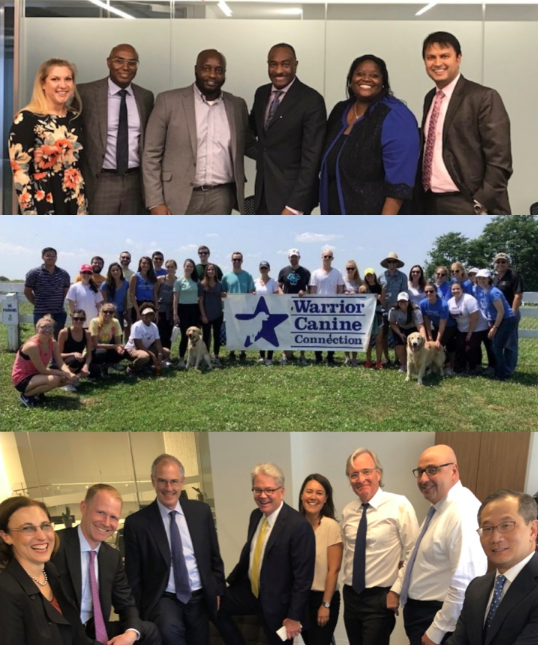 ERG Highlights:
Multicultural ERG Lunch & Learn with Reggie Van Lee 

Veteran's ERG Hosts Warrior Canine Connection Volunteer Event

Kewsong Lee Hosts Carlyle Pride Kick-Off with the Trevor Project CEO
Multicultural ERG Lunch & Learn with Reggie Van Lee Close to 100 Carlyle employees from the DC, Rosslyn and New York offices participated in the Multicultural ERG's Lunch & Learn session with Reggie Van Lee as the guest speaker. Reggie provided valuable insights into his new role as Carlyle's Chief Transformation Officer and shared inspirational experiences about his background and career success.
Veteran's ERG Hosts Warrior Canine Connection Volunteer EventIn July, the Veteran's ERG held a volunteer event at the Warrior Canine Connection (WCC) headquarters in Boyd, Maryland. 
35 volunteers toured WCC's new headquarters, funded in part by donations from a 2018 Carlyle event when Chairman Emeritus and Co-Founder Dan D'Aniello welcomed 100 attendees and made a surprise $100,000 matching gift donation. During the visit, Carlyle volunteers painted the training ground fence and socialized puppies.
Kewsong Lee Hosts Carlyle Pride Kick-Off with the Trevor Project CEOIn June, Kewsong Lee partnered with the LGBTQ ERG to host a lunch with Trevor Project CEO Amit Paley. Garrett Hall, Principal in AlpInvest Secondary Fund and Co-Head of the LGBTQ ERG, moderated the conversation which was attended by more than 90 professionals in the DC office.  
The discussion launched Carlyle's Pride month effort and touched on the business imperative of Diversity and Inclusion and the Trevor Project's life-saving work around LGBTQ youth suicide.  On the impact at Carlyle, Lee said, "It's cultural. I want to make it clear that we are all about creating more inclusion and more understanding that different perspectives are what's required to excel."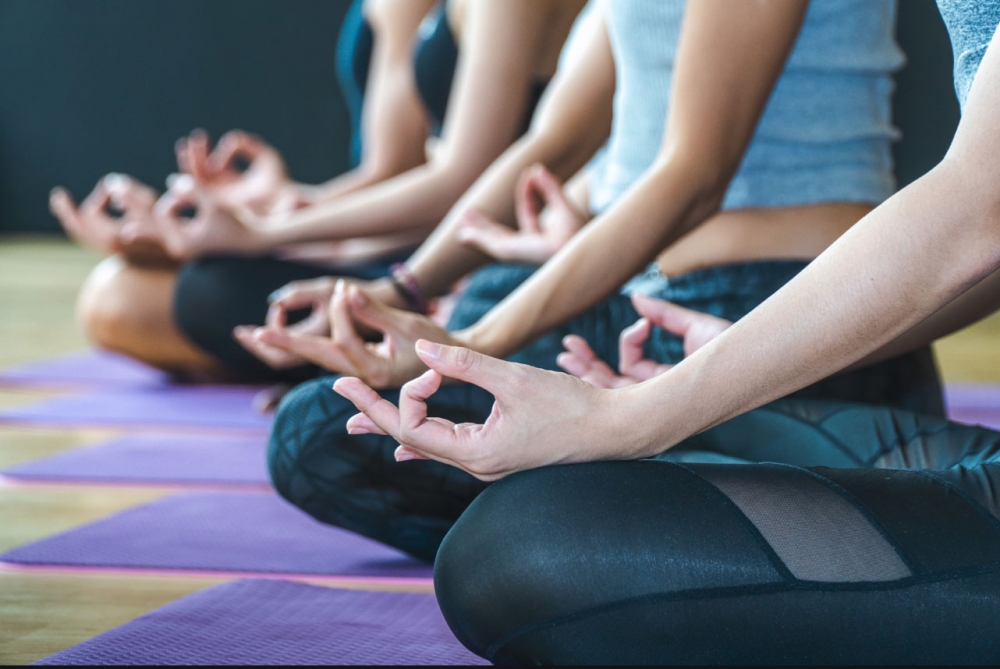 Health and Wellness Highlights
Our people are our priority, so keeping our employees healthy is front of mind, particularly during COVID-19.  We partnered with an external wellness provider, Namaste Wellness, to do mindfulness and wellness webinars, live meditation, and live yoga classes for Carlyle employees while many global offices were closed. We also concentrated COVID-19 resources on our internal web page, including tips for managers and working parents, access to our Employee Assistance Program, and more.
Carlyle provides a membership for all employees and their families to One Medical, one of our portfolio companies. One Medical is a primary care practice with the goal of making it more comfortable and more convenient to get care whenever and wherever you need it. Importantly, One Medical provides free 24/7 virtual care via video, phone, and email,  as well as online appointment booking and prescription renewals via the app or web – a service that our employees have leaned on heavily during COVID-19.
Carlyle specifically focused on equity and inclusivity as we worked to redesign some of our employee benefits in 2019. We partnered with Progyny, a leading fertility benefits provider, to offer inclusive family building benefits and support to our employees and their partners, including single parents by choice and LGBTQ individuals and couples, starting in January 2020. Unlike traditional benefits that require evidence of infertility, this benefit is available to all.
The LGBTQ and Working Parents employee resource groups (ERGs) brought forth this opportunity to support our employees, in partnership with our Human Resources team. 
This benefit provides access to the largest national network of premier fertility specialists, as well as support and guidance for adoption or surrogacy options. It will also offer coverage for family planning processes. This comes on the heels of our revamped parental leave policy, where, as of April 2019, we offer 16 weeks of paid parental leave for primary caregivers.
We recognize our responsibility in providing an environment that empowers our employees – regardless of race, gender, ethnicity, sexual orientation or gender identity – to succeed both in and outside of the workplace. Everyone's pathway to parenthood is different, and it is our goal to provide the emotional and financial support needed to give our employees the opportunity to grow their families.