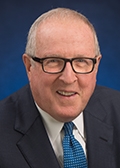 Edward J. Mathias is a Senior Advisor with The Carlyle Group.
Prior to joining Carlyle in January 1994, Mr. Mathias was a long-time member of the Management Committee and Board of Directors at T. Rowe Price Associates, Inc., a major investment management organization. He was instrumental in the founding of The Carlyle Group and assisted in raising the firm's initial capital. Mr. Mathias serves as an advisor to senior management and is a member of the Investment Committees for Carlyle Growth, Asia Growth, European Technology, and Sub-Saharan Africa Funds. Additionally, he is actively involved with Carlyle's broad-based investment strategy and serves in an advisory role for the firm's Global Credit Funds. 
Mr. Mathias holds an M.B.A. from the Harvard Business School and an undergraduate degree from the University of Pennsylvania where he currently serves as a Trustee Emeritus. He is a member of the President's Advisory Council on Doing Business in Africa, The Council on Foreign Relations, and The Trustees' Council at The National Gallery of Art.