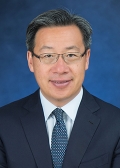 Xiang-Dong (X.D.) Yang
Location
Hong Kong, China
Xiang-Dong (X.D.) Yang is a Managing Director and Chairman of Carlyle Asia, leading all Corporate Private Equity investments in Asia (ex-Japan). He joined Carlyle in 2001 as a Co-Head of the Asia Buyout advisory team. Carlyle has been investing in Asia for nearly two decades and is one of the largest private equity investors in Asia. Carlyle Asia has invested over US$15 billion in more than 145 companies in corporate private equity, and has a current assets under management of more than US$14 billion. Mr. Yang is based in Hong Kong.
Prior to joining Carlyle, Mr. Yang spent nine years at Goldman Sachs, where he was a Managing Director and Co-Head of Private Equity Investment Asia ex-Japan.
Mr. Yang received his BA in economics from Harvard University and MBA from Harvard Business School. He is a native of China.