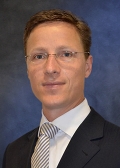 Thorsten Dippel
Industry
Technology & Business Services
Thorsten Dippel is a Managing Director advising on European buyout and growth capital investment opportunities in technology & business service sectors including software, healthcare, media, industrial technology and telecom. Dr. Dippel is based in London.
Prior to joining Carlyle in 2007, Dr. Dippel was a Project Manager for Roland Berger Strategy Consultants, where he worked in the M&A and restructuring division for more than six years, focusing on corporate finance and strategy projects in various TMT sectors.
Dr. Dippel received a PhD in finance from the University of Rostock, Germany, an M.B.A. in banking and corporate finance from the European Business School, in Oestrich-Winkel, Germany, and a B.S. (major in computer science) from the James Madison University in Harrisonburg, VA.
Dr. Dippel is currently a member of the Board of Directors of vwd AG and exocad GmbH. His previous investments include Personal & Informatik AG (acquired by HG Capital), KCS.net AG (acquired by Avanade) and ADA Cosmetics GmbH (acquired by Ardian).