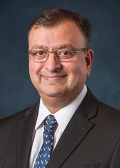 Sunil Kaul is a Managing Director and Head of Southeast Asia of the Carlyle Asia buyout advisory team. He is based in Singapore.
Mr. Kaul has nearly 30 years of experience across private equity, corporate and consumer banking. Since joining Carlyle, he has advised on investments across Asia andworked on several notable transactions. 
Mr. Kaul serves as a director on the board of TC Bank and a member of its Risk and Executive Companies as well as a director on the boards of India Infoline, Ltd.  and PNB Housing Finance Ltd. He is also a member of the Asia Pacific Infrastructure Partnership.
Prior to joining Carlyle, Mr. Kaul served as the president of Citibank Japan, covering the bank's corporate and retail banking operations. He concurrently served as the Chairman of Citi's credit card and consumer finance companies in Japan. He was also a Member of Citi's Global Management Committee and Global Consumer Planning Group.
Mr. Kaul has lived and worked in India, the United States, Japan, Netherlands and Singapore. In his earlier roles, Mr. Kaul served as the Head of Retail Banking for Citi in Asia Pacific. He has also held senior positions in Business Development for Citi's Global Transaction Services based in New York, Transaction Services Head for Citi Japan based in Tokyo and Global Cash Business Management Head for ABN Amro, based in Holland.
Mr. Kaul earned his post graduate degree in management from the Indian Institute of Management in Bangalore and a bachelor's degree in technology from the Indian Institute of Technology, Bombay.