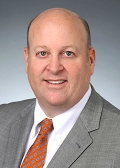 Robert Korn is President and Co-Founder of Carlyle Aviation Partners (formerly Apollo Aviation Group). He is based in Miami, FL.
Mr. Korn has more than 24 years of experience in the aviation industry with a background that includes a position at Pegasus Aviation, where he was Vice President of Marketing. Prior to joining Pegasus, he was Director of Sales and Marketing at BF Goodrich (formerly Rohr), responsible for worldwide marketing and sales for its Super 27 Program along with corporate treasury and cash management positions.
Mr. Korn holds an MBA in finance from University of San Diego and a BA in economics from University of California, Los Angeles.