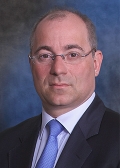 Michael Wand
Industry
Technology & Business Services
Michael Wand is a Managing Director and Co-Head of the Europe Technology advising group, a team of dedicated investment professionals who advise on European growth capital and buyout opportunities in a variety of sectors including digital media, software, telecom, healthcare and technology. Mr. Wand is based in London.
Prior to joining Carlyle in 2001, Mr. Wand worked for approximately 10 years in investment banking, the last seven years in the technology sector. As a Managing Director, he was responsible for the European software and internet research team at Deutsche Bank in London. Prior to that, he worked as a European Software Analyst for Paribas in London and BHF-Bank in Frankfurt, Germany. During his banking career, Mr. Wand was the underwriting analyst for technology innovators such as SAP, Autonomy, SurfControl, Utimaco and nCipher.
Mr. Wand received his M.B.A. from Mannheim University in Germany and the University of Texas at Austin. He holds a B.A. degree in economics and business administration from Mannheim University in Germany. He has been registered with FSA from 2001 to the present.
Mr. Wand is currently a member of the Board of Directors of NetMotion, Eggplant and vwd AG. His previous investments include The Foundry (acquired by HG Capital), KCS.net (acquired by Avanade), ADA Cosmetics (acquired by Ardian), Personal & Informatik AG (acquired by HG Capital), UC4 Software (acquired by EQT), FRS Global (now part of Wolters Kluwer), Apama, Inc. (now part of Progress Software) and SmartTrust AB (acquired by Giesecke & Devrient).