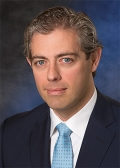 Massimiliano Caraffa is a Private Equity professional with 16 years work experience in Private Equity and Management Consulting matured in top-tier global companies.
Mr Caraffa is a Director of Carlyle European Buyout team based in Milan, responsible for deal origination, execution, portfolio management and realizations mainly in Italy. Since joining The Carlyle Group in 2004, he has been focusing on buyout opportunities across wide range of business sectors, particularly consumer goods & retail and industrial.
Mr Caraffa is actively involved in Carlyle's current investments in Golden Goose (Fashion/ retail); Hunkemoller (Fashion/Retail); Twin-set Simona Barbieri (Fashion/Retail); Comdata (Business Services) and Marelli Motori (Industrial), in each of those he is also a member of the Board of Directors. Moreover, Mr. Caraffa e has been involved in Moncler (Fashion/Retail) and Sematic (Industrial) where he served on the Board of Directors respectively from 2008 to 2011 and from 2015 to 2016 and participated in the portfolio management and exit of Avio spa (Aerospace and Defense).
Prior to joining Carlyle, Mr. Caraffa was a Business Analyst and Associate with McKinsey & Company in Milan for three years where he focused on telecom and financial services.
Mr. Caraffa received a MSc in Electronic and Telecommunications Engineering magna cum laude from the University of Genoa and received an M.B.A. from INSEAD. He speaks Italian, English and Spanish.