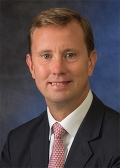 Martin W. Sumner is a Managing Director of The Carlyle Group, where he focuses on investment opportunities in the industrial and transportation sectors. He is based in Washington, DC.
Since joining Carlyle in 2003, Mr. Sumner has led or been a key contributor to several the firm's investments, including Allison Transmission, Atotech, AxleTech International, Axalta Coating Systems, Centennial Resources Development, Nouryon, United Components, Veyance Technologies and Wildhorse Resources, among others. Prior to joining Carlyle, he held positions with Thayer Capital Partners, a private equity firm, and the strategy consulting group of Mercer Management Consulting.
Mr. Sumner received his MBA from Stanford University, where he was an Arjay Miller Scholar, and a BS in economics, magna cum laude, from The Wharton School at the University of Pennsylvania.
He is a member of the boards of Atotech, AxleTech International and Nouryon.