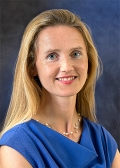 Katherine Elmore-Jones is a Managing Director advising on Investor Relations and Fundraising across Europe. She is based in London.
Prior to her current role, Ms. Elmore-Jones was Director of European Communications, in charge of managing Carlyle's public relations in Europe.
Before joining Carlyle, she was with Herald Communications and Seed Capital, a U.K. venture capital firm.
Ms. Elmore-Jones received her MA in biological sciences from Oxford University. She holds a full Investment Management Certificate.