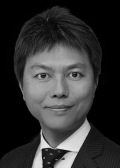 Jumpei Ogura
Industry
Industrial
Technology & Business Services
Telecom & Media
Jumpei Ogura is a Managing Director focusing on Japanese buyout opportunities. He is based in Tokyo.
Prior to joining Carlyle in 2006, Mr. Ogura was an Associate Director at UBS Investment Bank Tokyo in the Financial Institutions Group. During his career, he spent two years in the New York office focusing on bank and asset manager transactions.
Mr. Ogura received his B.A. from Keio University.
Mr. Ogura serves on the Board of Directors of Walbro Co., Ltd. and Money Square Holdings, Inc. He is an ex-Board Member of ARUHI Corporation and Simplex Inc., and an ex-Corporate Auditor of Chimney Co., Ltd. and Tsubaki Nakashima Co., Ltd.