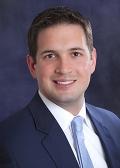 John Borys is a Principal in the Investment Solutions team, focusing on clients and prospects in the Americas. 
Prior to joining Investment Solutions, Mr. Borys worked on AlpInvest's Co-Investment team that focused on both private equity and mezzanine transactions globally. He joined AlpInvest in 2011 from Bank of America Merrill Lynch, where he worked in the Media and Telecommunications Investment Banking group. 
Mr. Borys received a BSc in finance from Pennsylvania State University.