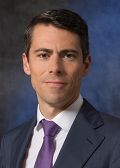 Joeri de Groot
Location
Amsterdam, Netherlands
Joeri de Groot is a Principal in AlpInvest Partners' Co-Investment team and focuses on equity transactions in Europe.
He joined AlpInvest Partners in 2012 from McKinsey & Company, where he was an Engagement Manager, working in both the corporate finance and the strategy consulting practice mainly focused on utilities and oil and gas (service) companies.
Joeri received an MSc in Applied Physics from the Eindhoven Technical University and an MBA from INSEAD. Furthermore he studied Econometrics at the Free University of Amsterdam.