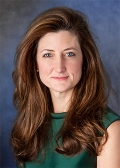 Heather Mitchell is a Partner, Managing Director and the firm's global General Counsel for Investments. She is based in London.
Since joining Carlyle in 2002, Ms. Mitchell has served in the legal department in a number of roles. She was named General Counsel for Europe in 2005 before being appointed as Managing Director in 2011. She is a Member of the Cornell Law School Advisory Council.
For her performance at Carlyle, Ms. Mitchell has been given the Award of Outstanding Achievement.
Prior to joining The Carlyle Group, Ms. Mitchell was an associate with the law firm Akin, Gump, Strauss, Hauer & Feld, LLP and she previously worked at Kaiser Group International, Inc. as Vice President, Corporate Counsel.
Ms. Mitchell received her J.D. from the Cornell School of Law and her undergraduate degree from the State University of New York at Binghamton.