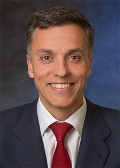 Fernando Chueca
Industry
Technology & Business Services
Fernando Chueca is a Managing Director with Carlyle Europe Technology Partners focusing on buyouts, growth capital and strategic minority investments throughout Europe in the technology, telecommunications, software and business services sectors. Mr. Chueca is based in London
Since joining Carlyle in 2001, Mr. Chueca has been actively involved in several transactions including the investment in Trema AB in 2002 and its sale to Wallstreet Systems in 2006; the sale of Accucard ltd to Lloyds TSB plc in 2003; the sale of Omiris ltd to Tradeware llc in 2003; the investment in Global Media GmbH in 2006 and the subsequent acquisition of Bigmouthmedia ltd in 2006; the acquisition FRS Global Sarl in 2006 and its sale to Wolters Kluwer in 2010; the acquisition of Arsys Internet S.L. in 2008 and the subsequent sale to United Interned AG in 2013, the acquisition of ITRS Group, Ltd. in 2011, the acquisition of Nature Delivered in 2012, the acquisition of Expereo Holding BV in 2014 and the acquisition of Telvent Global Services in 2015. In addition, Mr. Chueca has led a number of bolt-on acquisitions for Trema, FRS Global and Arsys.
Prior to joining Carlyle, Mr. Chueca worked for the strategic venture arm of J.P. Morgan, focusing on investments in the financial services space.
Mr. Chueca holds an M.Sc. in electrical engineering from Universidad Politecnica de Madrid, Spain.
Mr. Chueca is a member of the Board of Directors of Itconic (formerly Telvent Global Services), Expereo, ITRS Group, and Nature Delivered (Graze), and was formerly on the Board of Directors of Arsys Internet S.L., Bigmouthmedia GmbH and FRS Global.