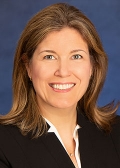 Erica Herberg is a Managing Director and the Chief Financial Officer of Global Credit. She is based in New York.
From June 2011 until July 2015, Ms. Herberg was responsible for the Fund Management Operations of Carlyle's Europe based private equity funds, based in Luxembourg and London and prior to this role Ms. Herberg led the Real Assets Partnership Accounting team in Washington D.C. office.
Prior to joining Carlyle in 1999, Ms. Herberg was an auditor with KPMG, LLP.
Ms. Herberg earned a BS in accounting from Boston College, and has been a CPA in the state of Virginia since 1998.