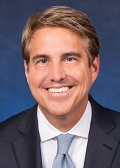 Daniel Mutzig is a Managing Director and Chief Audit Executive for The Carlyle Group. He is based in Washington, DC. 
Mr. Mutzig has more than 23 years of experience in providing audit services across various disciplines, including financial, internal control, operational, regulatory, compliance and risk management.  
Prior to joining Carlyle, Mr. Mutzig worked in the Office of the Chief Auditor at the Public Company Accounting Oversight Board. Prior to that, he was an Audit Partner with Ernst & Young, having started his career with Arthur Andersen. Mr. Mutzig has extensive experience in public accounting and primarily served large, public registrants in a variety of industries, including private equity, real estate and hospitality, telecommunications and retail and consumer products, among others. He has provided a broad array of services, including external audit, internal audit co-sourcing, internal audit advisory services, financial and accounting services related to multiple initial public offerings, private placements, large transactions and transaction due diligence services.   
Mr. Mutzig is a certified public accountant and a chartered global management accountant (CGMA) in the state of Virginia. He received his BBA in accounting from Ohio University.