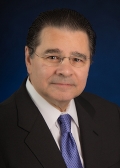 Daniel A. D'Aniello is Co-Founder, Chairman Emeritus and member of the Executive Committee and Board of Directors of The Carlyle Group. Mr. D'Aniello is based in Washington, DC.
Prior to forming Carlyle in 1987, Mr. D'Aniello was a Vice President for Finance and Development at Marriott Corporation where he was responsible for valuation of all major mergers, acquisition, divestitures, debt and equity offerings, and project financings. Before joining Marriott, Mr. D'Aniello was a financial officer at PepsiCo, Inc. and Trans World Airlines.
He is a magna cum laude graduate of Syracuse University, where he was a member of Beta Gamma Sigma, and a graduate of Harvard Business School, where he was a Teagle Foundation Fellow.
He served in the U.S. Navy from 1969 through 1971 during which time he was a Distinguished Naval Graduate of Officer Candidate School, Newport, RI; a Supply Officer (LTJG) aboard the USS Wasp (CVS 18); and in 2016, awarded the designation of Lone Sailor by the U.S. Navy Memorial Foundation.
Mr. D'Aniello is Co-Chairman of the American Enterprise Institute; Co-Chairman of the Institute for Veterans and Military Families; a member of the U.S.-China CEO and former Senior Government Officials' Dialogue of the U.S. Chamber of Commerce; an advisor to the John Templeton Foundation; Chairman of the Wolf Trap Foundation for the Performing Arts; a founding Trustee of the Lumen Institute; a Lifetime Board Trustee of Syracuse University where he is an Arents Alumni Award recipient, a member of the Chancellor's Council, and a member of the Corporate Advisory Council to the Martin J. Whitman School of Management.