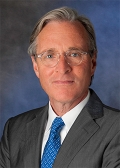 Christopher Finn is the Chief Operating Officer of The Carlyle Group. He is based in Washington DC.
Prior to joining Carlyle in 1996, Mr. Finn served as Executive Vice President of the Overseas Private Investment Corporation (OPIC), the U.S. government agency that provides financing to U.S. investors in the developing world. It is also the largest political risk underwriter in the world.
Mr. Finn is an honors graduate of Harvard College.
Mr. Finn has been a member of the boards of many Carlyle portfolio companies, including European buyout, technology and real estate investments.