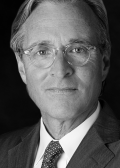 Christopher Finn is the Chief Operating Officer of Carlyle and has served in that capacity since March 2019. Prior to March 2019, Mr. Finn served as a Managing Director and Global Head of Operations. Previously, Mr. Finn was based in Carlyle's London office and served as Chief Operating Officer of Carlyle's Corporate Private Equity business segment since 2014 and of Carlyle's Global Credit business segment since 2016. Mr. Finn joined Carlyle in 1996 as Managing Director, International.
Prior to joining Carlyle, Mr. Finn served as Executive Vice President of the Overseas Private Investment Corporation (OPIC), the U.S. Government agency that provides financing to U.S. investors in the developing world.
Mr. Finn is an honors graduate of Harvard College.