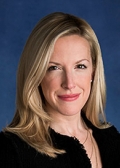 Caitlin Brodie is a Principal at The Carlyle Group focused on fundraising and investor relations activities in North America. Ms. Brodie is based in New York.
Prior to joining Carlyle, Ms. Brodie was responsible for U.S. distribution of alternative investments at SL Capital Partners, a subsidiary of Standard Life Investments. Her areas of focus included private equity and real assets funds, secondary investments, and direct investments.
Ms. Brodie has worked with a broad range of institutional investors throughout her career and was previously with UBS and Lehman Brothers.
Ms. Brodie holds a Bachelor of Arts in economics (magna cum laude) from Columbia University.
She currently maintains FINRA licenses 7, 63 and 66 and registrations in 27 states.