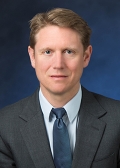 Brian Lindley is a Managing Director, responsible for leading capital markets financings across the European activities of Carlyle.  He co-ordinates financing for new buy-outs, IPOs, debt raisings for refinancings and recapitalizations and amendment activities.  Key recent deals include RAC, Applus, Numericable, Integrated Dental Holdings, CST, MPS Chesapeake, Telecable, B&B Hotels, Twin Set Simona Barbieri, Alloheim, Addison Lee, Sematic, Zodiac, PA Consulting, Innovation Group, ComData, Saverglass.  Mr. Lindley is based in London and works across the European offices of Carlyle.
Prior to joining Carlyle, Mr. Lindley was a Managing Director at Dubai International Capital, where he was responsible for the work-out of a portfolio of private equity investments in Europe. While at DIC he was a member of the board of directors of Almatis, Alliance Medical and Travelodge.  Prior to that, he was a Director at RBS Leveraged Finance based for four years in London and four years in New York.
Mr. Lindley holds a first class degree in economics and industry from the University of Leeds.