Video file
Accelerating growth is about creating long-term value for our fund investors, companies, people, shareholders and communities. In our 2020 Annual Report, CEO Kewsong Lee and our leadership team highlight milestones, demonstrate our impact and look ahead as we execute on our long-term strategy.
图像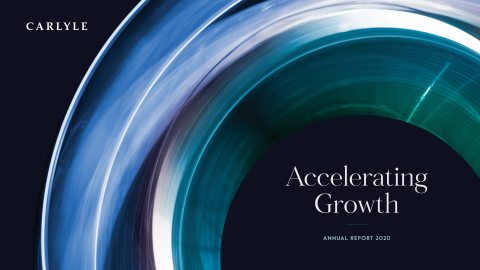 Letter to Shareholders
2020: Looking Back and Moving Forward
As I write this letter, we have been experiencing the effects of a global pandemic on our business and the world around us for over a year. Changes have accelerated everywhere, and our lives have been transformed as we all work through personal and professional challenges. The impact of the pandemic has been widespread and uneven, generating a large dispersion of outcomes across industries and widening already concerning disparities among regions and within society.
There is no playbook for corporate leaders on how to deal with an event of this magnitude. At Carlyle, we put our immediate focus on, and continue to hold as a top priority, the health and safety of our people. In early 2020, we rapidly switched to a remote work environment across our global workforce as the pandemic spread across the world. We recognized early that COVID-19 would have long-lasting implications on how we live and work, so our mentality shifted quickly to adapting and innovating, rather than waiting and seeking a return to "normal."
Our investment teams functioned at a high level, our operations remained seamless and we relied on the strength of our culture as we adjusted to the new environment. Around the world, we came together with dedication and resolve, staying true to our values and becoming more connected than ever before. As a result, we have been able to evolve and make decisions with speed and confidence. I have never had more pride in our organization and our people than over the past year, and I am thankful that we have emerged stronger from the challenges we faced together in 2020.
Our Performance: Building On Strength
By all measures, Carlyle generated strong financial results in 2020. We delivered record Fee Related Earnings of $520 million, with margins in excess of 30%. Our portfolio performed very well, which drove a year-end record Net Accrued Carry balance of $2.3 billion. And, we remained active and executed across our platform, raising over $27 billion of new capital, investing $18 billion and realizing $21 billion in proceeds. Despite the difficult environment, the firm delivered Distributable Earnings of $762 million, which is the highest achieved in the past five years.
Our exceptional results in 2020 are a reflection of the significant work we have done over the last several years to position Carlyle for success, including:
Simplifying the structure of our organization into three business segments—Global Private Equity, Global Credit and Investment Solutions—and streamlining product offerings to better focus our efforts;
Implementing a platform-oriented approach, emphasizing broad scale, global reach and deep industry expertise, helping us invest better while also driving operating leverage;
And, importantly for our shareholders, transitioning Carlyle to a true C-Corporation, providing simplicity, transparency and complete alignment—one share, one vote.
Doubling down on our commitment to Impact, we expanded our board diversity goal to 30% of all directors in Corporate Private Equity controlled portfolio companies by 2023. More recently, in February 2021, we announced the largest private equity ESG-linked credit facility in the US of $4.1 billion, creating alignment as we link the cost of financing to our ability to meet these targets. We believe initiatives like these will continue to deliver more sustainable value for all of our stakeholders and we look forward to building on our leadership position.
Our Strategy: Thinking Bigger, Performing Better And Moving Faster
Several weeks ago, we hosted a comprehensive investor day and detailed our strategic plan for accelerating growth over the next four years. The plan is centered on three key priorities:
Accelerating the scope and scale of our biggest and best businesses;
Expanding in adjacencies to drive additional growth, particularly in our Capital Markets and Carlyle Insurance Solutions businesses; and
Continuing to institutionalize the firm by managing ourselves more effectively and efficiently.
In short, we are thinking bigger, performing better and moving faster. As we do, our goal is to raise more than $130 billion of new capital and double our Distributable Earnings in the plan's timeframe. We believe our industry also has favorable tailwinds supporting our growth plans, including:
Increasing allocations to the asset class as investors seek higher returns;
Desire on the part of fund investors to get more from fewer General Partner relationships; and
Growing demand for private capital as opportunities from secular changes and disruption expand.
The pandemic only accelerated the rate at which the world is changing and its impact on business models, how we live and work, consumer preferences, geopolitical dynamics and the health and fabric of our society. We are in the midst of significant global changes, and at Carlyle, we are continuing to evolve and position ourselves to capture compelling opportunities.
We strive to invest wisely and responsibly across cycles for the benefit of our stakeholders over the long-term—and we have an unwavering commitment to this pursuit. With our strategic plan in place and our focus on performance, I have great confidence in our ability to deliver outstanding results.
Our Value: Leading With Trust, Integrity and Partnership
In closing, I want to express my gratitude to the entire Carlyle team for their hard work and dedication to the firm. We have endured, adapted and evolved over the years. Throughout our journey, we have always stayed true to our core values of trust, integrity and partnership—these same values will continue to guide our efforts in the years ahead.
Despite the complex environment, we are optimistic about the future and what's to come, and we thank you for your support and partnership.
Kewsong Lee
Chief Executive Officer
March 29, 2021