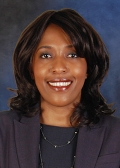 Genevieve Sangudi
Location
Johannesburg, South Africa
Genevieve Sangudi is a Managing Director advising on buyout and growth opportunities in Sub-Saharan Africa. She is based in Johannesburg.
Prior to joining Carlyle, Ms. Sangudi was a Partner and Managing Director with Emerging Capital Partners, where she established and managed the firm's Nigeria operations and played a lead role in deal sourcing, execution and value creation, particularly for companies in the financial services, oil and gas and petrochemicals sectors. Ms. Sangudi also has significant experience in the fast-moving consumer goods sector, having started her career at Procter & Gamble, where she worked on market strategies for numerous global brands.
Ms. Sangudi received an MBA from Columbia Business School, a master's degree in international affairs from Columbia University School of International and Public Affairs and a BA from Macalester College.