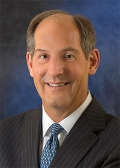 Francis A. Finelli
Industry
Aerospace, Defense & Government Services
Francis A. Finelli is a Managing Director focused on U.S. investment opportunities in the aerospace, defense, services, and security technology sectors.  He has led teams on several acquisitions and financial restructurings including one of the first U.S. purchases of a continental European defense company. He is based in Washington, DC.
Since joining Carlyle in 1998, Mr. Finelli has been actively involved with the firm's investments in United Defense (sold in public offering and then to BAE Systems) and its acquisitions of U.S. Marine Repair, Bofors Weapons Systems, Cercom Ceramics, and Kaiser Composites; as well as other Carlyle holdings such as Indigo Systems (acquired by FLIR Systems), EG&G Technical Services (acquired by URS Corp), Sippican (acquired by Lockheed Martin), Avio Spa (being acquired by Cinven), and Jazz Semiconductor (being acquired by Acquicor Technology); in addition to current holdings in QinetiQ Inc., Landmark Aviation, Standard Aero and AxleTech International.
Prior to joining Carlyle, Mr. Finelli served as the legislative assistant responsible for defense, intelligence, and foreign affairs for Senator Dan Coats (R-IN), Chairman of the Airland Subcommittee, Senate Armed Services Committee, and member of the Senate Select Committee on Intelligence.  Mr. Finelli reviewed defense procurement and research and development programs. He also developed legislation, presented speeches and published articles associated with defense transformation and joint experimentation.
Mr. Finelli is a retired Army Lieutenant Colonel and distinguished graduate of the U.S. Military Academy. He also holds a Master of Sciences in management with dual concentrations in finance and operations research from the Sloan School of Management at the Massachusetts Institute of Technology, and a Master of Military Arts in Strategy from the U.S. Army Command and General Staff College.  He is a Chartered Financial Analyst (CFA) and member of the CFA Society of Washington, DC, the Council on Foreign Relations, and Business Executives for National Security.