News Release
New Terminal One at JFK Breaks Ground, Begins Construction of First Phase of Development
Elected leaders and officials gather to inaugurate the first construction phase of the world-class NTO terminal, slated to open to the public in 2026.
New Terminal One will serve as a global gateway to the New York metropolitan area and aim to set a new standard for world-class design and service, aspiring to be among the top ten airport terminals in the world.
(Queens, NY) --- The New Terminal One (NTO)– a consortium of labor, operating and financial partners – today joined a groundbreaking event to inaugurate the official first construction phase of a new world-class terminal at John F. Kennedy International Airport (JFK), along with New York Governor Kathy Hochul, the Port Authority of New York and New Jersey, local elected leaders, key sponsors of the project, Ferrovial, Carlyle, JLC Infrastructure, and Ullico, as well as union leadership and site workers.
图像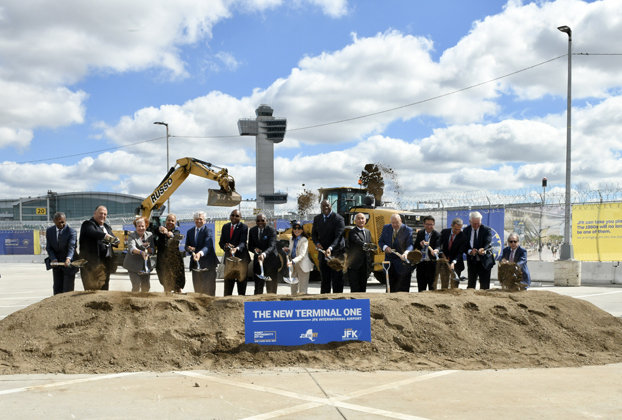 With today's groundbreaking, the New Terminal One begins construction of the $9.5 billion, 2.4 million square foot terminal, which is expected to generate over 10,000 total jobs, including more than 6,000 family-sustaining construction positions. The start of construction follows a revised agreement late last year between the Port Authority and NTO. With Ferrovial becoming a lead sponsor of the project in June, alongside Carlyle, JLC Infrastructure, and Ullico, NTO's financial close became the largest private investment ever committed to a U.S. airport terminal.  The innovative partnership and intentionality have made today's announcement a possibility.
Once fully built, the New Terminal One will serve as a global gateway to the New York metropolitan area and aim to set a new standard for world-class design and services.  The reimagining of the international passenger experience at JFK generates opportunities for local, minority and women-owned business enterprises, as well as for service-disabled veteran-owned businesses (SDVOB).  The state-of-the-art NTO will be the largest international terminal at JFK and is grounded in a commitment to engaging the local southeast Queens community, generating opportunities, and reaching its 30% minority or women-owned business enterprises (MWBE) participation goal with intentionality.
Before commencement of construction, NTO had already contracted with 101 MWBE firms and paid more than $64.7 million for delivering professional services through key engineering, planning, construction, and design work.  NTO paid over $46 million to 71 MBE firms and over $18.5 million to 30 WBE firms. The terminal will be built by union labor under a project labor agreement that will generate family-sustaining careers, assist in small business development, and drive workforce participation across Queens and western Nassau Counties.
NTO will be built on the sites of the current Terminal 1, Terminal 2, and the former Terminal 3.  NTO will be built in phases, with full completion anticipated by 2030.  Sustainably designed and future focused, the terminal will feature expansive, naturally lit public spaces, cutting edge technology, and an array of amenities, all designed to enhance the customer experience and compete with some of the highest-rated airport terminals in the world.  With more than 300,000 square feet of dining, retail, lounges, and recreational space, The New Terminal One will remind passengers of everything that makes New York special and offer a uniquely New York sense of place. 
Overseen by leading global infrastructure operator Ferrovial, construction and design of the project will be led by AECOM Tishman, which has managed the development of some of the world's most iconic buildings, as well as Gensler, a leading global design and architecture firm.  Ferrovial brings 70 years of experience in infrastructure construction, including nearly 25 years of experience investing in, constructing, and managing sustainable, award-winning airports and projects, such as London's Heathrow Airport Terminal 2, Glasgow Aberdeen and Southampton Airports in the United Kingdom, and the Guggenheim Museum in Bilbao, Spain.
JLC Infrastructure, an investment firm, proponent for community engagement, and a strong MWBE partner, has a 30% stake in the project.  Ullico, a privately held, labor-owned, insurance and investment company, is driving NTO's labor commitment and is a key project sponsor.
"Today marks a historic new chapter for our city, for our state, and for the community of Queens and Southeast Queens in particular," said Dr. Gerrard P. Bushell, Chief Executive Officer of the New Terminal One.  "When it is complete, this project will bring a world-class terminal that is sustainably designed and future focused, and a new gateway to the world's greatest city.  Through our extensive partnerships with the community and labor, we will seek to drive historically high MWBE participation goals and deliver jobs and real economic opportunity for this community for generations to come.  Many thanks to my sponsors for their vision and steadfast commitment to getting this project out of the ground.  And to the Port Authority, its staff, and Executive Director Rick Cotton, we thank you, and look forward to continuing our partnership."
"We are proud to be part of the New Terminal One consortium and motivated to work with our partners and the Port Authority of New York and New Jersey to make this iconic project a success," said Rafael del Pino, Chairman of Ferrovial.
"We are very proud to begin construction for this critical infrastructure project that will have a significant impact on the local community, on New York, and enhancing global connectivity," said Macky Tall, Chair of Carlyle's Global Infrastructure Group. "This meaningful milestone is a testament to the hard work and dedication of our team at Carlyle and partners in making our shared vision of a world-class international passenger experience a reality." 
"While we have been working on this development for quite some time, today signifies the beginning of what we set out to do," said Jim Reynolds, Founder and Managing Partner of JLC Infrastructure.  "Delivering a world-class terminal, creating many jobs and opportunities and managing a good business is our aim over the next 38 years."
"This is not just the largest P3 infrastructure project in America.  It is a shining example of what can be accomplished with working people, their unions and businesses united behind a common mission to build our nation," said Ed Smith, President and CEO of Ullico Inc.
NTO would also like to thank its anchor airline partners, Air France/KLM, Etihad Airways and LOT Polish Airlines, for their steadfast support and early commitment to NTO. NTO looks forward to continuing to work with them closely over many years and, in the near future, looks forward to welcoming the international airline community to NTO. 
###
About Ferrovial:
Ferrovial is a leading global infrastructure operator committed to developing sustainable solutions.  It is a member of Spain's blue-chip IBEX 35 index and included in the Dow Jones Sustainability Index and FTSE4Good; all its operations are conducted in compliance with the principles of the UN Global Compact, which the company adopted in 2002.
 
Ferrovial has been part of the aviation industry since 1998 and has more than 20 years of experience investing, developing, and operating 33 airports around the world, including the United States, Europe, United Kingdom, Australia, and Chile.  It currently has four airports in the United Kingdom.  With a 25% stake in Heathrow Airport, it is the airport's core shareholder and industrial partner, and it owns 50% of Glasgow, Aberdeen, and Southampton airports.  It is also in the process of closing the acquisition of 60% of Dalaman International Airport in Turkey from YDA Group.  In 2020, Ferrovial Airports created a new business line to pioneer the future of urban mobility:  Ferrovial Vertiports is a leading developer of the vertiports infrastructure required to operate electric Vertical Take-Off and Landing (eVTOL) aircraft.
 
For more information, please visit www.ferrovial.com.
 
About Carlyle:
Carlyle (NASDAQ: CG) is a global investment firm with deep industry expertise that deploys private capital across three business segments: Global Private Equity, Global Credit and Global Investment Solutions. With $376 billion of assets under management as of June 30, 2022, Carlyle's purpose is to invest wisely and create value on behalf of its investors, portfolio companies and the communities in which we live and invest. Carlyle employs more than 1,900 people in 26 offices across five continents. Further information is available at www.carlyle.com. Follow Carlyle on Twitter @OneCarlyle.
About JLC Infrastructure: 
JLC Infrastructure is an investor and asset management firm focused on the transportation, communications, energy, utilities, and social infrastructure sectors in the United States.  The firm was formed in 2015 by Loop Capital and Magic Johnson Enterprises and currently manages investments across the country, including the redevelopment of Terminal B at LaGuardia Airport.  For media inquiries, contact info@jlcinfra.com. 
About Ullico: 
For more than 95 years, Ullico has been a proud financial services partner of the labor movement.  In 2010, the Ullico Infrastructure Fund (UIF) was established to assist in the construction, maintenance, and refurbishment of America's infrastructure. UIF currently has over $4 billion in investor commitments on behalf of over 200 investors, with 20 portfolio investments across water, wastewater, telecommunications, electricity transmission, power generation, transportation and gas transmission sub-sectors and is exploring opportunities in all infrastructure related sub-sectors.  Ullico continues its commitment to providing insurance and financial products that protect unions and their leaders, members, and signatory employers, and to investing in commercial real estate and infrastructure projects that have created thousands of union jobs.
The Ullico Inc. Family of Companies includes: The Union Labor Life Insurance Company; Ullico Casualty Group, LLC; Ullico Investment Company, LLC (Member FINRA/SIPC); and Ullico Investment Advisors, Inc. For additional information, visit www.ullico.com.

Media Contacts: 
Mercury
Kuae Noel Kelch
973-280-9350 | kkelch@mercuryllc.com 
Carlyle 
Brittany Berliner
212.813.4839  | brittany.berliner@carlyle.com