CORPORATE SUSTAINABILITY REPORT 2019
Advancing
the Art of
What's Possible
We see opportunity where innovation and sustainable practices intersect. Pursuing these new avenues is one way we're creating value and meeting customers' needs while striving to be good corporate citizens.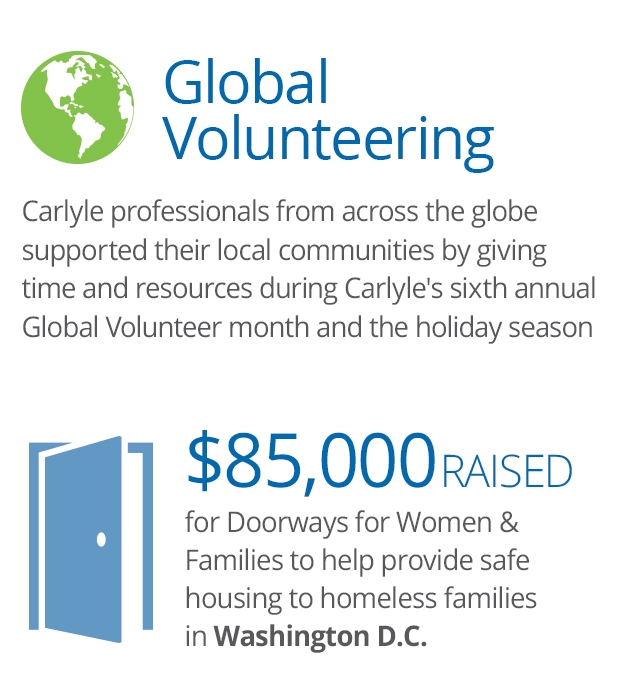 负责任的投资

在投资过程中厘清并降低环境、社会和公司治理(ESG)方面的风险,这让我们有效地管理我们的投资人托付给我们的资本,并树立我们良好企业公民的形象。

企业治理

凯雷设立了透明高效的框架,确保我们在公司内遵循最高的道德与业务标准。保持凯雷以及我们投资人的良好声誉是我们工作的重中之重。

同一个社区

"同一个社区"计划每年向凯雷员工提供了两天的时间,让他们为自己生活、工作和投资的社区和机构提供志愿服务。

环境保护

环境考量在我们的投资行为以及我们投资组合公司的运营之中扮演着重大(以及越发重要的)角色。

社会责任

我们的投资对众多的员工和我们所投资的社区带来具意义的影响。 在我们的投资过程中,我们评估劳动力问题,包括劳工问题,健康和安全,以及员工福利。
Carlyle is committed to responsible investing, sustainability and transparency. We published our first Corporate Citizenship Report in 2010, the first by a major alternative asset management firm.