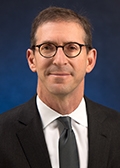 Adam S. Metz is a Managing Director and Head of International Real Estate at The Carlyle Group. Carlyle manages ten real estate funds and related investment vehicles that invest in a range of real estate assets in Asia, Europe and the United States. He is based in Washington, DC.
Most recently, he was Senior Advisor to TPG Capital's Real Estate Group, an opportunistic investor in real estate platforms. The Group invested over $2 billion of equity capital since its formation in 2009.
Prior to joining TPG in April 2011, Mr. Metz was the Chief Executive Officer of General Growth Properties, Inc. from November 2008 until December 2010. Mr. Metz led GGP through the largest bankruptcy and restructuring in REIT history.  During his tenure as CEO, the total return (including stock price appreciation and dividend reinvestment) was 906%. Before joining GGP, Mr. Metz was co-founding partner of Polaris Capital LLC, which was formed in 2002 and was in the business of owning retail real estate assets throughout the United States. Polaris partnered with the Blackstone Group in the shopping center assets it owned.
From November 2000 through May 2002, Mr. Metz was Executive Vice President and Chief Investment Officer of Rodamco, North America. Rodamco owned over $6 billion in real estate assets, primarily dominant regional malls. Rodamco was a public company listed on the Amsterdam Stock Exchange. In May of 2002, Rodamco N.A. was sold to a consortium of regional shopping mall companies made up of The Rouse Company (subsequently acquired by General Growth Properties), Simon Property Group and Westfield.
Mr. Metz held numerous positions with Urban Shopping Centers, Inc., a NYSE listed REIT including President, Chief Financial Officer and Director of Acquisitions. Urban was in the business of owning, acquiring, managing, leasing, developing and redeveloping super-regional and regional malls. Urban was purchased by Rodamco in November 2000 in a friendly transaction. From the IPO in 1993 until 2000, when the Company was sold, the total return (includes stock price appreciation and dividend reinvestment) was 238%.
Mr. Metz was a Vice President in the Capital Markets group of JMB Realty, where he was employed from 1987 to 1993. From 1983 to 1987, he worked in the Commercial Real Estate Lending Group at The First National Bank of Chicago as a Corporate Lending Officer.
Mr. Metz is currently a member of Real Estate Roundtable, ICSC and ULI.  He also serves on the advisory boards of the real estate programs at both Cornell University and Northwestern University.
Mr. Metz received his Masters of Management degree from Northwestern University and his Bachelor's degree from Cornell University.