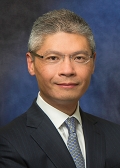 Wayne Wen-Tsui Tsou
Location
Hong Kong, China
Wayne Tsou is a Senior Advisor to the Asia team. He is based in Hong Kong.
Mr. Tsou started Carlyle's growth capital business in Asia (the first such business for Carlyle globally) when he joined the firm in 2004. Until 2018, Mr. Tsou was the Vice Chairman of Asia Growth.
Prior to joining Carlyle, Mr. Tsou spent seven years at Warburg Pincus, where he was a Managing Director, the head of technology investments for Asia including Japan and a member of Warburg Pincus' Global Information Technology Group and Global Communications Group.
Mr. Tsou holds a Juris Doctor from the Harvard Law School, an MBA from the Harvard Business School, a Master of Science in Electrical Engineering from the California Institute of Technology ("Caltech"), and a Bachelor of Science summa cum laude in Electrical Engineering from the University of Michigan. He is a native of Shanghai, China.