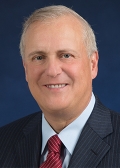 Robert ("Bob") Mancini is a Senior Advisor to the Carlyle Power Partners team. He is based in New York.
Mr. Mancini was formerly a Carlyle Managing Director and Co-Head of Carlyle Power Partners, which is supported by its captive operating, engineering and technical platform, Cogentrix Energy Power Management, for which Mr. Mancini also served as Chairman of the Board.
Prior to joining Carlyle, Mr. Mancini was a Managing Director at Goldman Sachs & Co., where he spent nearly twenty years.  Most recently Mr. Mancini led the firm's on-balance sheet power asset business through Goldman's wholly-owned subsidiary, Cogentrix Energy LLC, where he was CEO.  Mr. Mancini was instrumental in Goldman's entry into the power asset business in 2003.  Prior to 2003 Mr. Mancini was a member of the legal department where he eventually became the Deputy General Counsel of the Securities Division.  Prior to joining Goldman, Mr. Mancini spent ten years in private practice as a lawyer with Debevoise and Plimpton, where he established that firm's derivatives practice.
Mr. Mancini received his J.D. from New York University School of Law in 1984, where he was a member of the Law Review, and received his B.A. degree from Binghamton University in 1980, where he was elected to Phi Beta Kappa.