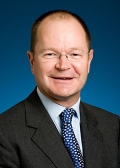 Dr. Robert Easton is a Senior Adviser to The Carlyle Group.  Previously he was Fund-head of Carlyle Cardinal Ireland, a fund focused on growth capital and buyout investments in Ireland, and Co-head of Carlyle Europe Technology Partners, a fund focused on European technology growth capital and buyout opportunities. Prior to that, Dr. Easton headed-up Carlyle's Buyout team in the UK. He is based in London and has been with Carlyle for 15 years, has sat on multiple portfolio company boards and led a number of different teams of investment professionals.
Dr. Easton has a first class honors degree in chemistry from Imperial College in London and a Doctorate in organic synthesis from Oxford University.
Dr. Easton has been registered with the FSA since 2001, and is currently registered for the CF10, CF11, CF3 and CF30 controlled functions. In addition to his Directorships of Carlyle portfolio companies, Dr. Easton is an independent non-Executive Director of Imperial Innovations Group plc, a past Chairman of the British Venture Capital Association, a founding Director of Walker Guidelines Monitoring Group for private equity disclosure and a member of the Advisory Board of the Imperial College Business School. In addition, he's a Trustee of the British Heart Foundation and a Director and investor in numerous start-up companies.