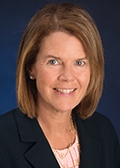 Jackie Roberts is an Operating Executive at The Carlyle Group where she is advising across the firm and in particular, supporting the firm's global ESG and impact team which includes providing expertise in due diligence processes and developing and supporting sustainability strategies across portfolio companies.  Prior to this Ms. Roberts served as a Managing Director and the Chief Sustainability Officer (CSO) for The Carlyle Group driving the integration of Environmental, Social and Governance (ESG) issues across Carlyle's into investment process and supporting portfolio companies across fund s and sectors. 
Prior to The Carlyle Group, Ms. Roberts was a Senior Director, Director and Program Manager at the Environmental Defense Fund.  Among other projects, she created the innovative corporate partnerships program which led to successful operational changes that reduce environmental impacts at companies including McDonald's, FedEx, Starbucks and SC Johnson, and throughout their supply chains.  This work earned a White House Presidential Environment and Conservation Challenge Award.   Ms. Roberts also served as a national expert on business strategy and sustainability, as well as serving as an expert on engineering aspects of clean energy solutions and, in particular, opportunities to build economic development through climate adaptation and mitigation.  Her team established a unique database and data analytics to support DOE tracking of stimulus package for the clean energy sector.  Prior to EDF, Ms. Roberts worked as an engineer for the US EPA Superfund program and enjoyed a 1-year faculty appointment at Harvard Business School.  
Ms. Roberts earned a B.S. in Chemical Engineering from Yale University, a M.B.A. from the Yale School of Management, and an M.E.S. from the Yale School of the Environment. 
Ms. Roberts serves on the Board of Weiman Brands, based in Chicago.
Ms. Roberts has also served on various non-profit boards, including Arizona State University Global Institute of Sustainability, Conservation International's Center for Environmental Leadership in Business, Appalachian Mountain Club, and University of Michigan Corporate Environmental Management Program.