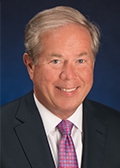 Gregory S. Ledford is a Senior Advisor, focused on investments in the Industrial & Transportation sectors.
Mr. Ledford led the Carlyle U.S. Buyout Industrial & Transportation team from 2011 to 2015, having previously led Carlyle's automotive and transportation investments from 2004 to 2011. Mr. Ledford led Carlyle's investments in Allison Transmission, Inc., AxleTech International Holdings, Inc., Grand Vehicle Works Holdings Corporation, Greater China Intermodal Investments, LLC, The Hertz Corporation, Horizon Lines, L.L.C. and Piedmont/Hawthorne Holdings, Inc.
From 1991 to 1997, he was Chairman and CEO of The Reilly Corp., a former portfolio company that was successfully sold in September 1997.
Prior to joining Carlyle in 1988, Mr. Ledford was Director of Capital Leasing for MCI Telecommunications, where he was responsible for more than $1 billion of leveraged lease financing.
Mr. Ledford is currently a member of the Boards of Directors of Carlyle portfolio companies ADT CAPS Co. Ltd. and Greater China Intermodal Investments, LLC.
Mr. Ledford is a graduate of the University of Virginia's McIntire School of Commerce, where he is the Vice President of the Foundation Board, and received his M.B.A. from Loyola College.