Claudius (Bud) E. Watts IV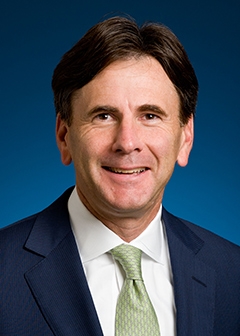 Claudius E. Watts IV ("Bud") is a Senior Advisor focused on software, software enabled services, semiconductors and electronic systems. Mr. Watts established the firm's Technology Buyout Group in 2004 and led it until 2014.
Mr. Watts led Carlyle's investments in technology companies CommScope (NASDAQ: COMM), SS&C Technologies (NASDAQ: SSNC), Open Link Financial, Open Solutions, Jazz Semiconductor, and Freescale Semiconductor (NYSE: FSL), as well as aerospace companies Firth Rixson, Sippican, and CPU Technology.
Prior to joining Carlyle in 2000, Mr. Watts was a Managing Director in the M&A group of First Union Securities, Inc. He joined First Union Securities when First Union acquired Bowles Hollowell Conner & Co., where Mr. Watts was a principal and advised Carlyle on several transactions. Prior to joining Bowles Hollowell, Mr. Watts was a fighter pilot in the U.S. Air Force. During his service, he was qualified as an instructor pilot in both the F-16 and A-10 aircraft and served in a number of leadership and operations management positions in the United States and abroad.
Mr. Watts earned a B.S. in electrical engineering cum laude from The Citadel in Charleston, South Carolina, and an M.B.A. from the Harvard Graduate School of Business Administration.
Mr. Watts currently serves as the Independent Lead Director on the Board of CommScope (NASDAQ: COMM) and as Chairman of the Board of Carolina Financial Corporation (NASDAQ: CARO).
In addition to his business activities, Mr. Watts serves as the Chairman of the Board of both The Citadel Foundation and The Citadel Trust and serves on the boards of the Roper St. Francis Foundation and Belle W. Baruch Foundation.