2019 Corporate Sustainability Report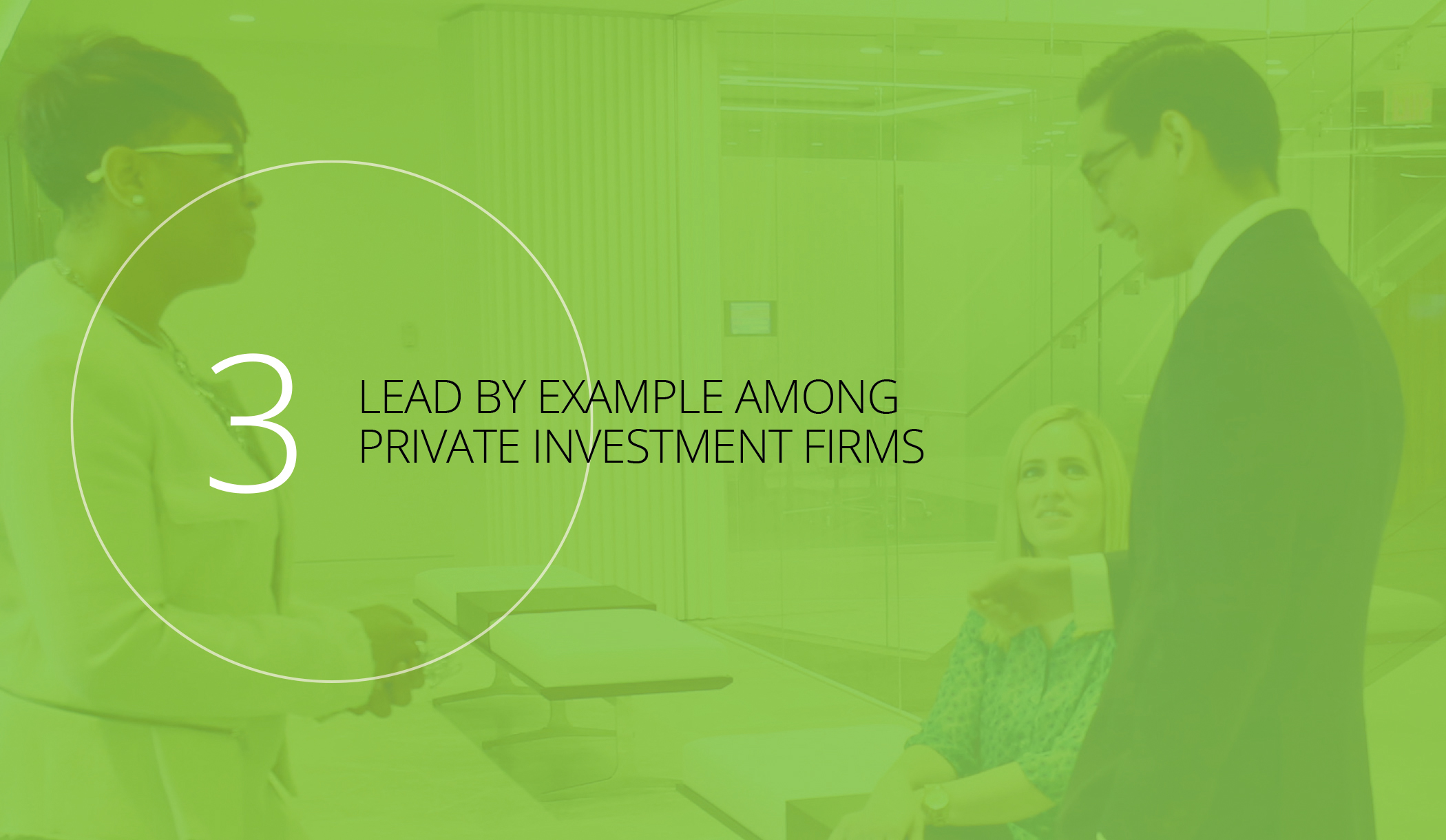 Our ESG strategy includes seeking ways to innovate within our own firm by advancing ESG issues. We work to cultivate an environment rich in different backgrounds, perspectives and experiences. We participate in ESG events and organizations, aiming to stay at the forefront of emerging issues such as climate risk. We encourage our employees to get involved where they live, work and invest through our volunteer and wealth sharing programs. And we work to continually improve environmental stewardship within our firm, particularly in the areas of energy and materials use.

1001 Pennsylvania Avenue renovations
In 2019, our Washington, DC offices added additional floors within its 1001 Pennsylvania Avenue headquarters, with the renovated space offering several environmental advantages. The lighting power density has been reduced significantly compared to the old space, and is now 44–49% better than the already stringent DC Green Construction Code. One hundred percent of lighting in the new space is efficient light-emitting diode (LED), and the lighting is attenuated by occupancy sensors and daylight harvesting photo sensors. The air volume system now uses variable frequency drives and will undergo commissioning to ensure it functions as designed throughout the seasons.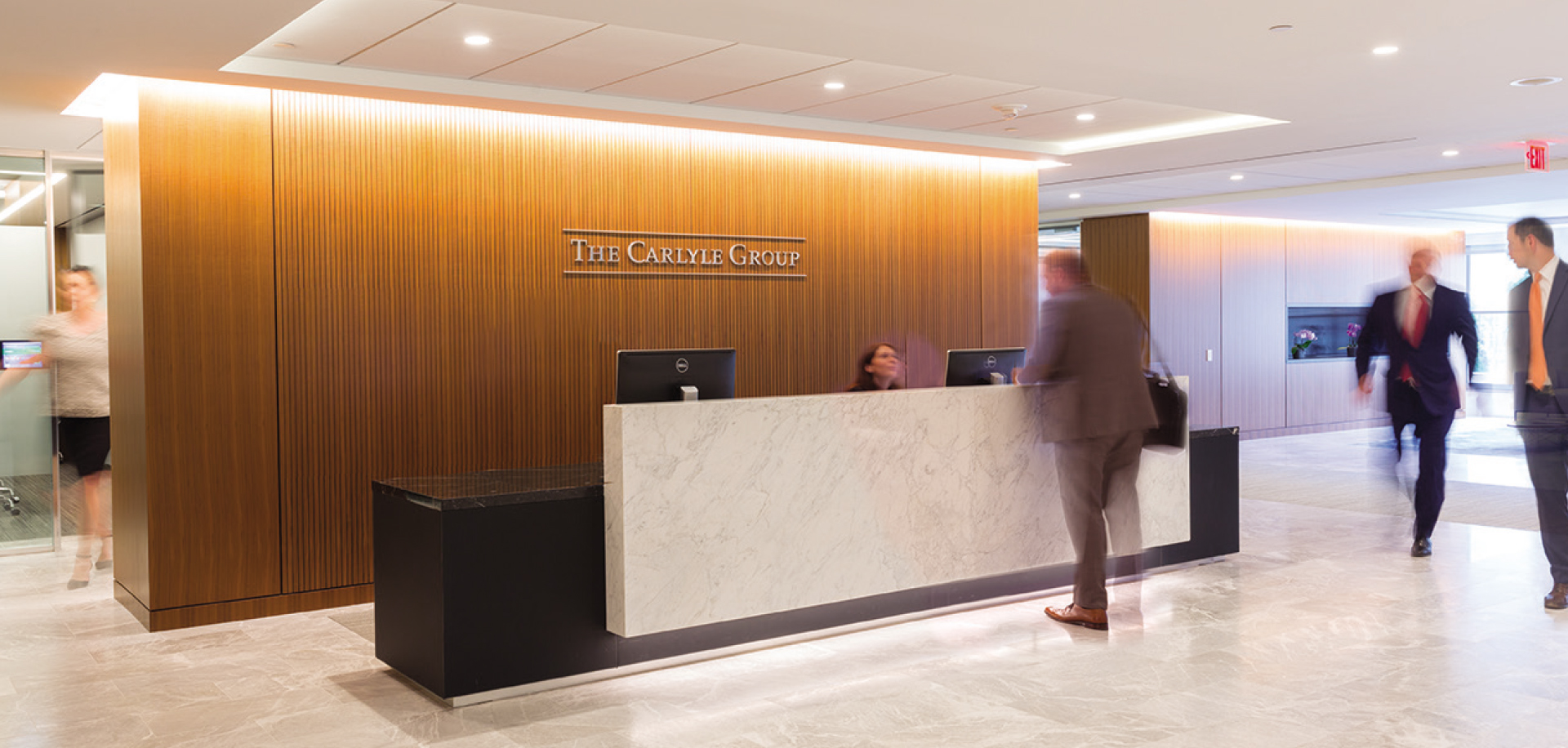 Carbon Neutral
In last year's report, we announced that Carlyle had become the first major private equity firm to operate on a carbon-neutral basis, and over the last year we continued with that commitment. Our approach to carbon is to measure, reduce and offset our emissions. In line with our commitment to leadership in this field, we shared our methodology with other private equity firms who embarked on their own footprinting efforts.
Measure In line with the World Resources Institute's Greenhouse Gas Protocol, we measured each scope (1, 2 and 3) of our emissions. Our 2018 footprint was more than 6% smaller than our 2017 footprint on a per-capita basis, mostly due to a reduction in air travel.

Reduce Every year our Global Technology Solutions team looks for means to reduce our footprint. In 2018, they continued our aggressive shift toward the cloud, decommissioning more than a dozen servers and reducing energy use at our data centers. Further, a new virtual desktop solution eliminated the need to provide hundreds of laptops for consultants, resulting in significant material (and therefore carbon) savings.

Offset As we did last year, we purchased offset credits from Carbonfund.org that support the electrification of truck rest stops. This project provides electrical and heat hookups that allow those functions to come directly from the grid rather than relying on a diesel engine, saving carbon and other emissions. The technology is not yet commercially viable, which is what gives Carlyle's funding the "additionality" in averting carbon emissions.
Creating greater employee engagement and value for our investors
A diverse and inclusive culture is a competitive edge that enables us to make the best decisions and attract the best talent across geographies, strategies and functions. Helping to hone that edge is our Chief Inclusion and Diversity Officer, Kara Helander.
Prior to joining Carlyle, Kara co-founded the Science of Diversity and Inclusion Initiative and spent 10 years as managing director and global head of diversity and inclusion at BlackRock. In addition to leading Carlyle's in-house inclusion efforts, Kara works to diversify the boards of our portfolio companies. "Given Carlyle's reach, this presents an extraordinary opportunity to impact business and our broader society."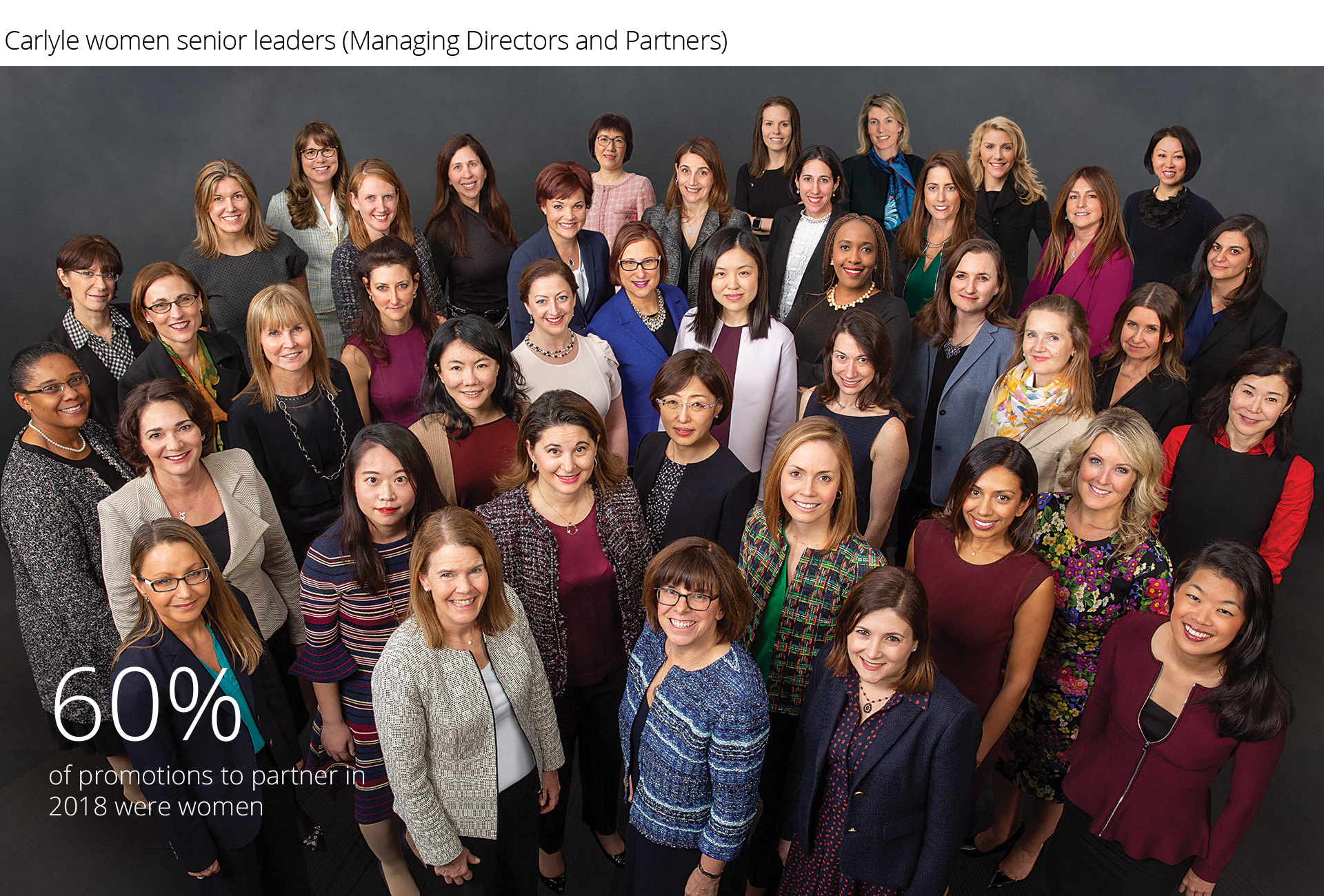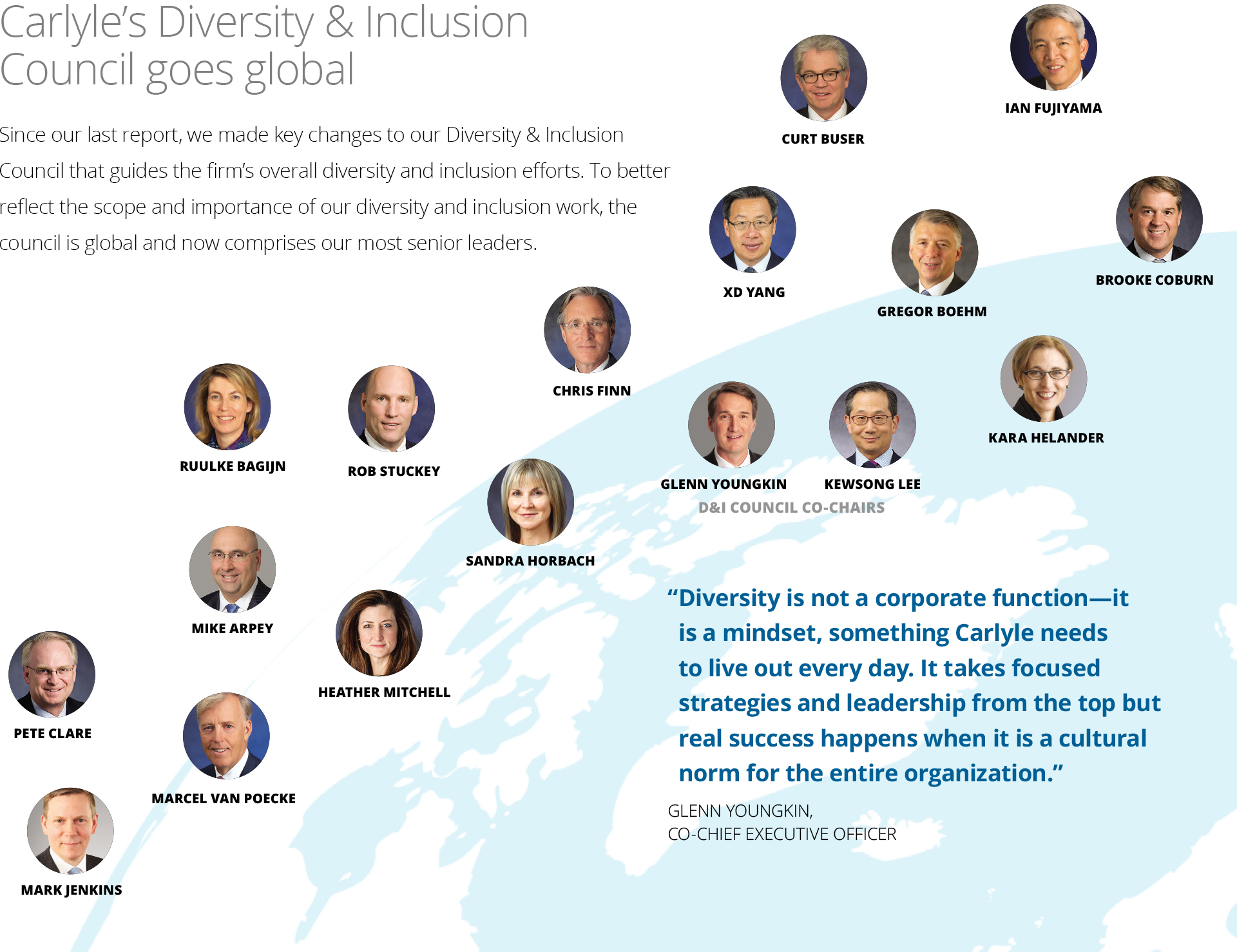 Our Year Up partnership
Since 2007, Carlyle has partnered with Year Up in the staffing of internships and contract roles. Year Up provides urban young adults with the skills, experience and support that will empower them to reach their potential through professional careers and higher education.
The organization offers intensive training programs that provide opportunities for young adults ages 18–24 to gain hands-on skills development, coursework eligible for college credits, corporate internships and wraparound support that helps them to better secure employment.
Our Global Technology and Solutions (GTS) organization provided internships for 78 women and men from various ethnic backgrounds via Year Up, a six-month internship offering hands-on technology experience and opportunities to work directly with Carlyle's diverse internal employee base. To date, Carlyle has hired four interns for full-time positions and extended employment for more than 21 via contract roles.
GTS also partners with McKinley Technology School, a premier STEM (Science, Technology, Engineering and Math) high school in Washington, DC. To date, GTS has hosted two male and two female interns from McKinley.
Employee Resource Groups
Our Employee Resource Groups (ERGs) provide the opportunity for employees across the firm to connect, develop professionally and help shape our culture. ERGs create meaningful opportunities for members to advance their careers, share experiences and enhance their impact and engagement. Carlyle ERGs include:
DC/Rosslyn Women
NY Women
Multicultural
Veterans
Young Professionals
Working Parents
Lesbian, Gay, Bisexual, Transgender
and Queer (LGBTQ)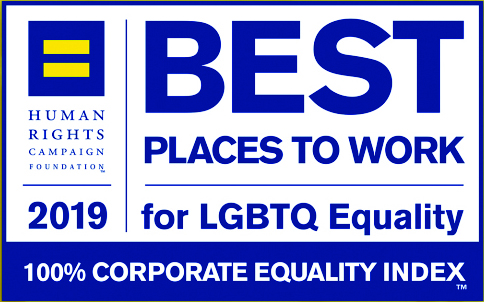 Key Performance Indicators (KPIs)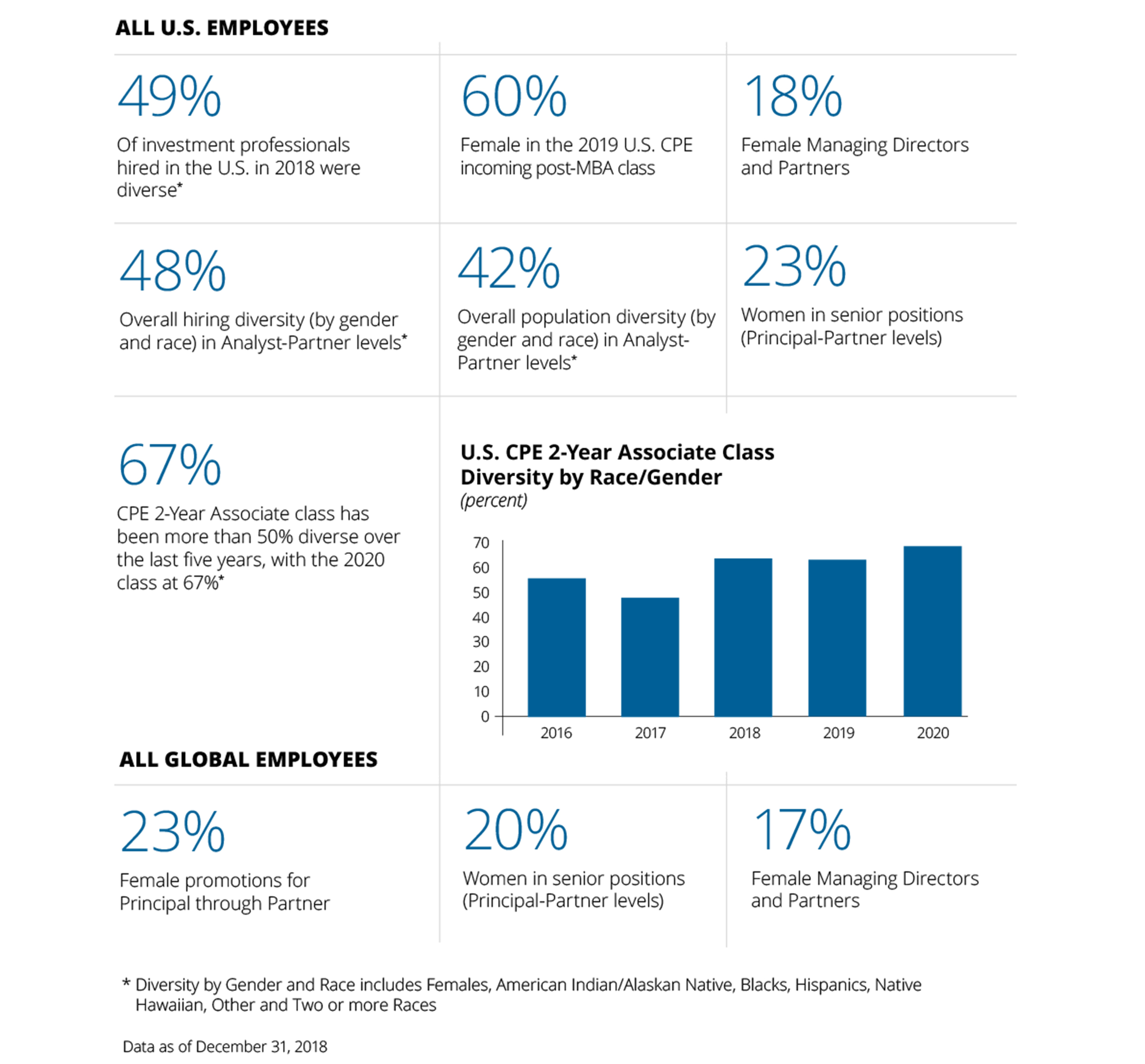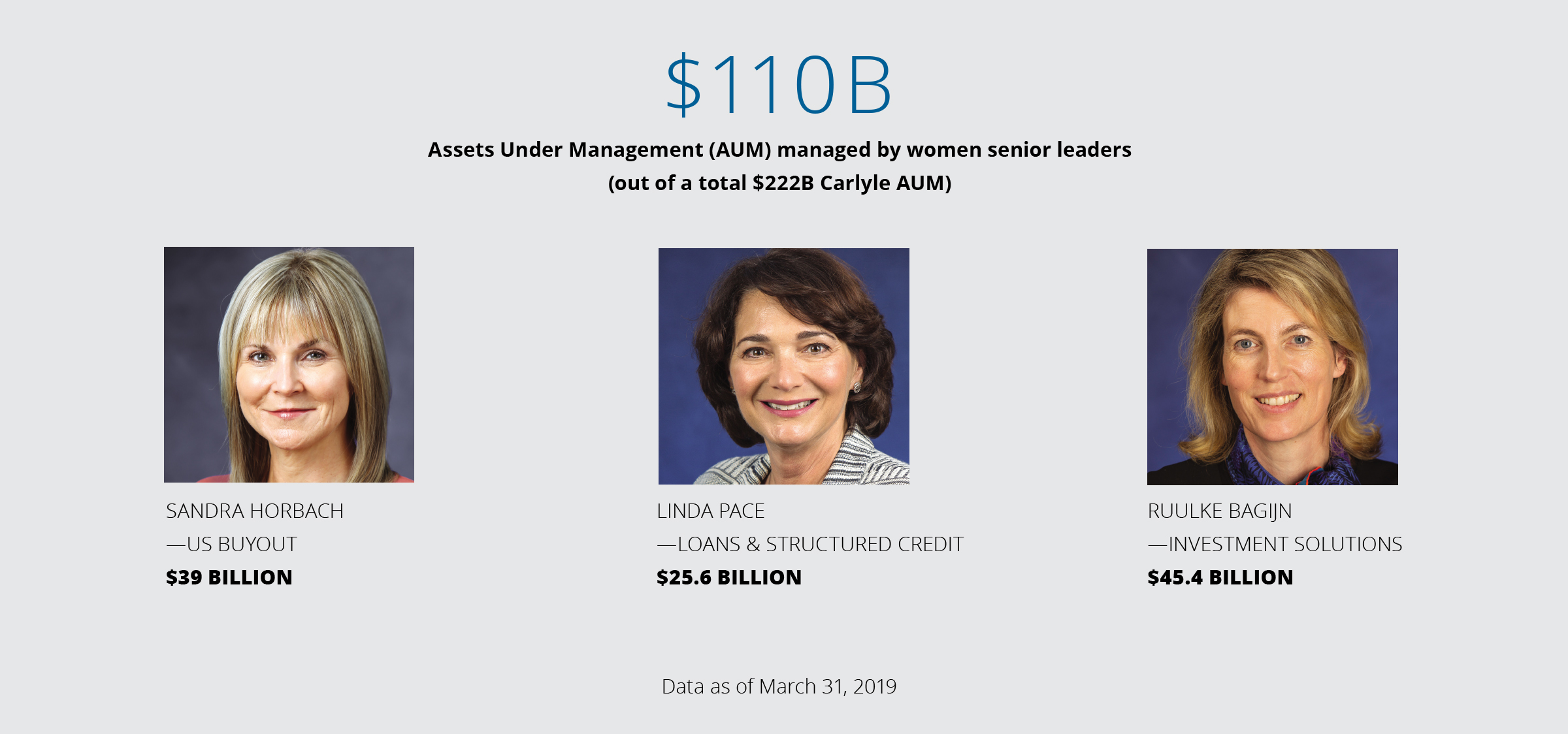 Mentoring: Building an inclusive culture and boosting careers
Mentorship is powerful. It turbo charges careers and expands opportunities. At Carlyle, we do not leave it to chance. The Diversity & Incusion Council created our global mentoring program in 2014, and since then more than 600 employees have participated from every corner of the firm.

Vice president to partner in five years
Sarah Schwarzschild had lunch with Ed Mathias, a Senior Advisor, right after he was paired with her as her mentor. "Based on that lunch he concluded that leveraging my team was going to be key to my success," she remembers. Ed's observation appears to have been prescient: since joining Carlyle five years ago, Sarah has been promoted three times and is now a partner.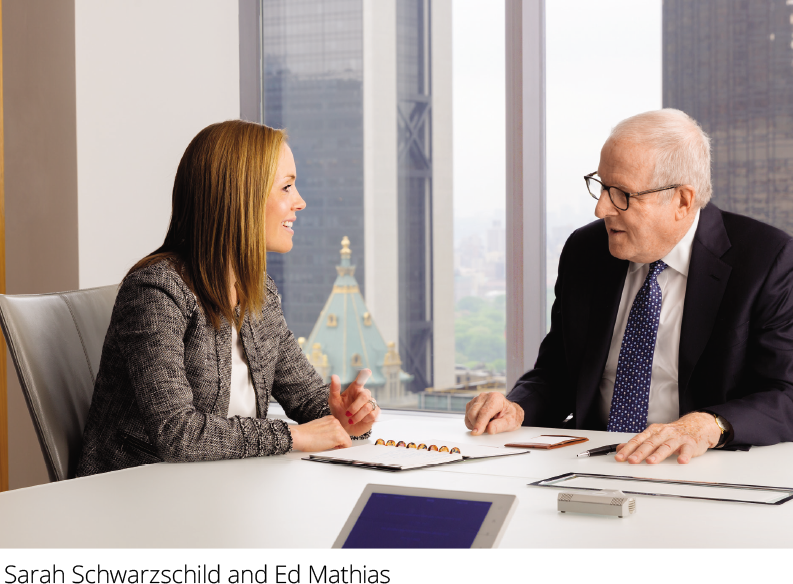 Paving the way from New York to Amsterdam
Sarah pays it forward by being a mentor herself, for Samantha Meskin, an Associate at AlpInvest Partners. Sam says, "The introductions Sarah made for me helped make a large firm feel much smaller and paved the way for me to move from New York to Amsterdam with the firm."
Carlyle's culture in action
Recognizing how his own mentors contributed to his successful career path, Curtis Johnson, a Managing Director on the Investor Relations team, found much satisfaction mentoring Chirayu SJB Rana, an Associate with Global Credit. Chirayu says Curtis helped him grow professionally and personally. "It is refreshing to see how senior people are successful in their own fields but also real human beings with interests outside of work," Chirayu says. "The mentorship program at Carlyle is a perfect example of Carlyle's culture in action."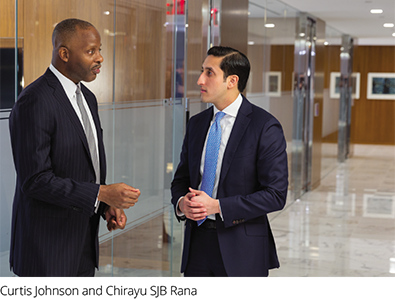 Philanthropy
One Community Volunteer Program
Carlyle's One Community program encourages employees to volunteer in their own local communities—as well as at organizations across the country and around the world. We had another great year whereby our employees shared their time, talent and resources with a variety of charitable organizations as they worked to improve the places where they live and invest.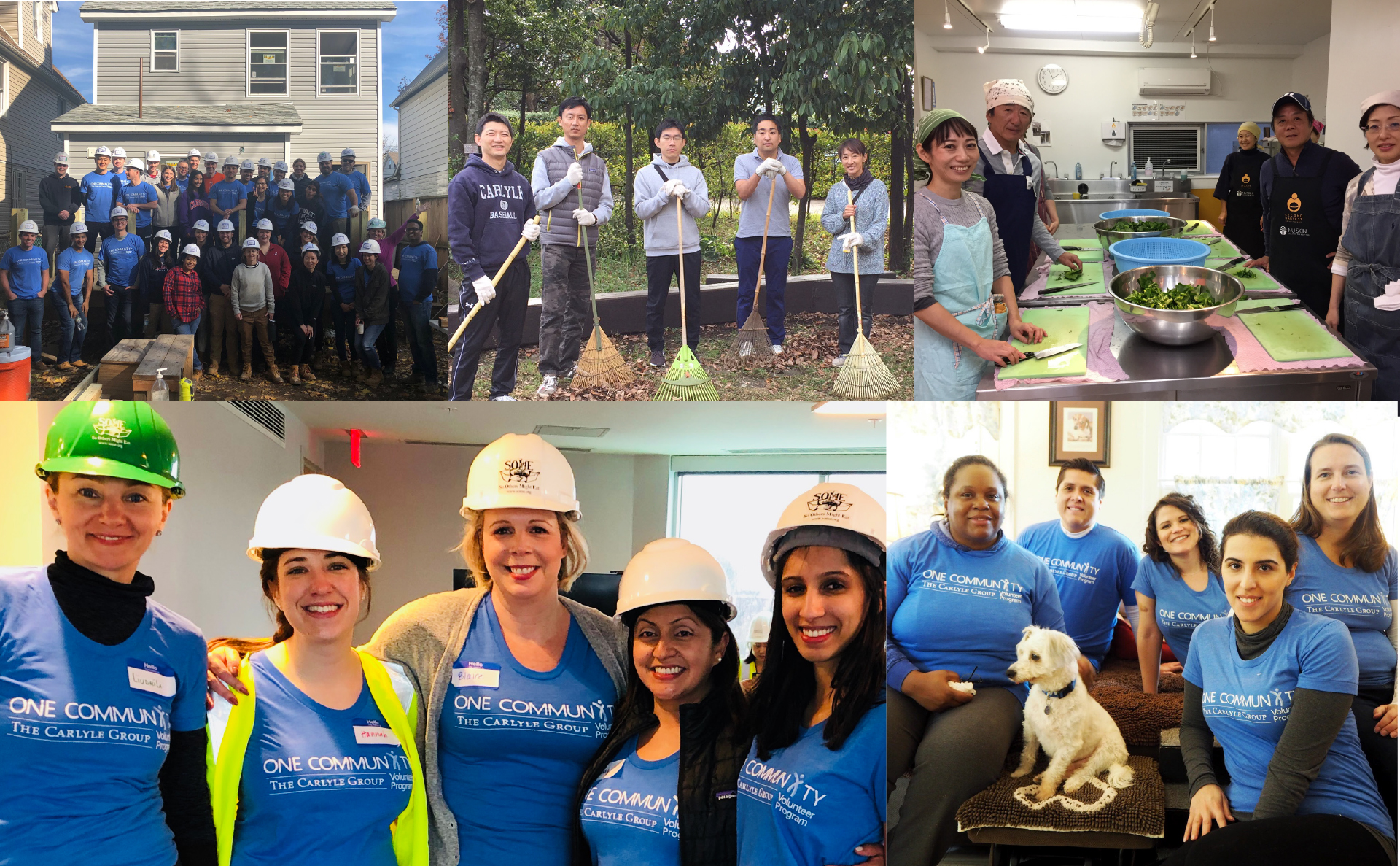 Global Volunteer Month
Employees from across the globe volunteered with several organizations during Carlyle's seventh annual Global Volunteer Month.
Washington, DC, and Rosslyn, Virginia, United States Employees volunteered with a range of organizations:
• Served meals and cleaned facilities at So Others Might Eat, a local organization that cares for the homeless.
• Participated in hands-on urban farm work at DC Greens, a local organization working to advance food justice in the nation's capital.
• Mulched trees and helped clean and beautify Rock Creek Park in Washington, DC.
• Assisted with outdoor chores and landscaping at House with a Heart Pet Sanctuary, a local organization that houses and cares for elderly pets.
• Volunteered for a ninth consecutive year with Junior Achievement's "JA in a Day" program to teach financial literacy to first- through fifth- grade classes in a Washington, DC elementary school.
New York Employees visited Randall's Island Park to build raised beds, mulch and help with planting at the urban farm.
London More than 20 employees ran in the JP Morgan Corporate Challenge benefiting Cancer Research UK, an organization that funds scientists, doctors and nurses dedicated to cancer research. Employees also collected charitable donations at tube stations for Help for Heroes, providing assistance to service personnel, veterans and their families.
Hong Kong Volunteers prepared meal boxes for Food Angel, a food rescue and assistance program that provides meals for underprivileged communities in Hong Kong.
Japan Volunteers provided administrative support at the Japan International Volunteer Center and helped cleanup efforts at Komazawa Olympic Park, Mount Takao and Fukudenkai orphanage.
A Commitment to Sharing Wealth
Our Wealth Sharing Program supports Carlyle employees in their charitable giving by matching on a dollar-for-dollar basis any contributions made to educational and humanitarian organizations. In the United States, Carlyle matches up to $2,000 per year per employee. In 2017, Carlyle matched nearly $300,000 in employee contributions. A similar matching program in the United Kingdom raised $38,000 in 2017. A total of more than $10,000 in charitable donations was matched as part of our U.K. gift matching scheme in 2018.