2019 Corporate Sustainability Report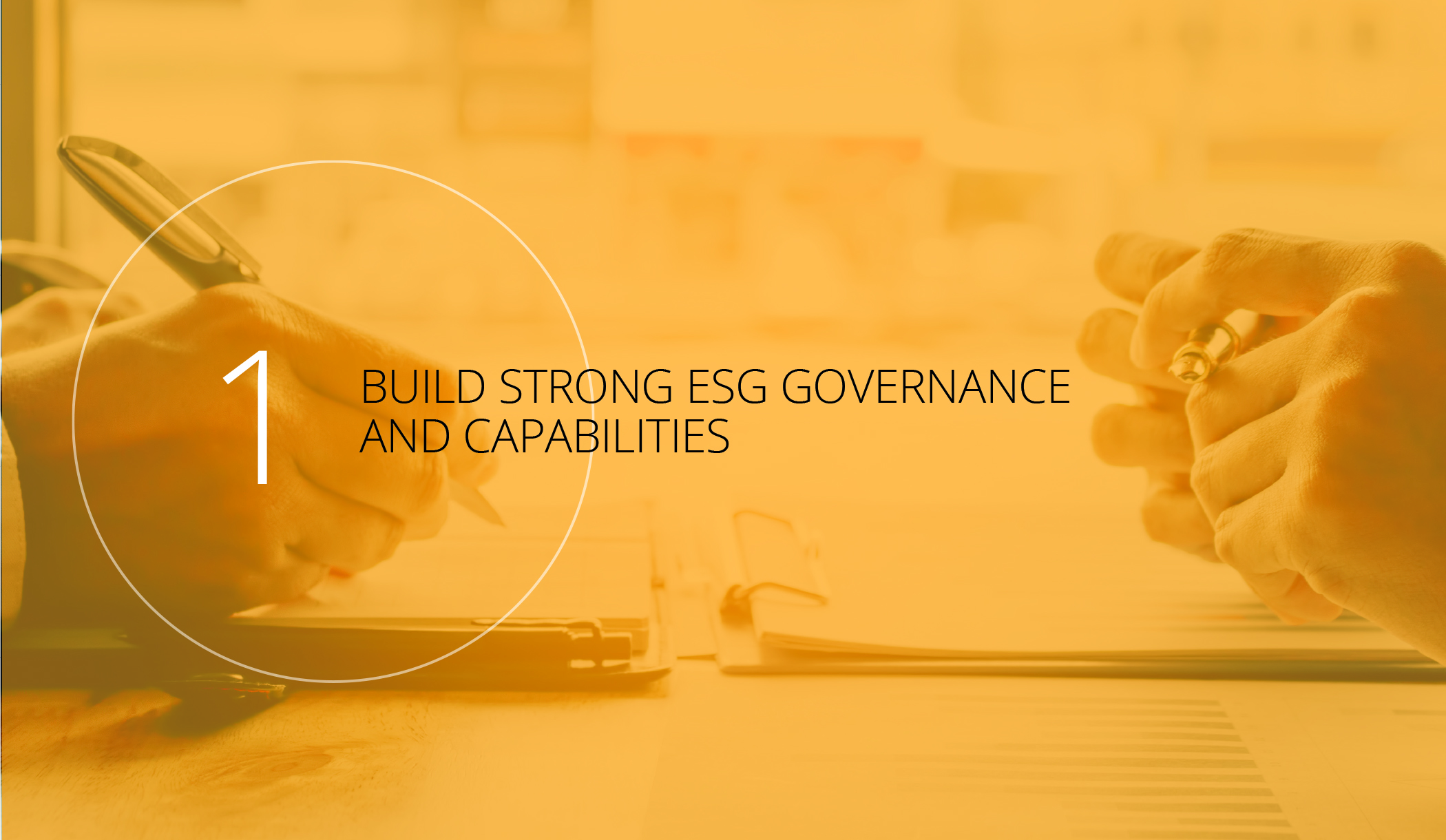 Since 2008, we have worked to continuously strengthen governance and transparency, aligning the interests of our investors, portfolio companies and investment professionals. Good governance processes enable Carlyle to monitor current and emerging risks and provide investors with the transparency they require. Ensuring that our investment process integrates ESG considerations equips us to better identify and monitor the most relevant ESG issues and most significant market trends—reducing risk and creating value.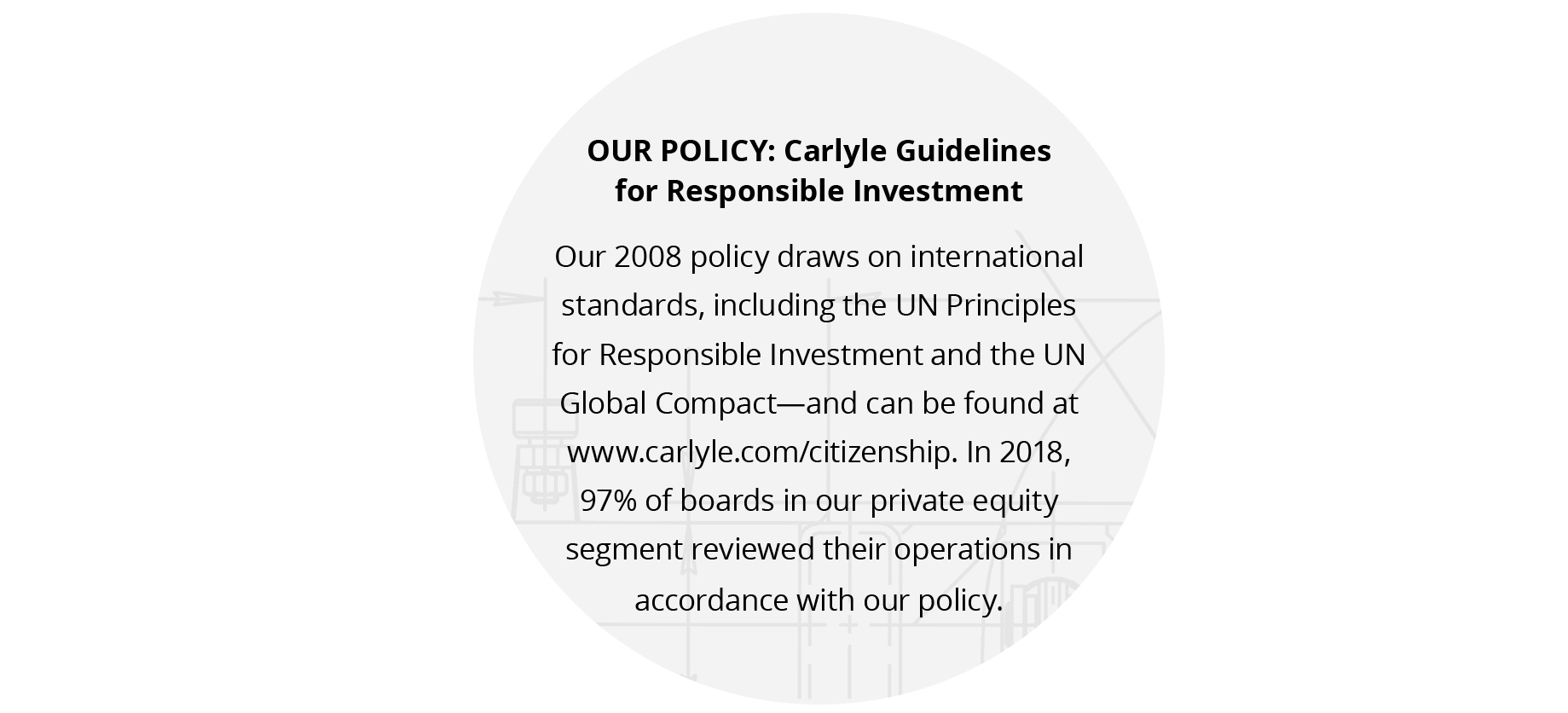 Integrating ESG considerations into each phase of our
investment process
We've made significant strides in embedding ESG considerations into our investment process to reduce risk and drive growth across our asset classes. Our deeper integration of ESG issues and trends also brings new expertise to help teams understand early on in the process the evolving landscape of portfolio company customer and other stakeholder expectations, which can identify emerging risks and produce new opportunities. Building from our Guidelines for Responsible Investment established in 2008, we now follow a systematic process that includes integration at each phase:
Due diligence Strong ESG governance starts with a detailed assessment of risks and opportunities in due diligence. Prior to investment committee reviews, each deal is required to identify material ESG risks and opportunities and outline how they may be mitigated or managed. Expertise is highly valued, and we benefit from teams' often deep experience with a sector. We frequently align due diligence conversations around the Sustainability Accounting Standards Board (SASB) standards. Deal teams access additional input from our team of internal leaders on ESG issues such as environmental risks, workforce diversity or data privacy and security. Our "investment transaction dashboard" systematically catches gaps in ESG information that must be addressed before meeting with the investment committee. Our sustainability team estimates that instances of missing ESG information have steadily decreased in the past five years.
Ownership Our growing expertise on a variety of ESG issues now enables us to routinely create more top line value from understanding and capitalizing on ESG trends in the marketplace. Our deal teams' understanding of material risks has expanded through support from sustainability experts, whether from our own team or outside the company. This growth in our capabilities supports our investment professionals and enables earlier implementation of risk management strategies.
In particular, we see two pivotal roles for Carlyle investment professionals in their work as portfolio company board members bringing sustainability perspectives to the table:
•Strategic decision-making, including capital investments (research and development, acquisitions, etc.), new hires, customer engagement and response to incidents—all of which can add significant value to an investment if the right ESG expertise is available and connected to management. Our AxleTech example illustrates how key board decisions helped management take advantage of new top line sustainability opportunities that are sometimes not identified during due diligence.
•Systematic monitoring of ESG issues, increasingly through Key Performance Indicators (KPIs), gives Carlyle the ability to not only stay abreast of key ESG developments but also drive new conversations among all board members, including independent board members. Several years of data from our Carlyle Europe Partners Fund shows the breadth and depth of data that we now collect; our team of ESG experts helps teams uncover the insights these KPIs provide.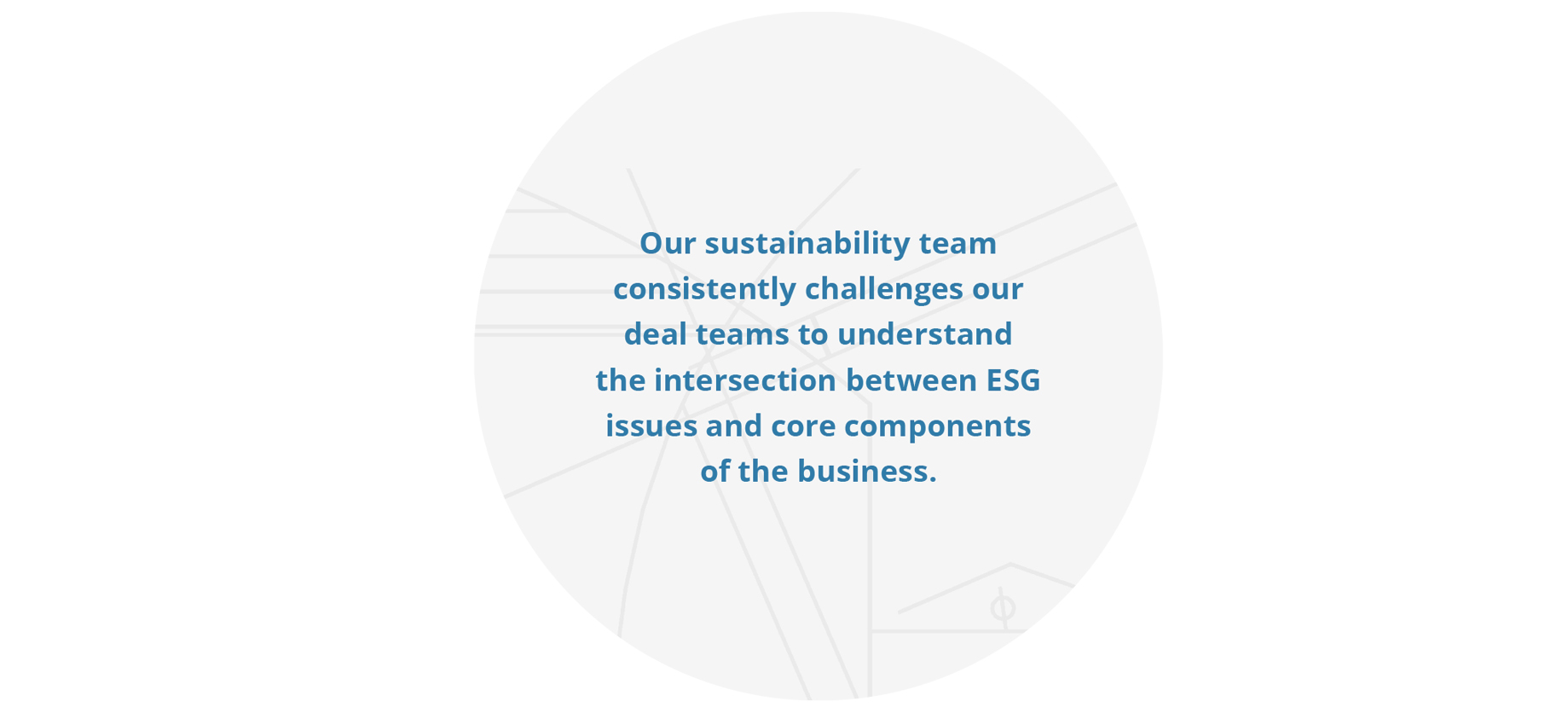 Exit As investments reach fruition, Carlyle now has a growing body of case studies where teams have realized the value of sustainability initiatives. Our newest AxleTech example highlights the value at exit of sustainability-driven innovations.
Whatever investment platform our teams pursue, our sustainability team consistently challenges our deal teams to understand the intersection between ESG issues and core components of a portfolio company's business, including customer trends, input costs, competition and a strong and inclusive workforce. Therefore, when ESG initiatives create tangible value, most often it aligns with one or more of these value creation drivers: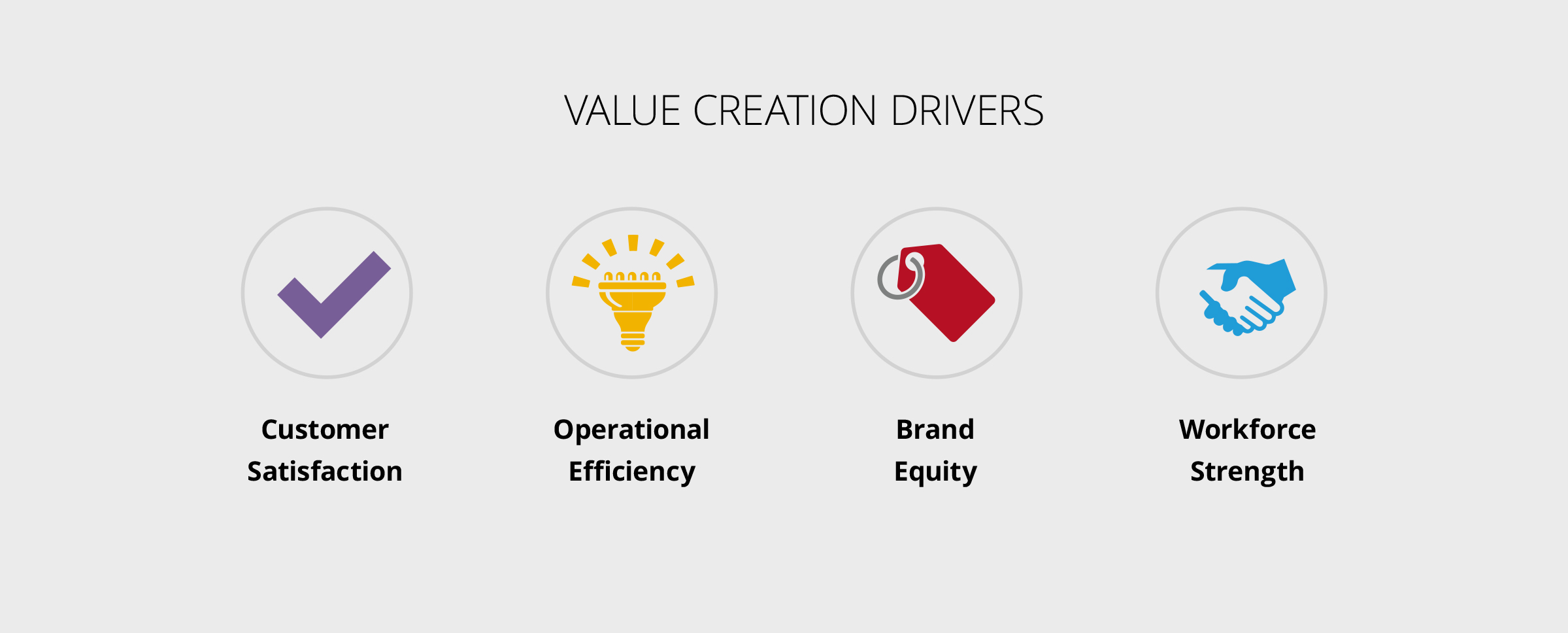 How Is ESG data used?
ESG KPIs provide key information for a board of directors to monitor challenges and opportunities, assess performance relative to previous years and compare data across the portfolio where appropriate. More specifically, we increasingly use these indicators to help improve our:
Troubleshooting If we see employee turnover above a goal level at Comdata, one of our telecom companies, lessons learned from other companies can be brought to the management team. For example, packaging innovator Novolex found that offering part-time employment in plants located in low-unemployment regions reduced their turnover rates and facilitated recruitment.
Identification of cross-cutting issues Multiple companies today face challenges in obtaining recycled materials to meet customers' specifications—whether sourcing recycled polyethylene terephthalate (PET) at packaging developer Logoplaste or finding recycled fiber for Dubl Life® bag products.
Strategic purchasing Several companies in our portfolio purchased a high percentage, if not 100%, certified palm oil. Carlyle can provide support on cost and availability data for this raw material input.
Marketing and communications ESG KPIs provide new data resources and information helpful to communications and marketing teams, whether for company marketing materials, sales team training or employee communications.
Assessment of overall strengths and weaknessess KPIs provide measurable ESG performance indicators for our portfolio at scale, across sectors, regions, sizes and company maturity.
Carlyle Europe Partners' leadership in developing ESG KPIs is in its third year. Our investor template includes 19 companies, and our investors, investment professionals and management teams use this data.
What are we tracking? We develop company-specific KPIs based on material issues for each relevant sector and geography, but our data shows that ESG KPIs typically track goals and progress in seven core areas:
1. Environmental footprint of operations (air, water, waste, energy metrics)
2. Product stewardship (metrics on design improvements or product innovations)
3. Supply chain management
4. Workforce health and safety
5. Workforce diversity
6. Employee satisfaction (metrics on wages and measures of engagement)
7. Data security

Material KPI Issues reported by company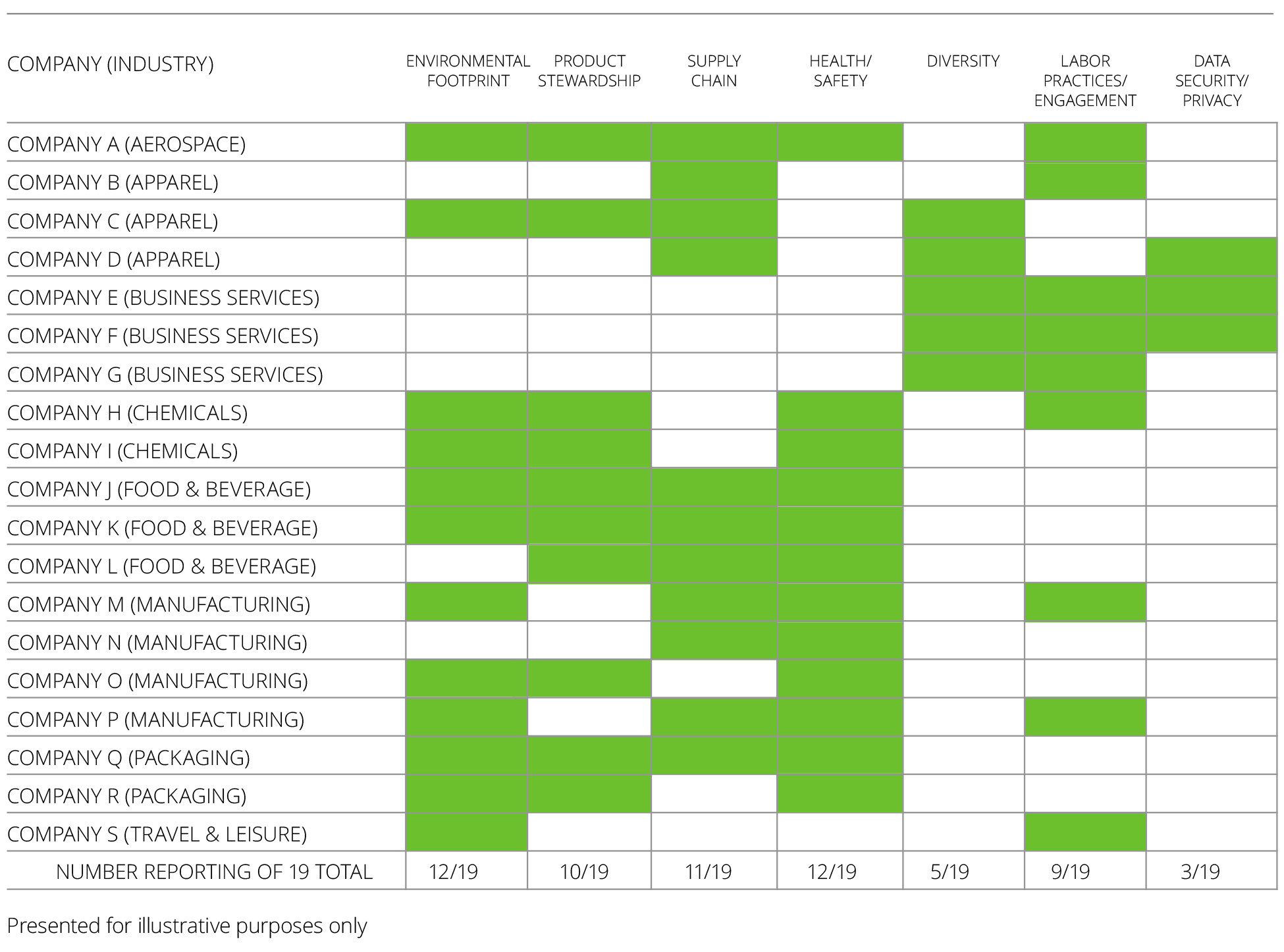 Innovating in our investment process:
specific expertise within Carlyle
During the last five years, we innovated our own investment process by integrating new types of expertise in ESG issues. In 2014, Jackie Roberts became our Chief Sustainability Officer, followed in quick succession by additional in-house experts whose unique perspectives are incorporated into the investment process so that today's investment discussions differ from those of even a few years ago.
Maximizing ESG opportunities
Jackie Roberts originated the position of Chief Sustainability Officer to bring comprehensive sustainability expertise into the investment process. "My responsibility is to bring my experience with environmental and social issues to support successful investments—which means that I support three key constituencies: our investors, investment professionals and our portfolio companies," Jackie says. "Whether reducing risk or seeing new opportunities, my role is to help articulate how successfully identifying and managing these issues builds portfolio company customer satisfaction, enhances brand value, creates operational efficiency or builds a top-tier workforce."

Protecting data and privacy
Mike Haas, who began working for Carlyle in 2016, serves as the Chief Information Officer of our firm and our portfolio. He focuses on information technology and business process due diligence and transitions across all business sectors, supporting cyber security and data privacy—which are considered ESG issues because of their social component. Mike says, "Cyber security is now a standard part of all diligence. Building our capabilities to address risk and remediation plans is part of our value creation program."
For the last 12–18 months, Mike's team assessed our portfolio companies and their progress against standards such as the ISO 27001 framework. All portfolio companies were asked to complete an independent third-party assessment of their current cyber risk profile and cyber security improvement program. Mike says, "We reviewed the output of the assessment with each portfolio company and helped ensure they put a strong improvement plan in place. Cyber security threats continue to change so it is something you are never done with. Nobody has a completely risk-free environment."

Improving organizational performance
Mindy Mackenzie, Chief Performance Officer, spent her career helping build businesses and leaders to be the best they can be. She now brings her unique brand of impact to our portfolio companies, helping them maximize organizational, operational and leadership effectiveness. Mindy brings insights around managerial strengths and weakness to our deal teams, infusing innovation into our own investment process.
Mindy also developed a proprietary Organization Health Survey focused on private equity firms that measures known drivers of performance to help optimize our portfolio companies' performance. "Companies everywhere administer organization surveys," says Mindy. "We simplified the best of what is in the marketplace and designed a solution that provides a holistic view on key issues supporting or inhibiting performance." Results can be used to design a customized action plan for a company or establish a baseline for ongoing measurement and tracking.

Incorporating diversity and inclusion into the investment process
Kara Helander, who joined us as our first Chief Inclusion and Diversity Officer in October 2018, defines diversity and inclusion as encompassing the meaningful differences that will enhance our business. "Our approach to diversity and inclusion is about opportunity," she says. "That means tapping the wide range of diverse perspectives, backgrounds, knowledge bases, interests and cultural identities at Carlyle to deliver exceptional performance to our investors and capitalize on our greatest business opportunities." Kara adds that being able to see opportunities and seize them is fundamental to Carlyle's success. "Teams that are diverse and inclusive view opportunities from a variety of angles and use different models and approaches to assess them. The result is better decisions and better outcomes. That's why we seek diversity within our own teams and at our portfolio companies."