2019 Corporate Sustainability Report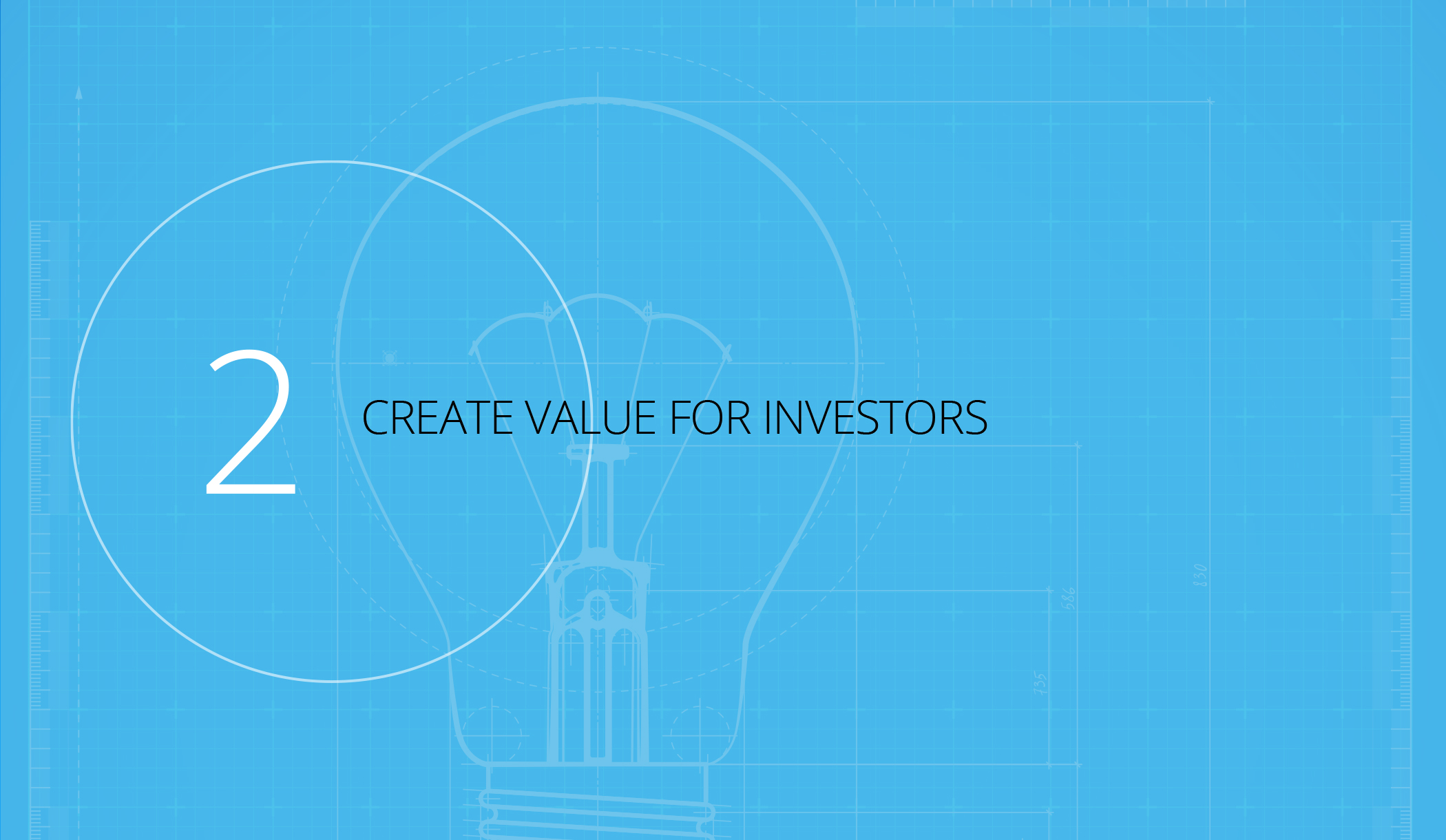 Carlyle supports our portfolio companies in their journeys to develop innovative strategies that create or improve value. Increasingly, sustainability is the spark for innovations that drive improvements and growth for a company. Whether creating environmental or social benefits, we most often see that such innovations directly connect to four primary value drivers. When innovations reflect the priorities of key stakeholders such as customers, employees and investors, the business benefits become more obvious. These value creation strategies come to life in our library of case studies, with examples from a variety of funds, geographies and sectors.


Getting the most value by finding the best partners
Often the best way to grow and thrive is to leverage the unique experiences, capabilities and perspectives of other organizations. At Carlyle, we believe our investment process benefits from our ability to search out and align with like-minded companies who value sustainability-driven innovation.
These partners range from all sizes and sectors: McKissack, the nation's oldest woman- and minority-owned construction management company, to overhaul JFK Airport; the IFC to develop green warehouses in China; Ocean Park Conservation Foundation Hong Kong to eliminate the use of straws in fast food service; and technology and medical collaborators to develop fully customizable clinical trials.
We have focused on proactive outreach in the communities in which we operate to increase awareness and respond to local concerns. We met with local owners of wind turbine farms in New York State to ensure a smooth ownership transition and forged invaluable relationships with local professional services firms for the JFK Airport redevelopment project.
Our partnerships and community outreach have helped Carlyle and our portfolio companies to identify and reduce risks, innovate product lines and promote diversity and inclusion. We will continue to seek out partners, and encourage our portfolio companies to do so as well, as a primary means to address evolving sustainability challenges.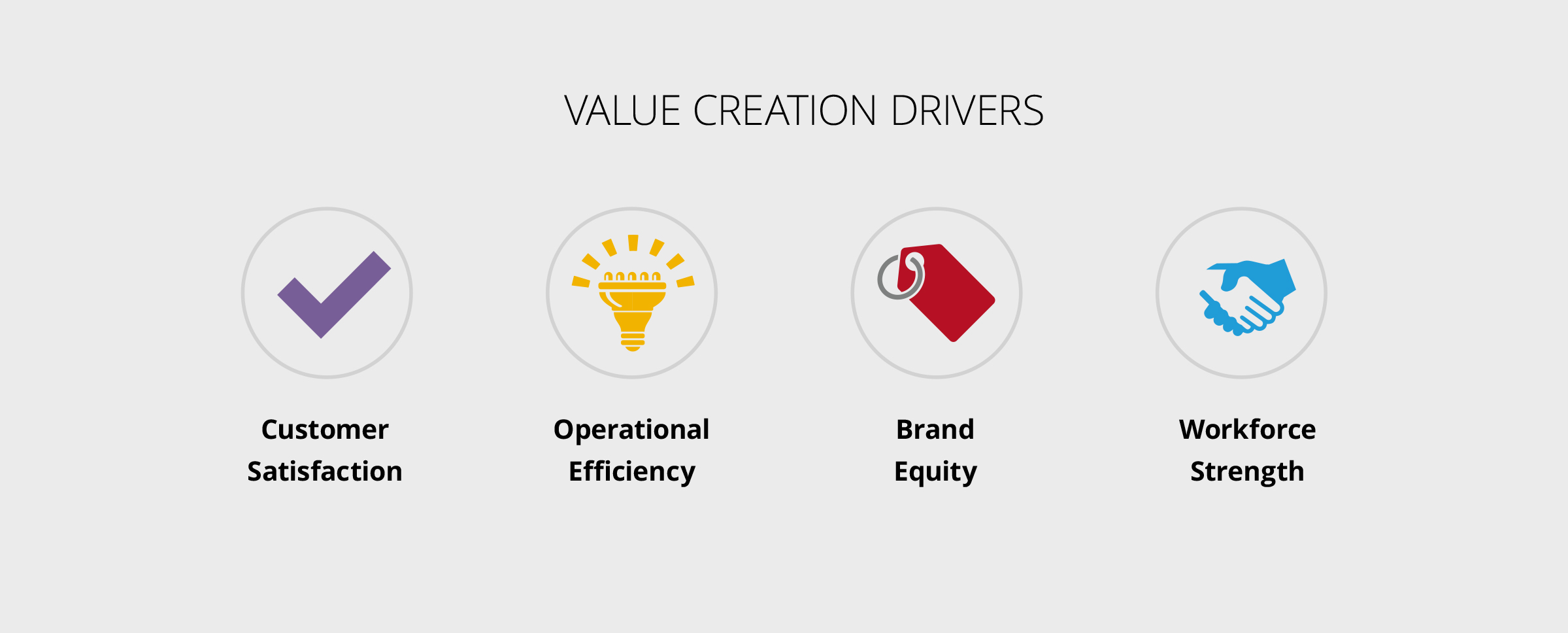 How Carlyle adds ESG value
ESG considerations play a growing role in our investment process and the operations of our portfolio companies, often sparking innovative new products and services. As part of our investment process, our investment professionals not only evaluate ESG risks, but increasingly identify opportunities for growth driven by market trends toward more sustainable products, services and companies. During our ownership period, we support portfolio company management teams' efforts to create new, more sustainable products and services and develop strategic ESG programs within their companies. Our ESG value drivers and case studies illustrate the range of opportunities for enhancing value through sustainability-driven innovation.
While backing strong ESG performers is a sound investment strategy, we aim to go further by providing a "Carlyle Edge" on sustainability issues, including in the following ways:
Lending expertise on ESG issues
Carlyle brings world-class ESG expertise to its portfolio companies, starting with our Chief Sustainability Officer, Jackie Roberts. Jackie, now in her sixth year at Carlyle, spent 20 years at the Environmental Defense Fund and holds a graduate degree in environmental management from Yale University. In addition to Jackie and the sustainability team, Carlyle maintains a network of preferred experts and consultants in all major ESG sub-fields, including Gare Smith of Foley Hoag, LLP, an expert in human rights and labor law. These internal resources and external references allow our portfolio companies to better understand the nature and materiality of their ESG issues and thus how to address them.
Market intelligence and One Carlyle platform
With more than 275 portfolio companies across the world, Carlyle has a unique edge when it comes to understanding the ESG needs that companies face. From "early warning" watch lists of ingredients in consumer products, to expectations of major buyers such as Walmart, to other portfolio companies' experiences with similar issues, Carlyle offers insights to our portfolio companies that go far beyond their scale. This market intelligence is key for identifying and developing sustainability solutions that can add value. The Carlyle portfolio itself also offers products and services that can be shared across the platform to solve ESG issues, such as NOSA's health and safety audits and procedures.
Capital injection to catalyze ESG progress
Numerous ESG initiatives have attractive financial returns but require upfront capital to get the ball rolling. Carlyle's investment, and the resulting capital injection, can help our portfolio companies get over that hump. One category of such projects are equipment upgrades, which typically make an operation more efficient from an environmental perspective in addition to serving a business imperative. In other cases, new personnel and expertise is needed to generate value from ESG initiatives, and capital helps acquire that talent. Finally, as with most of the case studies in this year's report, Carlyle's capital can fund research and development (R&D) to innovate solutions for ESG problems that affect the company's customers or operations.
Carlyle portfolio companies share ESG successes and challenges at sustainability roundtable
In January 2019, the Environmental, Health and Safety (EHS) team at Carlyle portfolio company Ortho Diagnostics hosted a sustainability roundtable for fellow Carlyle portfolio companies at its Raritan, New Jersey headquarters. Companies in attendance included Albany Molecular Research Inc., Arctic Ice and Novolex.
Carlyle's Chief Sustainability Officer Jackie Roberts and Ortho's Raritan EHS Manager Tim Goddeyne welcomed all attendees for a productive day during which the Ortho EHS team shared sustainability and safety innovations, lessons learned and best practices. As a carve-out from Johnson & Johnson, an original member of the Dow Jones Sustainability Index in 2010, Ortho is one of our most mature companies on sustainability initiatives.
The portfolio company attendees, who each oversee sustainability in their roles, visited Ortho's six-acre solar farm. Then they toured Ortho's manufacturing operations, which produce the company's dry VITROS® system that, unlike traditional wet chemistry systems, does not require water or drains to operate.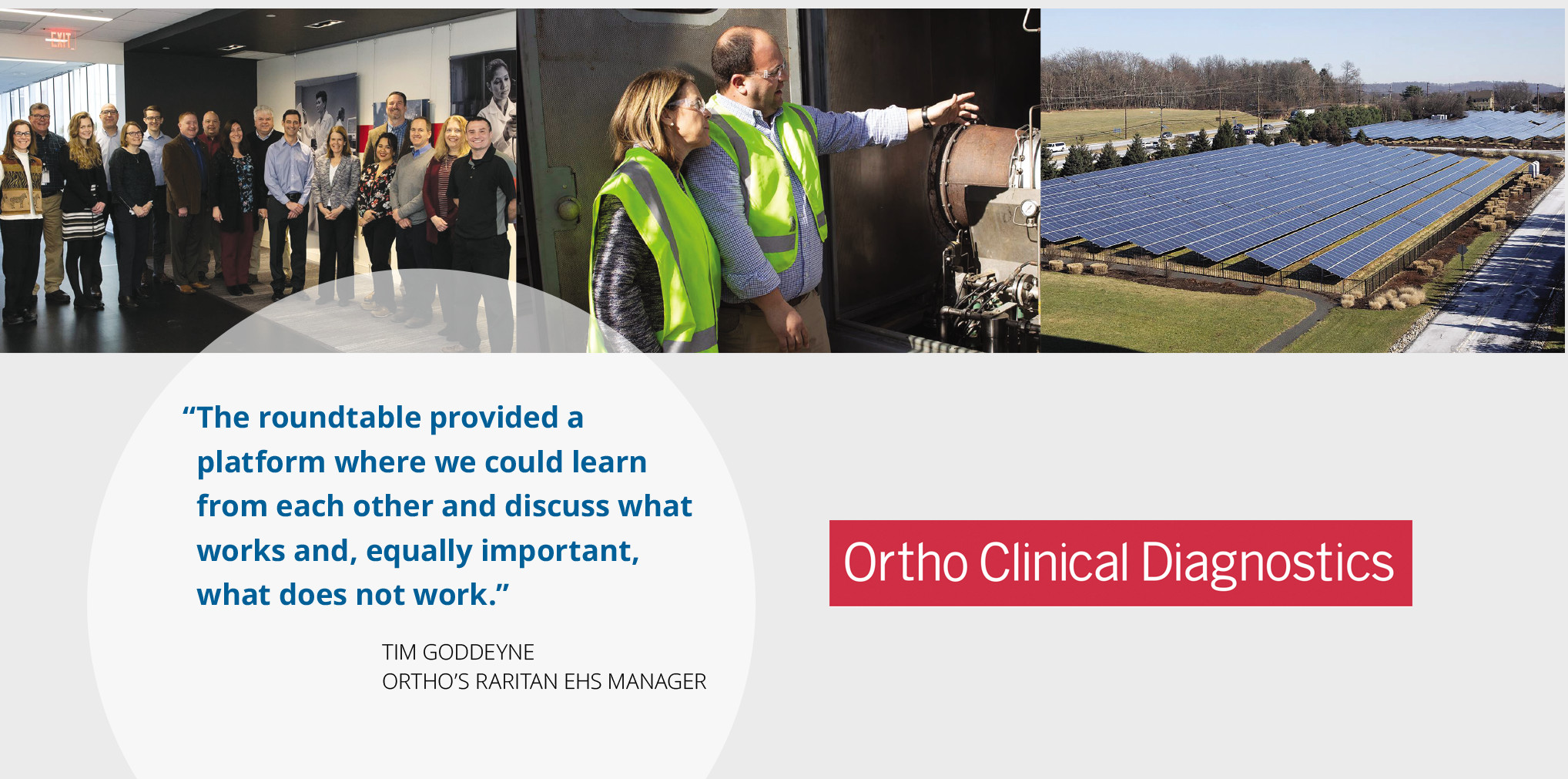 Expanding capabilities to invest in renewables and sustainable energy
The transition to a low carbon will require massive investment in renewable and sustainable energy infrastructure, since renewables now represent a supermajority of global additions to power generation capacity. As such, the rapidly growing renewables and sustainable energy sector represents a pivotal market trend, and Carlyle has responded by deepening and broadening our existing renewables investing experience.
This past year, Carlyle invested in building a top-tier team with deep investment and operational experience, including senior professionals who focus on investing capital or operating assets in the renewables sector on a dedicated basis. As announced in April 2019, Pooja Goyal will join Carlyle to lead our new Renewable and Sustainable Energy (RSEF) team, bringing nearly 15 years of experience investing in the renewables and sustainable resources sector.
While the RSEF team is comprised of new team members bringing deep sector knowledge and experience, it will also draw on insights from Carlyle's existing power, infrastructure and hydrocarbon businesses. Carlyle's diversified $27 billion global energy platform operates more than 95 portfolio companies across 31 countries and six continents.*
Our RSEF investment team has experience sourcing verifiable projects and creating robust value creation plans. Under Pooja's leadership, our investment team will work in close coordination with the broader U.S. and international energy and power teams, to source, do due diligence, manage assets and optimize investments. As shown by our Valcour case study, our experience spans the full One Carlyle global platform, including Carlyle Power Partners.
We believe our global network of relationships, the firm's deep energy sector expertise and a new team with complementary experience will create unparalleled capabilities that can seamlessly plug into Carlyle's expansive platform.
*Data as of March 31, 2019
CLICK LOGO TO VIEW CASE STUDY