Value Creation
ESG Value Drivers
Tailored ESG strategies most often
add value in four core areas: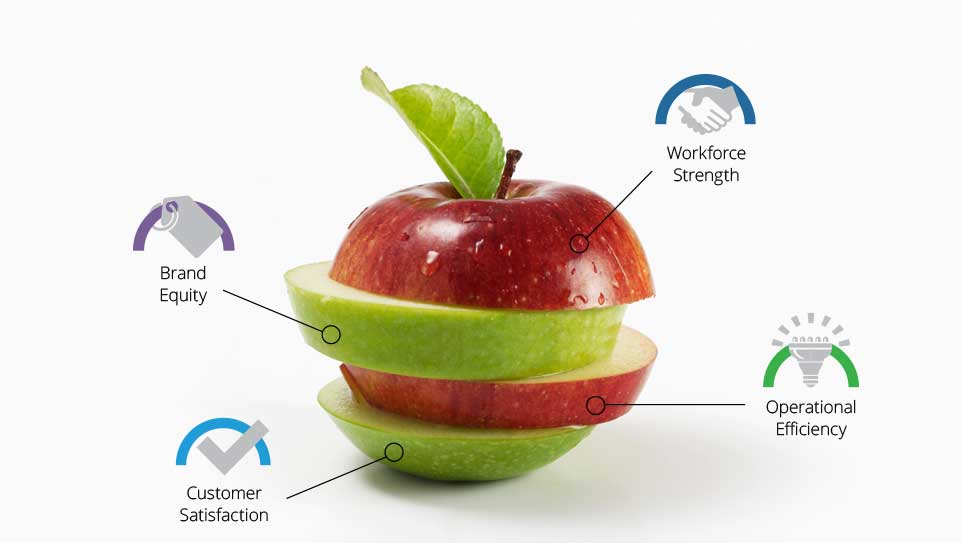 To achieve the second pillar of our ESG strategy—value creation—Carlyle supports our portfolio companies' management teams in their journeys to develop sustainability strategies that improve value. We focus on the four primary value drivers that are most important to stakeholders in a particular company, be they customers, employees, investors or other communities. These value creation strategies come to life in our library of case studies, with examples from a variety of funds, geographies and sectors.
Customer Satisfaction Customer expectations increasingly include a demand for more sustainable products and services, along with assurances that suppliers effectively manage their environmental and social performance. We see this increased demand in a range of sectors, including consumer products, telecom and media, business services, and manufacturing sectors.
Operational Efficiency Operational efficiency means operating with maximum productivity and minimum waste. Savings in energy, water and waste often require new expertise or an infusion of capital. Our ability to bring new resources to the table can help modernize a plant quickly. Our investments frequently result not only in greater efficiency for a company, but also measurable environmental gains.
Brand Equity For some Carlyle portfolio companies, sustainability initiatives enhance their brand equity because more and more consumers value responsibly sourced products and transparent practices. These companies often develop innovative products that reduce their own and their customers' environmental footprints, disclose details about raw materials and work to ensure ethical practices throughout the supply chain.
Workforce Strength We evaluate workforce topics—including labor issues, diversity and inclusion, health and safety, and employee benefits—as part of our investment process. ESG initiatives can help engage employees, and an engaged workforce creates stronger companies and enhanced value. A strong workforce also reflects the important role employees play in a company's brand and customer relations.
CLICK LOGO TO VIEW CASE STUDY
Annual sustainability workshop helps portfolio companies share ideas and build ESG strategies
In December 2017, Carlyle gathered a group of portfolio companies in Washington, DC to discuss sustainability trends and emerging issues and to share ideas. In this latest edition of a recurring event, the sessions focused on how we can help our portfolio companies identify and transform their ESG initiatives into full ESG strategies. We considered how to create value by integrating not just the most material ESG issues, but also input from key stakeholders, including customers, investors, employees, suppliers and communities. Our investment professionals discussed how our value creation strategies align with our four sustainability value drivers. Carlyle's Chief Information Officer, Georgette Kiser, led a session on weather risks and tabletop exercises, using a climate change risk assessment for Carlyle's own business operations.
The group was inspired by George Serafeim's research from Harvard Business School, which affirms that the most effective ESG strategies reflect a solid understanding of how managing and improving ESG issues creates value. In contrast, those strategies that miss the right issues tend to simply spend money on initiatives that may be misdirected and add minimal value.*
* Mozaffar Khan, George Serafeim, and Aaron Yoon. Corporate Sustainability: First Evidence on Materiality. The Accounting Review: November 2016, Vol. 91, No. 6, pp. 1697-1724.

How our sector heads see the evolving role of ESG
Brian Bernasek and Jay Sammons head our industrial and consumer and retail sectors for our U.S. Buyout team, respectively. At our 2017 Portfolio Company Sustainability Workshop, they discussed the value and importance of ESG in their specific sectors, which we summarize below:
How do you see value in ESG initiatives?
JAY: At the beginning of my career, ESG was seen by most as being mutually exclusive with profit. Things are different today. I focus on consumer-facing businesses, and a key impetus to improve our ESG performance comes straight from the end-consumers themselves. They're savvier, they have more access to information than ever before, and they want to buy from companies whose operations they respect, that reflect their own values and have more distinctive product attributes, such as more sustainable products.
BRIAN: We're definitely doing more on the growth side, but the cost side is still an essential driver for ESG initiatives. Improving operational efficiency is a priority in any new investment, especially carve out transactions. We often get strong energy and water savings from that process. After that, we can move on to growth strategies. Axalta is an industrial coatings company that responded to customers who needed better ESG attributes in paint and coatings by developing new, environmentally preferable formulations. This helped grow the business with new customer bases en route to an IPO.
What does it take to identify or develop a culture of ESG success in a prospective investment?
BRIAN: If you're not on top of safety, governance, environmental impact and the like, it is a sign that your overall operations are not tightly run. As such, it's very much a part of the broader management culture. In terms of measuring impact, many areas of ESG are harder to quantify, although we're increasingly measuring KPIs where appropriate. For the areas that are more qualitative, you focus on your customer and encourage a strong ESG culture.
JAY: A big part of our job is pattern recognition, and through experience and instinct, we just know when a company's leaders believe in good ESG management and when they do not. Some of it is quantitative, but a lot of it is intuitive. A key focus for us is to make sure ESG issues and opportunities are discussed at the portfolio company board level, because if they aren't, they likely won't be discussed or implemented anywhere below it. So, we must start by getting the board membership right in order to drive ESG opportunities.
BRIAN: ESG used to be about playing defense, or what we would call "reputational risk." It's now an offensive, value-improvement tool. It's good for business. The best way we measure that is by our performance.
What is driving the business case for ESG integration?
JAY: It's information. Consumers are more powerful than ever before because they have so much more information in hand—she can look things up on her phone when she's standing at the shelf making a decision between brands. And, millennials—their ways of consuming are totally different, so we need to pay close attention when demographics change.
BRIAN: And once the business case becomes clear, the boards and management teams of these companies start to drive ESG change themselves because they see the value.
What is the biggest mistake that companies make with regard to ESG?
JAY: Treating ESG like a check-the-box exercise. Board reviews can't just be tools to measure—the culture has to be built where ESG is considered in everything people do all around the organization. It's not the work for the sake of the work. It's not just about compliance. That type of approach can lead to a situation where there is a spread between aspiration and quality execution.
BRIAN: I've never seen a mistake when they've made an honest attempt at it. The place where the mistakes are made is when they're not committed to ESG in the first place. If anything, the mistake is usually the gap between excellent ESG work on the operations side and communicating it to your investors or your customers. Addison Lee car service and Axalta both had strong ESG performance in their operations, but each benefited from the insights of our Chief Sustainability Officer to really get the most out of it from a brand equity perspective.