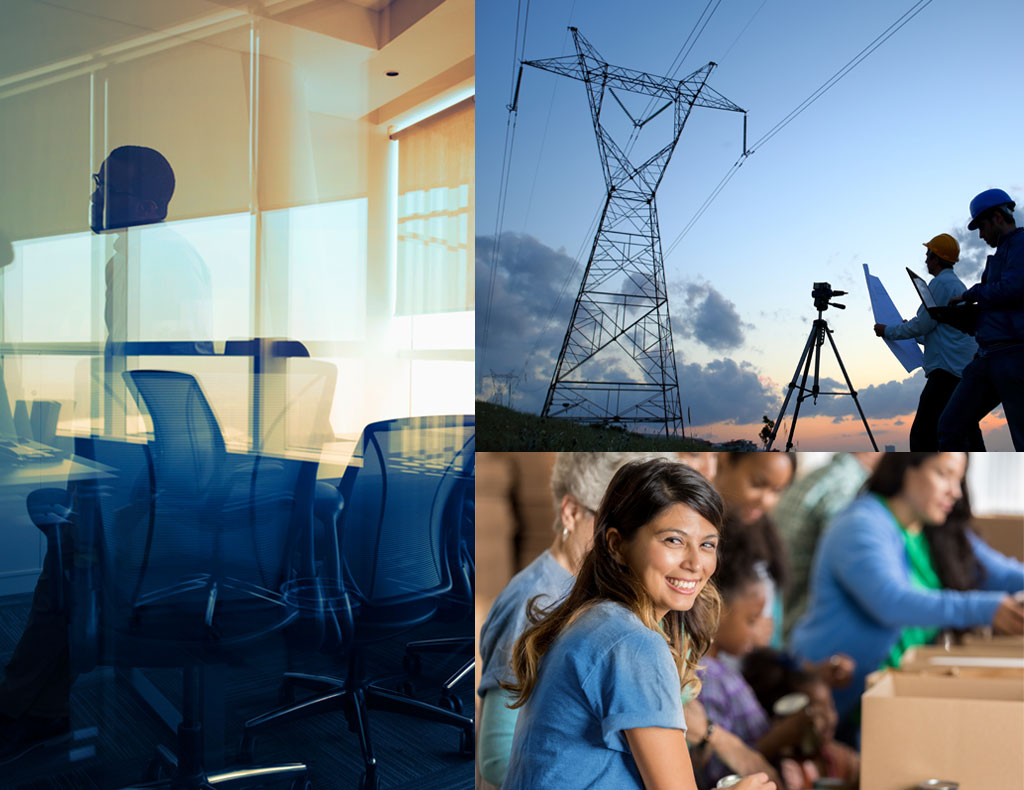 1
&
ESG
governance
transparency
2
value creation at portfolio companies
3
best practices in the financial sector
Our ESG strategy
At Carlyle, ESG issues intersect with our business in several different ways. We focus on three goals in our own strategy and work to make progress in each area.
Providing strong ESG governance and transparency Since 2008, we have sought to continuously strengthen governance and transparency, ensuring that the interests of our investors, portfolio companies and investment professionals are aligned with our ESG goals. Good governance processes enable Carlyle to monitor current and emerging risks and provide investors with the transparency they require.
Creating value through tailored strategies at portfolio companies ESG considerations play a growing role in our investment processes and the operations of our portfolio companies. As part of our investment process in our Corporate Private Equity segment and several other asset classes, we evaluate ESG risks and seek opportunities to create value through sustainability initiatives. During our ownership period, we support our management teams' efforts to develop strategic ESG programs, including through collaboration with other portfolio companies. At exit, we highlight relevant ESG accomplishments. Our case studies and ESG value drivers (see page 16) illustrate the range of opportunities for enhancing value.
Advancing ESG practices in the private equity industry Our tailored ESG strategy includes advancing ESG issues within our own firm. For example, we believe that diverse teams and experiences bring tremendous value to our firm and our industry. As such, we work to cultivate an environment rich in different backgrounds, perspectives and experiences. We participate in ESG events and organizations, aiming to stay at the forefront of emerging issues such as climate risk. We encourage our employees to get involved where they live, work and invest through our volunteer and wealth sharing programs. We also work to continually improve environmental stewardship within our firm, particularly in the areas of energy and materials use.
Governance and Transparency
How we integrate ESG considerations into our investment process
Carlyle integrates ESG into our investment process to identify and monitor the most relevant ESG issues, therefore reducing risk and creating value. We provide our deal teams and portfolio companies with the resources and information they need to manage ESG issues effectively. While risk management strategies frequently evolve over time, we are increasingly confident in our ability to identify and manage ESG risks, including responding to incidents if they occur.
We formalized this approach through internal policies and processes that seek to improve ESG governance through three
key approaches:
Our Guidelines for Responsible Investment  Developed in 2008, our guidelines were the basis of the industry standard adopted by the American Investment Council. These guidelines provide our global deal teams with a clearly defined policy to follow during the investment process. The guidelines—which draw on international standards, including the UN Principles for Responsible Investment and the UN Global Compact—can be viewed at www.carlyle.com/citizenship.
An annual review by all controlled Corporate Private Equity (CPE) boards to affirm adherence to the policy. In 2017, 96% of Carlyle-controlled companies in our CPE segment reviewed their operations in accordance with our Guidelines for Responsible Investment.*
A review of material issues during due diligence that is shared in the Investment Committee memo and included in the deal's transaction dashboard for most asset classes.
* Three of the four companies who failed to review the guidelines were in active exit processes and left our portfolio in early 2018.
"The most important aspect of what I do is to understand the range of ESG issues that intersect with business—what are the most material issues for different sectors and how can we provide more support on ESG issues to reduce risks or create value."
Jackie Roberts
Chief Sustainability Officer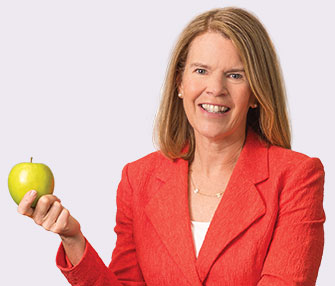 ESG expertise and execution
Our Chief Sustainability Officer (CSO) and her team support investment professionals, portfolio companies and our investors on ESG issues. She also engages with the broader financial and ESG communities to advance sustainability in the private equity industry and provides training and support on a variety of related issues. We engage external experts as appropriate for environmental and social assessments in due diligence and to help develop and implement mitigation plans in areas needing corrective action.
Carlyle professionals receive training on ESG issues on a regular basis. Our CSO meets with the incoming class of associates every year and presents at our Vice Presidents Forum and Senior Leadership Conference concerning new developments in the space. Our employees also receive targeted training on many issues related to corporate governance and compliance, including anti-corruption, conflicts of interest, economic sanctions and anti-money laundering. Our Office of General Counsel provides expertise and support on all governance issues.
During due diligence, and continuing into ownership, investment professionals access relevant expertise through several channels, including input from our sustainability team, expert consultants who may conduct specific ESG assessments and third-party guidance, such as the SASB standards that we incorporated into our process in 2017. SASB helps us define material ESG risks and areas of concern for stakeholders and begins to create a road map for highlighting which areas might create value for various stakeholders if managed well.
"We believe that a focus on ESG is important, not just because it is the right thing to do, but because it makes good business sense. Over time, we observed across our portfolio that businesses that identify and focus on the material ESG issues outperform. Our ESG framework gives us a systematic and meaningful way to monitor material ESG risks and identify ESG opportunities."
Marco De Benedetti And Gregor Boehm
Managing Directors and Co-Heads
Carlyle Europe Partners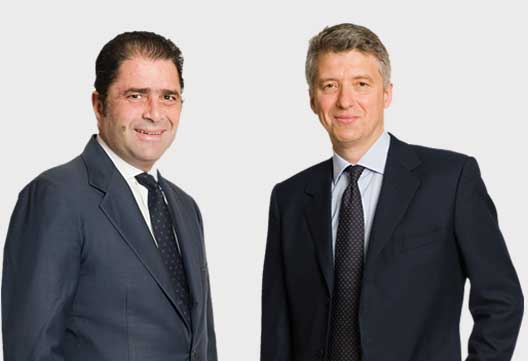 Carlyle Europe Partners: First fund to provide ESG reporting at the portfolio company level for all LPs
In 2017, Carlyle Europe Partners (CEP) augmented Carlyle's global ESG goals and practices by introducing its own enhanced ESG framework, starting with the latest vintage of its funds, Carlyle Europe Partners IV. Based in Europe, fund Co-heads Gregor Boehm and Marco De Benedetti work closely with Carlyle's CSO to ensure a streamlined approach to detecting and managing ESG risks and identifying ESG opportunities. CEP's enhanced ESG framework involves systematically establishing and monitoring company-specific ESG KPIs for each controlled private equity investment.
CEP has established a three-step process for setting ESG KPIs:
First, to establish a baseline of issues for discussions, the deal team reviews SASB guidance to determine the key ESG issues for each portfolio company's industry sector, consults with our Chief Sustainability Officer about issue materiality, and, if necessary, engages external consultants to identify issues specific to the business.
Next, the team collaborates with management to formulate company-specific ESG metrics that are relevant and meaningful for each individual company and can be monitored regularly.
Finally, the Carlyle Europe team annually updates an ESG KPI reporting template for each portfolio company to highlight its key ESG challenges and opportunities, based on the company's sector, geography and size.
Establishing company-specific ESG KPIs is now included as standard in the 100-day post-acquisition plan for each new Carlyle Europe investment. The number of ESG KPIs varies by company, depending on the sector and the quality of the company's ESG management system. Each ESG KPI is monitored annually and discussed with management. Any ESG concerns identified during this process will be raised at the portfolio company board level.